New reports show that interest in the pioneer cryptocurrency Bitcoin (BTC) is diminishing, especially among institutional investors.
The data also shows that new data on the partnership between institutions and cryptocurrency headlines has reduced considerably. Besides, the much-hyped Bakkt futures launch did not match the anticipation, even if the Intercontinental Exchange (ICE) physically-settled Bitcoin futures are experiencing low volumes even after the settlement of the first block trade.
In addition to the significant drop in institutional interest headlines, the GBTC Premium has reached a 7-month low. Just a few months back, there was a high institutional interest trend, coming from those who believed that financial incumbents and famous investors were joining the crypto revolution.
Institutional Interest Coming from Speculators
According to the analysis, headlines indicated there is very little retail interest in digital currencies compared to the bullish price charge during the high-interest trend. In the last month alone, the overall market valuation of more than 2000 cryptocurrencies lost billions of money.
To aggravate the issues, new data reveals that headlines with the terms "institutions" and "Bitcoin" have reduced drastically.
A section of the report reads:
"Mentions of institutional interest in Bitcoin in news headlines have plummeted to a 2019 low after seeing significant growth throughout the summer…The data used more than 85,000 unique publication headlines since October 2017," the Tie researchers said.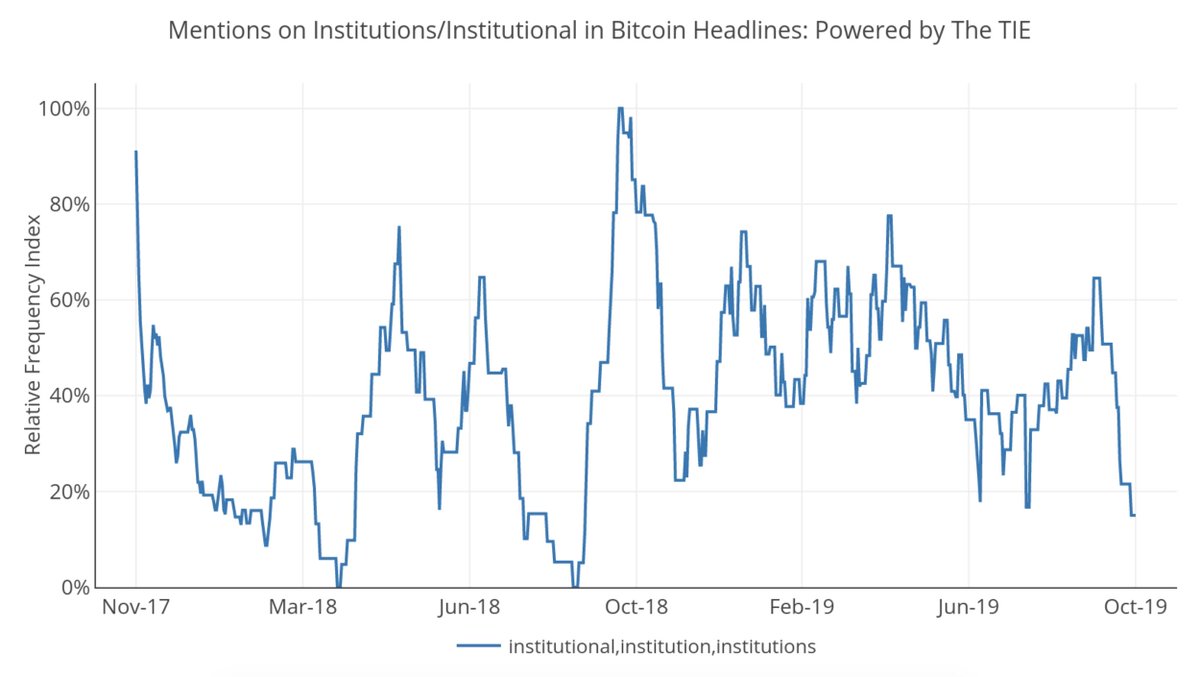 In the same way, mentions of the term "gold" in Bitcoin-related headlines have sunk since October 2017, according to the researchers. Another major sign of the waning institutional interest in Bitcoin is the declining price of Grayscale's GBTC, which has dropped to a seven-month low.
The Bakkt Launch
Besides, the Bakkt launch that happened recently did not meet the expectations of the crypto community. The first week of volume was quite low, something that one crypto analyst called "quite underwhelming," compared to what happens in other exchanges.
"The total volume has so far been $6.5 million and even though it's not very comparable, Bitmex does that kind of volume in less than 4 minutes," the Block analyst Larry Cermak emphasized.
All the same, even with the latest data showing a waning interest in Bitcoin among institutional investors, many speculators still hold a strong belief that institutions and industry leaders in the investment community have joined the crypto space. A good example is Bitmex, which was recently probed by the CFTC on allegations that it allowed US customers to trade leverage.
Featured image: phys.org