We're all pretty much on the same page when we say that crypto isn't just about investments and savings. It's fast evolving into being a go-to currency for everyday spending, just as envisioned from the beginning, reaching every pour of consumer-level shopping. And what's more mainstream in that regard than buying gift cards?

This has become even more appealing in recent years as with gift cards, you can buy almost anything that comes across your mind, such as a pizza at Domino's, book a ride, or purchase anything from your favorite online store, like Ikea.
In this article, we've compiled a list of websites offering the opportunity to buy (and sometimes sell) gift cards with cryptocurrencies. Read on to find out more! 
Top 5 Websites for Buying Gift Cards with Crypto 
1. Bitrefill 
Bitrefill is the biggest gift card marketplace on the internet, with 100+ brands and diverse offerings. They mostly cater to the global market, offering gift cards from big players like Amazon, Google Play, Walmart, Apple, and Steam, among others.
As a Swedish company, Bitrefill operates within the ambit of EU laws, ensuring user data protection. A robust 128-bit SSL encryption safeguards crucial financial data, and the transactions are all irrevocable, enhancing overall security.
Another notable feature is Bitrefill cashback. You can get up to 10% cashback on select products, for example, Netflix has a 1% cashback.
According to Crunchbase, Bitrefill has so far attracted eight investors, including big names like Tether, and secured $9.4 million in overall funding, which speaks volumes about the company's potential in the digital asset space.  
Pros
Convenient to use  
5000+ Gift cards available 
Serves 186 countries 
No KYC requirement 
Cons
No BCH support
No clear fee structure
2. Coingate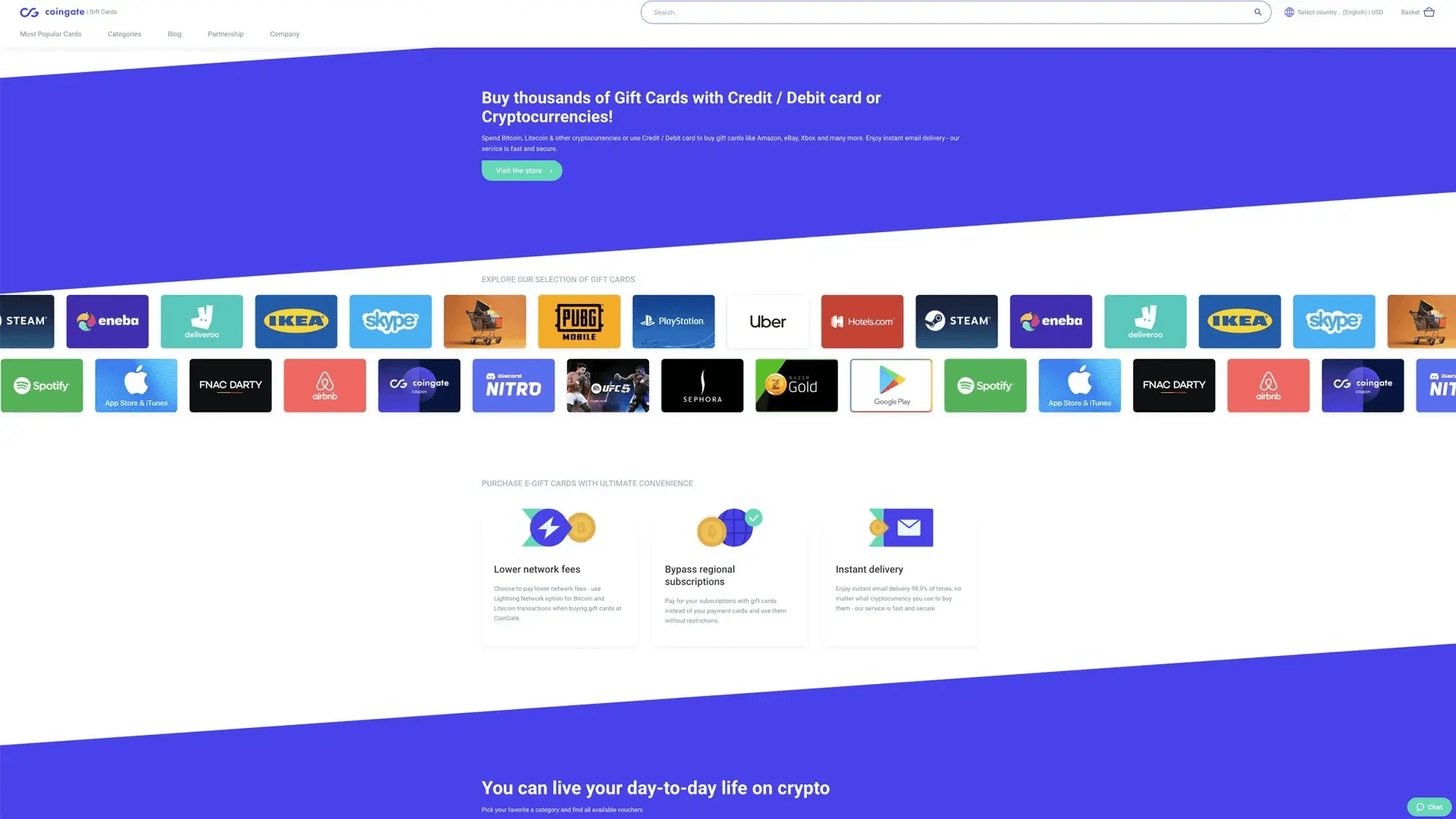 Although this Lithuania-based crypto company is a payment gateway first, it also has a very popular gift card store that offers products from 1000+ brands. The collections on Coingate's store feature notable brands from 70+ countries worldwide, making it a very localized service.
The company has been instrumental in bringing crypto to the mainstream. Currently, they support 50 cryptocurrencies, each easily exchangeable with fiat money. In 2022, Coingate partnered with Binance to bring its gift card store to a broader crypto community. This partnership allows end-users to purchase and sell gift cards with any cryptocurrency available on their Binance wallet.  
One aspect that impresses us the most about Coingate is its remarkably low transaction fees. For instance, transferring ETH on Arbitrum via Coingate costs you just $0.05/transaction, while its average transaction fee on most gateways is $0.8039. Payments are processed easily without a hitch. However, we'd advise against withdrawing fiat currencies through Coingate due to the higher costs. Instead, opting for crypto withdrawals can be most economical. 
Pros
Accepts all major cryptocurrencies 
Allows payments using lightening networks 
Gift card buying and sending made easy 
Supports businesses (B2B) 
Cons
No support for crypto deposits 
No Wallet 
3. Coinsbee 
Coinsbee is a relatively new crypto gift card store that has rapidly established itself. It began operations in Germany back in 2019. Currently, they offer a massive range of 100,000+ products across 2500+ brands and operate in 165+ countries worldwide.
Their one noteworthy partnership is with Vaultoro, the world's first gold-backed crypto exchange, enabling users to conveniently purchase gold with Bitcoin.   
Alongside popular options like Bitcoin and Ethereum, this platform boasts the most extensive crypto support available among similar services. It even supports Monero, which is the best option for anonymous payments.
Furthermore, Coinsbee has been collaborating effectively with numerous globally recognized e-commerce portals, brands, video games, and credit card providers – just to name a few examples: Apple, Amazon, Google Play, Netflix, Uber, NIKE, WOW, PUBG, Visa, and Mastercard.
Pros
Supports 100+ cryptocurrencies 
Fast, easy and reliable 
BCH support 
Requires no KYC information 
Cons
Google Play gift codes don't always work
4. Paxful 
Many people don't know that Paxful started initially as a payment processing platform for brick-and-mortar businesses in 2015. It was later rebranded for the Bitcoin and crypto markets.  
In its essence, Paxful is a crypto exchange platform ideal for users who want to trade with each other. It offers three cryptocurrencies for trade: Bitcoin, Ethereum, and Tether. It also includes a dedicated gift card platform, offering 100+ gift cards in 11 categories.
There are no fees for buying crypto. However, sellers may incur a fee depending on their chosen payment method, which typically varies from 0.5 to 1 percent. Gift card payments carry slightly higher transaction costs, ranging from 3 to 5 percent.
Pros
P2P platform for crypto trade
No fee for buying crypto
Extensive selection of payment methods
Escrow system for safety
Cons
Small crypto selection
Scam risks
5. eGifter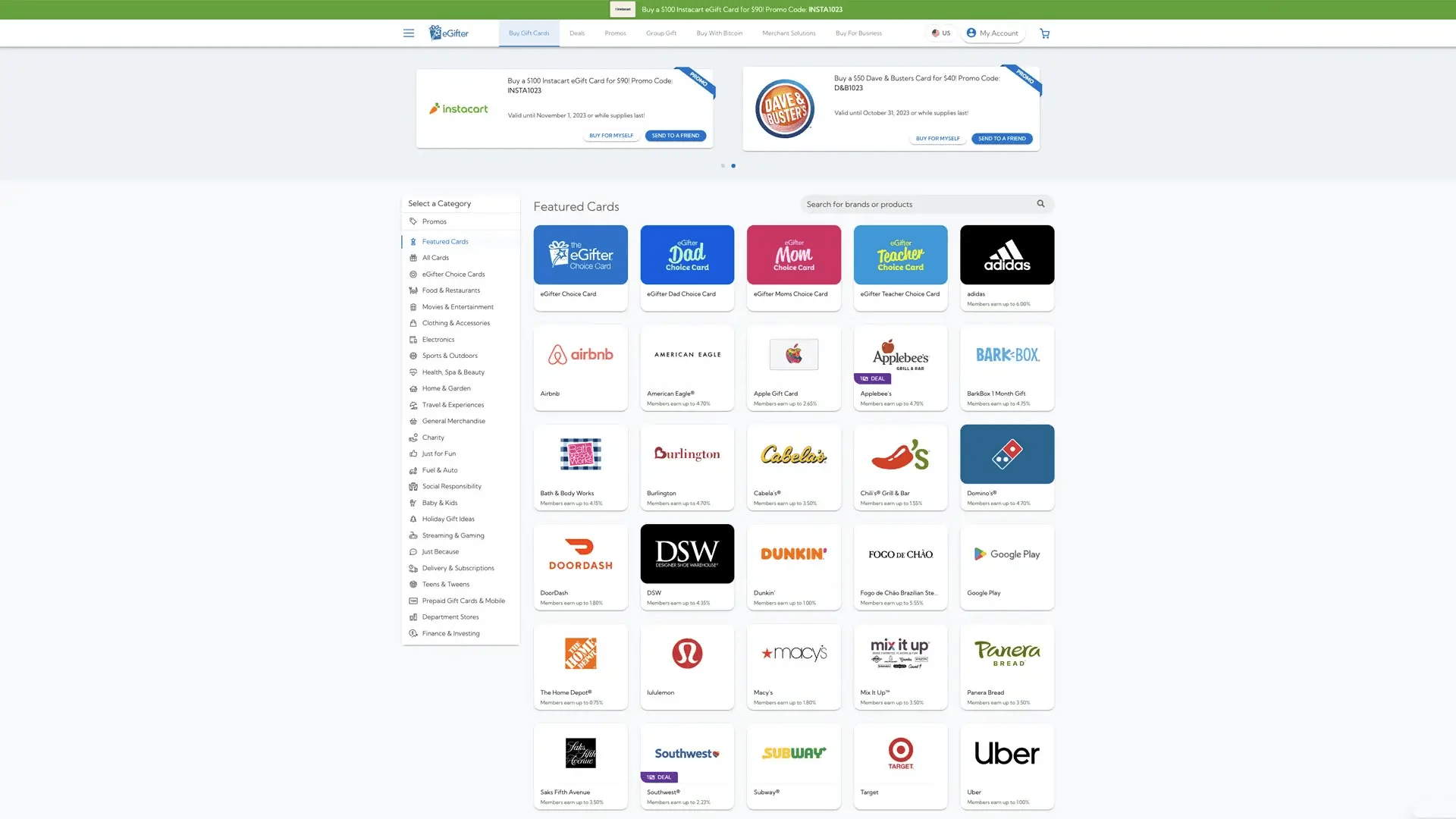 eGifter is the oldest platform for purchasing gift cards with crypto. They have been in operation since 2011 and are known for a rock-solid reputation. Through their web or mobile application, you can select from a range of gift cards from 300+ retailers while also earning rewards.
While eGifter provides access to popular brands like AMC Theatres, Target, Domino, Lowe's, Uber, and The Home Depot, Amazon is notably absent. Nevertheless, their list of supported business categories you can buy from is long, from travel experiences to charities, spas, hotels, and, in some options, even casinos. Granted, on the slot floor, you won't stumble upon any blockchain developed games, which would perfectly fit this topic, but rather something that's more tangible with hands.  
In our experience, eGifter stands out as the most convenient option for bulk purchases and sending out group gifts. Unlike other platforms mentioned here, eGifter lets you buy gifts for the exact amount you need. This eliminates any unnecessary cents being deducted during your purchase and becomes particularly beneficial when dealing with a large quantity of gift cards.
While it doesn't offer as many payment options as some other platforms on this list do, credit cards, Paypal, Google Pay, Skrill and crypto are all available for your convenience.
Pros
Easy-to-use app 
Highly flexible (You can customize, exchange, send bulk gifts, etc.) 
Reliable service 
Cons
Little to no customer-specific discounts.