Before making the leap into an Elongate price prediction, it is important to understand the scale of the network. The fact that blockchain can be leveraged for social good is a fact well documented, and elongate is committed to scale and become more investable in its society-first business model.
ELONGATE has proven to be a financially strong, investable cryptocurrency committed to making the world a better place – while generating healthy returns for token holders. Issues threatening the quality of life can be solved through investment initiatives, and Elongate exists to do this profitably.
Elongate Price Prediction | Introduction
When making this Elongate crypto future price thesis, ELONGATE was valued at $0.00000003019 according to data curated by CoinMarketCap. The market cap of the elongate crypto coin network is estimated at nearly $14 million, fully diluted to over $30 million. 
Elongate launched with one mission only, to align the basic value of blockchain technology with programs benefiting the quality of life. By investing in elongate crypto, you are supporting the broad initiative to alleviate suffering and create a better world, among other things.
Launched on top of the Binance Smart Chain, ELONGATE is redefining the social impact of blockchain by innovating networks to empower the mission to make the world a better place for all. The project dedicates 10% of transaction fees goes to investor rewards and philanthropic efforts.
Elongate Price Prediction: Technical Analysis
Looking at the ELONGATE crypto price history, a conclusion can be made that predicts the future of this good social crypto: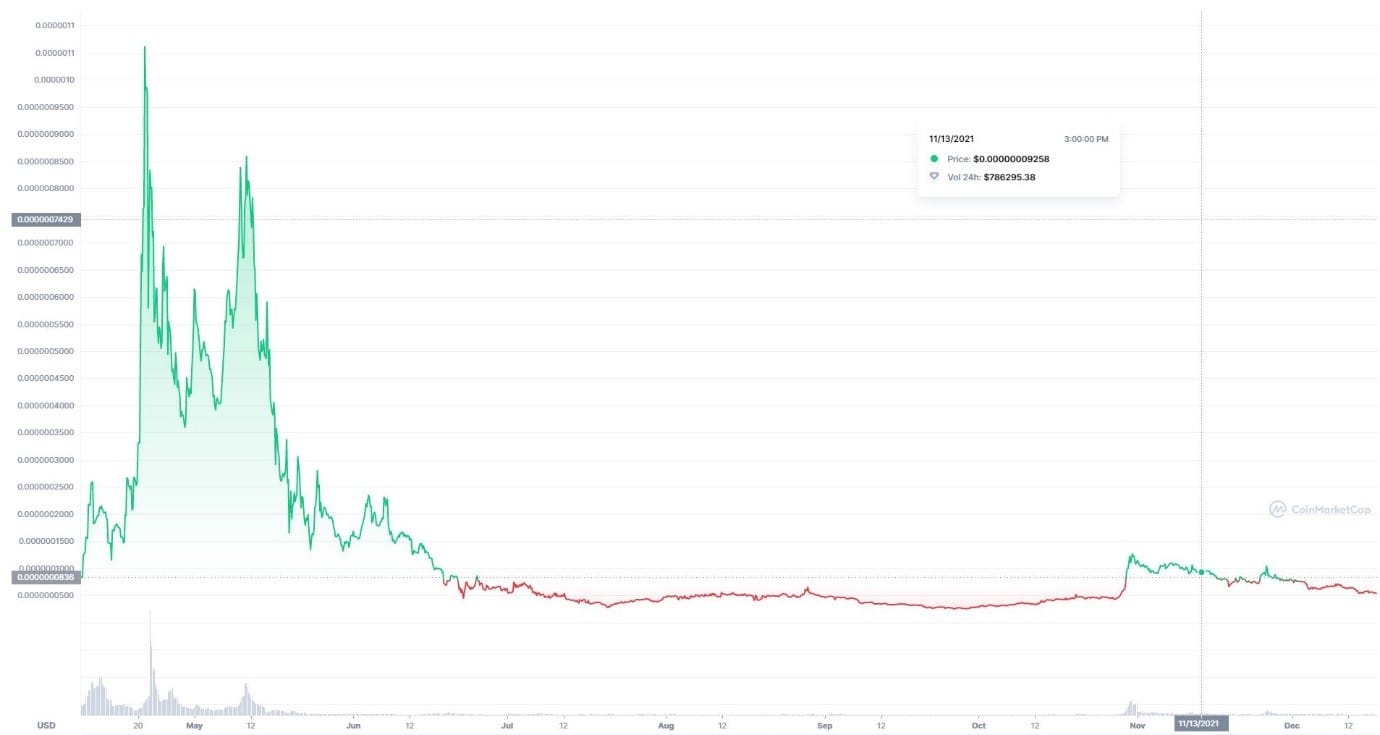 ELONGATE crypto has been flat-lining for more than a few months, indicating buyers and sellers are equally missing in action. Although ELONGATE saw a lot of adoption in early May, it was short-lived, and within the consolidated range, the price fell completely flat.
For a bullish Elongate price prediction, investors need to see a breakout from this pattern to trigger a burst of optimism that could take the crypto above $0.0000001. ELONGATE set up a swing high at $0.000000122 at the end of October.
Shortly after that, this good social cryptocurrency failed to secure the desperately needed momentum to sustain a return to its trading price at launch. From the ELONGATE price chart, it can be noted that bullish potential remains out of the picture.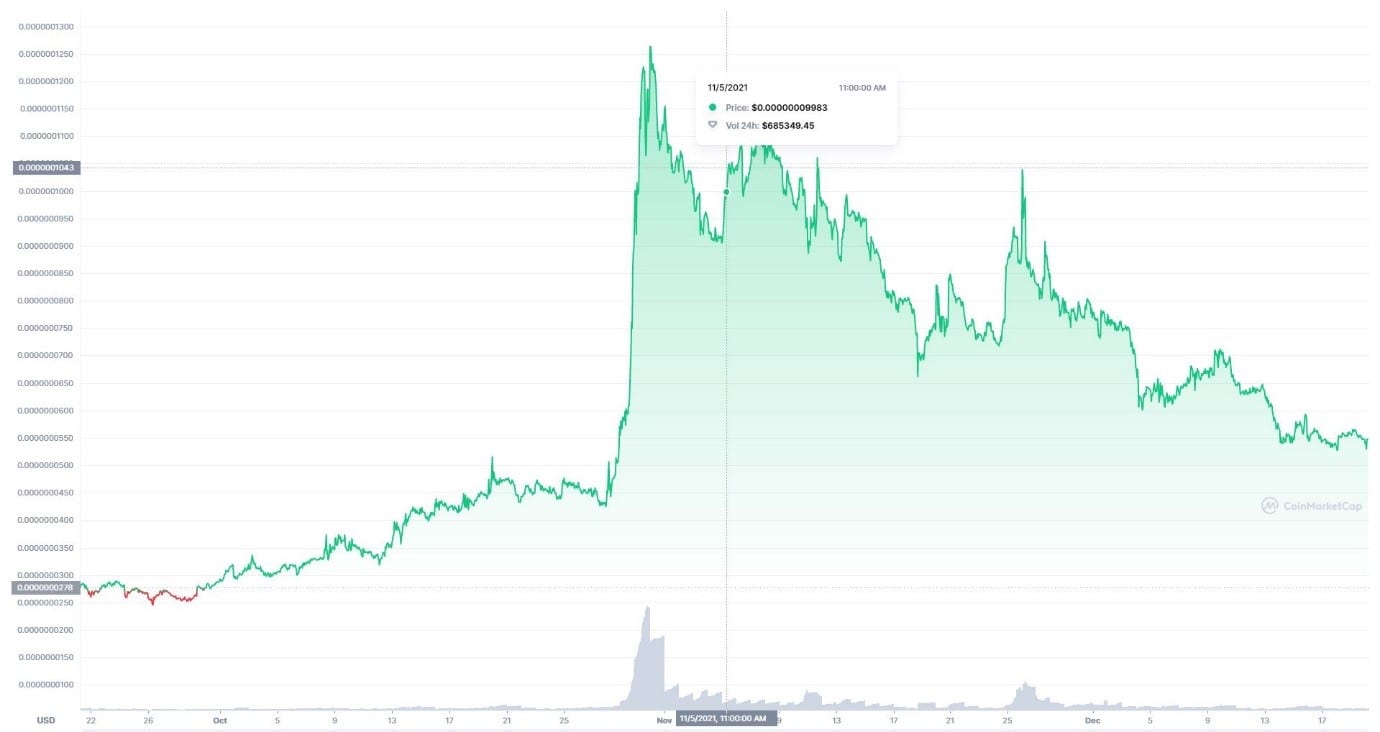 Elongate Crypto pulls back to support and produces a daily higher high close above $0.0000000550, and it will signal a bullish outcome in January 2022. In this case, Elongate will attempt to convert the 0.0000000400 to $0.0000000550 level into critical support. 
In a highly bullish case, ELONGATE will make a run for the 31 October swing high at $0.000000122, constituting a gain of more than 100% from the current support level. On the other hand, if ELONGATE fails to muster up the bullish momentum, it will signal the start of the bearish feast.
Elongate Price Prediction: Market Opinions
Predictions for 2022 vary from the minimum ELONGATE price of $0.00000001 to more than $0.0000009. What they have in common is the fact that elongate has no strong directional bias. The future of this crypto is what the sources see differently.
We also recommend: Bitcoin Price Prediction.
Elongate Price Forecast for January – February
DigitalCoinPrice
DigitalCoinPrice Elongate price forecast for January – February is optimistic about the prospects of the crypto. The forecast cites October's peak trading volume and as the basis of its bullish Elongate crypto price projection. The forecast for January – February is $0.0000000819. 
LongForecast
LongForecast Elongate price forecast anticipated the crypto would sell for $0.00000007. For a bullish outcome in the rest of the year, buyers will have to sustain a daily higher high close above this level.
Elongate Price Forecast for the Rest of the Year
TradingBeasts
TradingBeasts prediction for the rest of the year 2022 projects price is changes of an average of 25%. This bullish price prediction indicated ELONGATE could ride a wave of bullish momentum to $0.0000001 and $0.00000015. 
CoinPriceForecast
CoinPriceForecast Elongate price forecast for the rest of the year looks incredibly bearish, but a bullish outcome is still on the horizon. The prediction sees $0.0000001 as a possible exit for investors, sparking a dip to $0.000000030 before recovery to $0.00000006 before 2022. 
Elongate Price Forecast for the Next Year
WalletInvestor
WalletInvestor is likewise bullish on the ELONGATE price forecast for the next year. This Elongate price prediction projects ELONGATE price will remain current for most of 2022. It suggests a maximum price of $0.0000001. 
PricePrediction.net
PricePrediction.net price forecast for the next year nearly mirrors the WalletInvestor analysis. While a little bullish, this price prediction gives investors little confidence. The project is a maximum price of $0.00000010 and a minimum of $0.00000009. 
Cryptocurrency Experts and Influencers
Cryptocurrency trading expert Anurag Mishra suggests that the Elongate price prediction that puts the crypto price at $1 by 2025 is out of the question. Looking at the bigger picture, ELONGATE has struggled to attract buy orders despite its world-saving mantra.
The analyst points to the burst of trading volume during 'Giving Tuesday' as the rationale behind the slow adoption of ELONGATE. However, he anticipates Elongate to reach $0.000005 by 2025 and cement its status as the premier cryptocurrency for social good worldwide. 
Latest News and Happenings Concerning Elongate
Elongate is now listed on MEXC Global, which records over $1 billion worth of cryptocurrency changing hands every 24 hours on its platform. The listing that started in November 2021 is expected to facilitate mega transactions into the Elongate crypto ecosystem.
Continuing to bring more opportunities to token holders, ELONGATE also launched its Staking Vault. This solution is expected to deliver high returns to coin backers while adding a new layer to earn crypto rewards. It is an initiative aimed to merge earning and giving on the blockchain.
As part of its mission, Elongate partnered with Action Against Hunger (AAH) on the #GivingTuesday Campaign, which saw the crypto match all Donations up to $75,000. This program, made possible through the Elongate community, showcased the network's power in Social Good. 
Moreover, the community also launched a campaign to support an orphanage located in Kano, Nigeria, operated by the Green Pasture Home Initiative (GPHI). It is yet another social good initiative targeting neglected and abandoned children.
We also recommend: Cartesi Price Prediction.
FAQs
Is Elongate Real?
Yes. Elongate is on a mission to leverage blockchain technology, specifically the Binance Smart Chain, to help those in need. The community has stepped up to take action for such initiatives, and the crypto world is noticing. 
How Much Is an Elongate?
The current price of Elongate at the time of writing this price prediction is $0.0000000544. The ecosystem recently launched and has come a long way in creating traction within the community of cryptocurrency investors.
How Do I Invest in Elongate?
To invest in Elongate, you can buy the cryptocurrency on an exchange like Binance and MEXC Global. The ELONGATE crypto price is quite affordable, and price predictions show the currency is inching closer to becoming investment-grade.
Elongate Price Prediction: Verdict
The median Elongate price prediction shows the coin is at its make or breakpoint. 2022 will be the year that could shape the future of this cryptocurrency modeled to maximize the social impact of blockchain technology and its applications.