Qtum is a proof-of-stake (PoS) smart contract, open-source blockchain platform. The decentralized smart contracts platform combines the strengths of both Bitcoin and Ethereum. It's also a DGP-governed blockchain. While it operates on a Bitcoin Core (BTC) fork, Qtum has its hybrid blockchain. Read the entire Qtum Price Prediction to find everything you need.
Qtum uses bitcoin's network because it's simple and allows the foundation to build upon it more easily. Qtum is unique because of the forms of technology that they use, which aim to solve Account Abstraction Layer (AAL) and Decentralized Governance Protocol (DGP).
The AAL gives users the ability to build applications and host them on virtual machines. On the other hand, the DGP permits smart contracts to change core parameters of the network without having to hard-fork the blockchain.
In this Qtum price prediction, we go through Qtum's past performance to determine whether it's a profitable investment option in 2022. 
Qtum Price Prediction: Introduction
At the time of writing, the Qtum coin price stands at $13.40, with a market capitalization of $1,329,171,636. Its 24-hour trading volume was $436,661,013, with a circulating supply of 98,666,824 coins. Looking at the behavior of the Qtum coin recently, it has exhibited an upward growth pattern that has boosted its popularity.
These predictions are only based on Qtum's previous outcomes and expert forecasting. Qtum price prediction is important for investors as it will give them perspective on whether it is a good investment that will yield returns or it is a bad option. So far, the return on investment of this crypto is considered a good investment.
Qtum Price Prediction: Technical Analysis
With growing popularity, Qtum is among the most active and most popular digital assets in the crypto space. So far, Qtum has recorded a 12-month growth rate of more than 750%, which of course, is a marked improvement.
In 2021, Qtum joined other cryptocurrencies in the Bull Run, but it didn't go high enough to attain its all-time high. At one point, the price plummeted to the support at $5, but its value increased gradually to nearly 150%. That was a remarkable growth, but the Qtum crypto still has more room to achieve an all-time high in the coming years.
According to the daily Qtum/USDT chart from TradingView, Qtum maintained an upward trend after its price corrected to $5. In late September 2021, the coin showed a bullish sign with a price rejection at $8.60. This was a key support level, which the bulls fought desperately to defend.
In the last few weeks, the Qtum price has moved to retest the resistance at $14.90. With the help of dynamic supports (EMAs), analysts expect an upward trend that will experience resistance at around $22. If the Qtum coin price continues to experience this bullish trend, it could reach $40 by the end of 2022.
Qtum Technical Developments 
Based on the current performance, the first half of 2022 is set to show fast growth, which could see the Qtum price reaching $45. With various technical developments taking place, Qtum seems to be a competitive niche with other players such as Cardano, Ethereum, and Chainlink, among others staking a claim.
The applications created on the Qtum network will push the price of Qtum further upwards. The price will also depend on the partnerships that Qtum's development team managers will be able to conclude.
All the same, investors should treat every crypto with caution. This is true of Qtum price prediction too. They should not base their investment decisions on price prediction alone. 
We also recommend: IoTeX Price Prediction
Qtum Price Prediction: Market Opinions
Looking at the current market, Qtum has a higher success rate and is good for investment. Even though it doesn't rank higher, several influencers have backed it up, thereby boosting its popularity. On the other hand, Qtum holds the benefits of operating on Bitcoin and Ethereum, which adds to its potential.
The network has several pending developments that it is yet to initiate. Qtum's price forecast expects a long-term increase. The following are some of the Qtum price predictions from various sites and market influencers.
Digital Coin Price
According to Digital Coin Price, the price of Qtum is expected to grow between January and February. As of January, the price of Qtum stood at $7.33, and in February, it is expected to grow to $10.16. Qtum has expressed a great potential in its growth, and this is what prompts Digital Coin Price to predict an increase in price in the future. 
Wallet Investor 
Wallet Investor, on the other hand, also predicts that the price of Qtum will decrease in the coming months, including February. Looking at the analysis they did on Qtum in January, Qtum coin price has been fluctuating in price that led to its growth and later drops in the continuous days of January. Therefore, in the month of February, the price of Qtum could drop to $6.655, with its minimum price stalling at $6.186 and its maximum price of $7.169. 
Supporting Tables and Images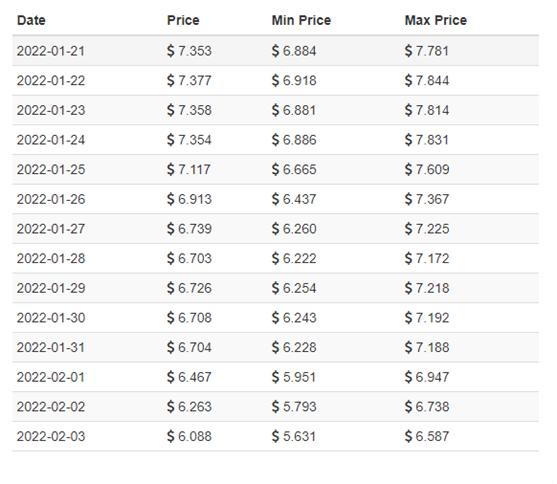 Gov.Capital
Gov Capital's Qtum price prediction in the coming month of February indicates that there will be a slight growth in its price to $7. 508. The Qtum coin price will further grow gradually all through February, resting at $8. 009. 
Regarding the price of Qtum for the rest of the year, Gov Capital predicts that the price of Qtum will substantially increase throughout the year. In May, the Qtum crypto will record the highest prices.
TechNewsLeader
With Qtum showing enough potential in the coming months, its price is expected to rise in the coming year too. Qtum price prediction, according to Technewsleader, is expected to rise to $16.51. The rise is expected to continue all through the end of next year. 
The reason for this anticipation in the price for the year 2023 comes from the fact that Qtum is expected to come up with several adoptions and partnerships with other blockchain networks. If everything anticipated gets to work, the price of Qtum will reach the anticipated high.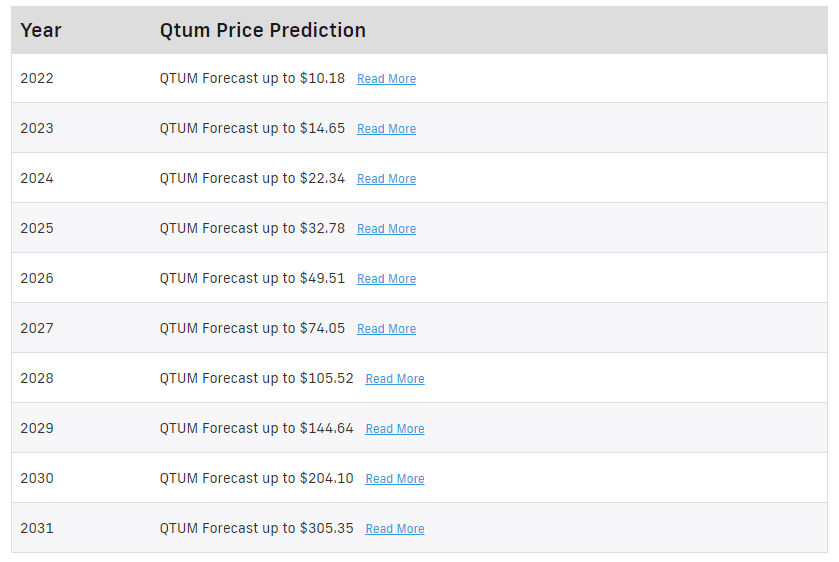 Latest News and Happenings Concerning Qtum
So far, a lot is taking place on the Qtum network. Recently, there was a major announcement by Co-Founder Jordan Earls, who said Qtum would be renaming the Qtum DeFi Grants program to Qtum DeFi and Ecosystem Grants Program.
Some of the things on Qtum's most wanted list include DeFi lending, more DEX, and related tokens, NFT explorer, and minter, among others. To get the latest news and happening concerning Qutm, you can visit Qtum's Website. 
Qtum Price Prediction: Verdict
Looking at the different predictions from verified prediction sites, we can conclude that Qtum will do well in the year 2022. The Qtum coin price is expected to increase through the months even though the margin of increase will not be significant. However, looking at the long term, predictions still show growth in price and a considerable percentage increase, which would favor investors.