Ripple (XRP) once again threatened to overthrow Ethereum (ETH) from the number two spot on the CoinMarket rankings following its massive 22 percent price increase in less than a day.
In the top ten digital currencies by market cap, only Bitcoin Cash (BCH) outshined Ripple in terms of price performance over the past 24 hours. BCH, which is a fork of the original Bitcoin, climbed to more than 23 percent, reaching a nearly three-week high, according to data from CoinMarketCap.
The price of Ripple (XRP) has risen by over 100 percent over the last 30 days even as investors bet that XRP will become a bridge currency that many financial institutions will use to settle cross-border payments. The current methods used to settle cross-border transactions are slow and involve multiple third parties.
XRP now boasts a market cap of around 20.7 billion, which is about 1 billion less than Ethereum's market capitalization. Bitcoin, the first cryptocurrency to be ever created, still holds the number one spot by a huge margin – with a market capitalization of $112 billion.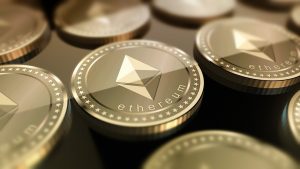 Ethereum, the startup behind the digital coin Ether, has been one of the worst performers this year. According to many, Ether's performance is due to the big number of altcoins that were built on top of its blockchain in 2017. The price of Ethereum has plunged by nearly 85 percent over the last 10 months, sinking from about $1, 400 to only $214. Meanwhile, XRP has tumbled by almost the same amount, hitting its all-time high of $3.80 in January this year and dipping as low as $0.25 in September.
Today, the recent surge has pushed XRP by nearly 25 percent in a day. According to analysts, the surge was as a result of Coinbase recent announcement that it is considering listing more digital coins. Many have, therefore, taken this to mean Ripple.