Crypto trading has risen in popularity significantly in the past years. But its volatility makes it hard to stay on top if you are a day-to-day trader. Because of this, the practice of automated trading has started to gain traction in the crypto market.
Using crypto bots gives traders a multitude of advantages which allow traders to make profit more easily than with manual trading.
Trading Bots: What Are They?
Trading bots are complex software programs that extract from exchanges market data on which they make automated sells or buys. Their built-in algorithms analyze various types of market data, such as the trading pairs, volume, number of orders, price, and time frame, and then makes the trades according to the user's configured trading strategy.
Bots have different strategies and technical indicators which are implemented in their code. Traders usually opt to use a trading bot to simplify their task of monitoring the market non-stop and to save time by making multiple tasks simultaneously. Bots save a great deal of time as they can carry out thousands of transactions in just a few seconds.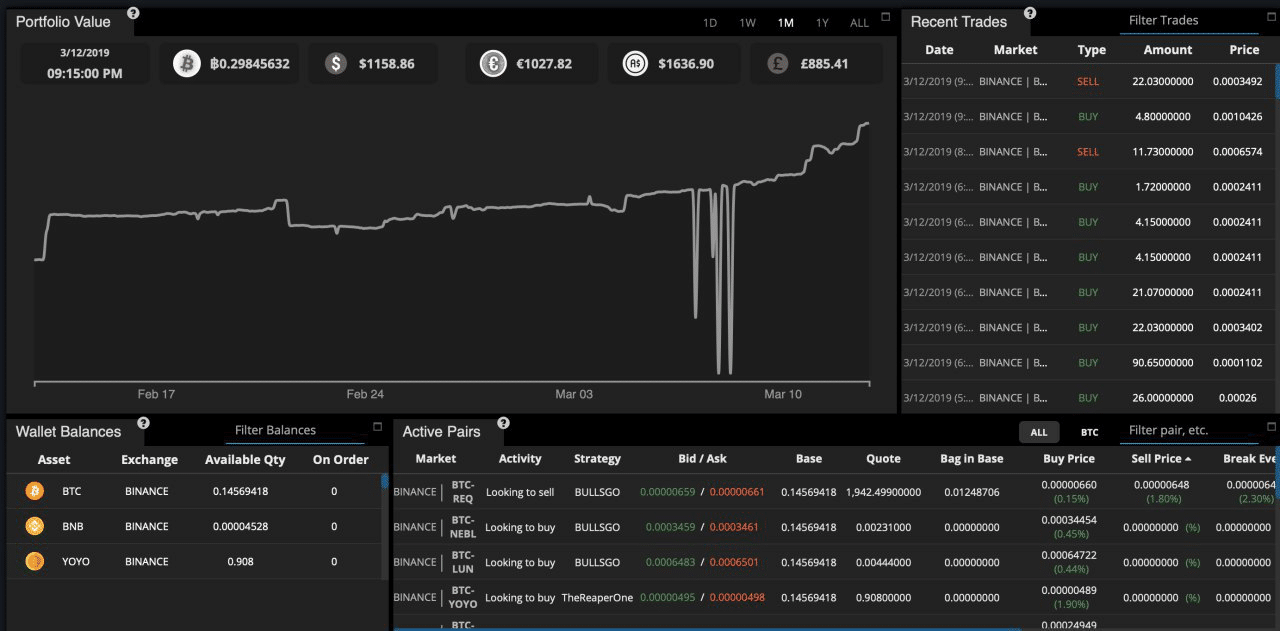 Source: Gunbot.uk
How Can Bots Improve Trading?
Integrated trading strategies
An efficient bot does not only have algorithms that try to predict market changes; it must also have incorporated a number of trading indicators and strategies which can be configured by the user in multiple ways.
Gunbot is a good example of such trading bot. It features 15 different strategies and hundreds of different indicators that can be customized and configured however the user sees fit. Crypto CFD Trader is also a reliable bot that has many ways of implementing strategies.
Gunbot and Haasbot both have advanced trading options integrated, but Haasbot's services are more expensive as it is based on monthly subscriptions, while Gunbot has lifetime licenses.
Fast trades
Your trading bot's execution rate depends on how fast your computer runs. But regardless of your computer model and specifications, a bot is much faster than a human trader. Instead of placing all orders manually one by one, you can use the trading robot to execute hundreds of orders in one trading session.
Multitasking
By using a trading bot you can follow more crypto pairs at the same time. Traders are able to create and run a number of accounts simultaneously and execute hundreds of trades in just a few seconds. 3Commas is a good bot option which tracks and allows you to trade multiple cryptocurrency pairs at the same time.
They take no breaks
Bots are not hindered by the physical limitations of the human body, meaning that they never need to take a break from trading. As the crypto market is active 24/7, a trading bot that makes your trades non-stop allows you to never miss any good trading opportunities.
Easy to use
The first bots used in crypto trading were rather complex and could only be used by advanced traders that also had a few tech skills. But now they have evolved to have interfaces that are easy to use and understand.
Bots such as Gunbot, Gekko, and Cryptohopper, all have simple and clean graphical user interfaces with various trading strategies available.
Emotionless trading
While sometimes a gut feeling can help you make a great trade, most of the time emotions make it really hard to stick to a trading strategy. Fear or greed can prompt you to make bad decisions and stray from your initial plan.
The prospect of losing money can make even the strongest of us to panic.
But trading bots have no bad days or emotions which allows them to trade according to their settings. The decisions they make take inputs from past strategies and algorithms to come up with the most favorable trading data. As you do not have to constantly monitor the market and get emotionally involved in any changes, you will have less stress in your life as the bot does the trades objectively for you.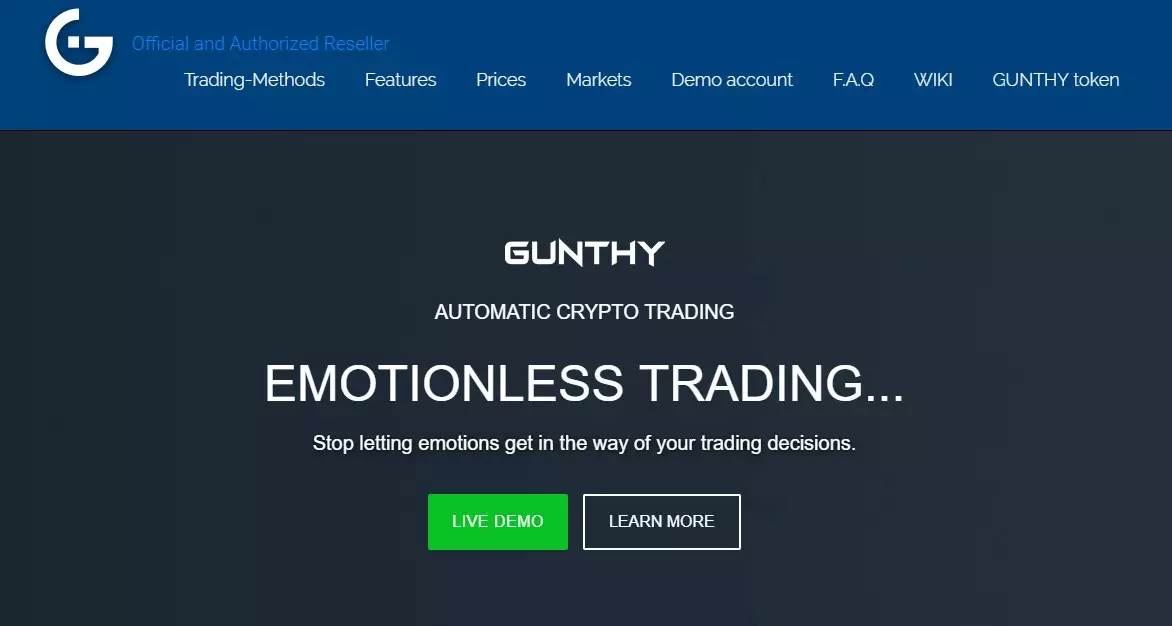 Source: Gunbot.uk
What Trading Bots Can't Do
There are some traders that think once they have a bot they will never make a bad trade again. Trading bots are not a guaranteed ticket for successful trading. You still have to do your bit and learn the ins and outs of the trading market and build your own strategy.
While there are some trading bots that come with pre-configured strategies, they will not develop new ones for you. This you will have to do on your own if you want to adapt to an ever-changing market. A bot is as smart as its user, it just does whatever you configured it to do, nothing more.
There are several bots that have "Machine Learning" integrated which monitors changes in market sentiment, but they lake the accuracy of traditional bots that only make trades using indicators configuration.
Final Thoughts
The rise of automated trading in the cryptocurrency market has brought forth a new generation of bots that simplify tasks and amplify the efficiency of the process. Trading bots paired with a sensible strategy can yield in significant profit for its users.
Featured Image: SteemKR