It seems that everyone is Satoshi Nakamoto these days; after Craig Wright, BSV creator filled a copyright claim on the Bitcoin whitepaper, another person submitted their claim for the document.
According to social media, Wei Liu, a former executive at the Biboxcryptocurrency exchange, filed a claim of ownership on May 24.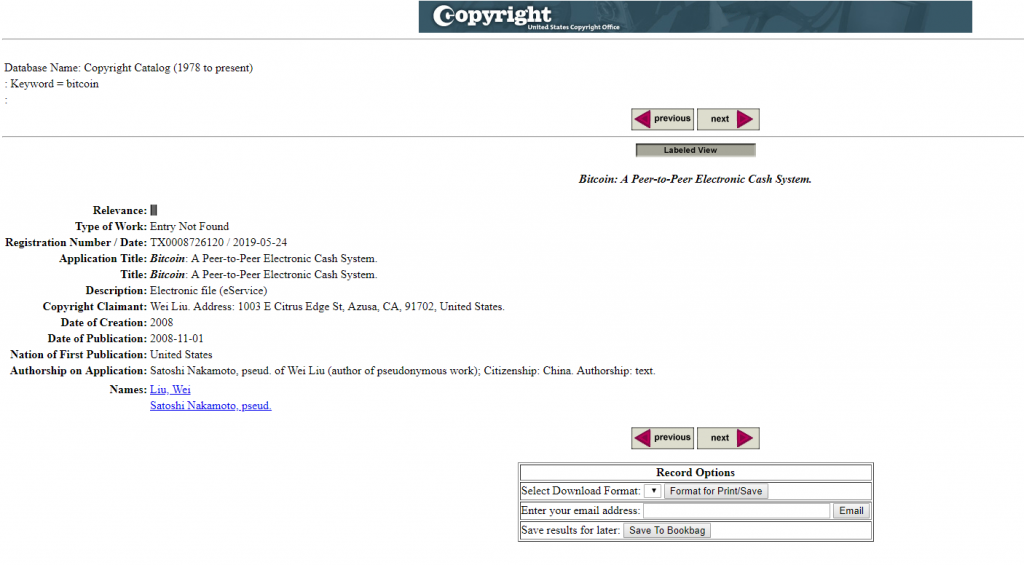 But Craig Wright was the first person that tried to get the copyright for the Bitcoin whitepaper, according to reports made earlier this month. Wright is an Australian developer that has created Bitcoin SV and has insistently claimed that he is the original creator of Bitcoin. All those that disagreed or criticized him were threatened with legal action against them.
Wright's approach on silencing his detractors has not worked out so well, as the judge has asked him to provide proof of all his BTC addresses.
The Bitcoin SV creator also got into an argument with John McAfee, whom he also plans to take to sue, prompting one member to suggest that everyone from the community should send copyright claims to mock Wright.
Let's start a movement where all of crypto twitter files a copyright for that… I hear they'll register anyone and even when claims are competing… you have the power to kickstart it @officialmcafee

— George "Blueprints" Greedwood (@MightyChartist) May 21, 2019
It is not known if Liu has filed the claim as a response to this anti-Wright movement, but Twitter has reacted positively so far, expecting any more from the community to adhere to this form of complaint.
Liu has also been involved in several ownership disagreements. Last year, she was sued by the co-founder of Bibox for false claims and capital worth approx. $3 million.
The former Bibox executive applied the copyright claim only for "Bitcoin: A Peer-to-Peer Electronic Cash System," while Wright also wants ownership of the term 'Bitcoin.'
As the Bitcoin whitepaper was created by a person under a pseudonym, namely Satoshi Nakamoto, there is an issue when it comes to copyright claims, as the authorities do not check for any attestable connections between the real author and claimant.
The US Copyright Office stated in the Financial Times:
"In a case in which a work is registered under a pseudonym, the Copyright Office does not investigate whether there is a provable connection between the claimant and the pseudonymous author."
Wright's spokesperson stated the contrary, claiming that "the registrations issued by the U.S. Copyright Office recognize Wright as the author — under the pseudonym Satoshi Nakamoto — of both the white paper and code."
Featured Image: Bitcoin Block Explorer