The Japan-based crypto exchange Binance has won top-level accreditation and certifications for reliability. The company won the coveted ISO27001 accreditation and received certifications from Det Norske Veritas (DNV) and United Kingdom Accreditation Service (UKAS), which are two renowned global accreditation bodies.
First of Its Kind Certifications
Binance becomes the first Crypto Exchange to receive such sought-after accreditations and certifications from the world-renown international accreditation companies.
According to a recent tweet, not only are they among the first global crypto-asset platforms to get ISO27001 accreditation but the number 1 crypto exchange platform to get it from top accreditors.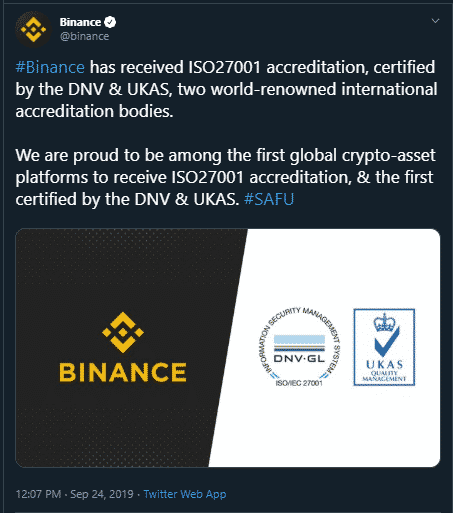 Image Source: Twitter
UKAS is the only recognized accreditation body in Britain while DNV remains to be the largest registrar and classification society recognized worldwide. Receiving accreditation from them is an exceptional milestone. With ISO27001, Binance can now guarantee the safety of all crypto-asset owners and trader's data. This will improve information security management and make the platform more reliable.
Binance CEO Speaks
Applauding the achievements, Binance CEO CZ in an official statement said:
"Security has always been the utmost priority for Binance and our users, and we are honoured that Binance's security management is recognized by the respected DNV and UKAS. We appreciate the great amount of trust that our users have placed in us. We are committed to continuously securing our users' information and assets by further strengthening our security system."
Stern Auditing Steps
In order to achieve the coveted certification, the exchange had to undergo rigorous auditing, which saw them pass 114 criteria exams within 14 categories. The categories included security policy, asset management, system acquisition, and operation security.
Meanwhile, in another development for the exchange, Binance has added MATIC margin trading.
In another tweet, Binance sent out a confirmation for having added MATIC margin trading to be paired with Tether (USDT) and Bitcoin (BTC) on their platform.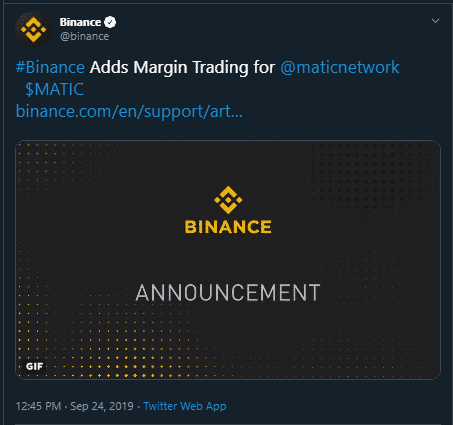 Image Source: Twitter
Binance has also hinted at Tezos staking with Bitcoin (BTC) pairs. With the latest ongoing developments, Binance is likely to attract a higher trading volume as it keeps serving the interest of its customers and traders.
Featured Image: Forbes