Introduction to Bitfinex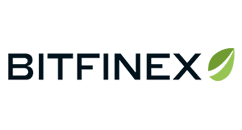 Founded in 2012 by Raphael Nicolle, Bitfinex has since been consistently ranking among the top exchanges in terms of daily trading volumes. Today, Bitfinex is one of the most popular cryptocurrency exchanges catering to the needs of multiple traders and institutions.
Not only is it one of the most well-known services of this type in the cryptosphere, but it's also one of the most advanced platforms as it has multiple features that beginner traders do not require when starting cryptocurrency trading.
Bitfinex is available in all countries around the globe except the United States of America, Bosnia and Herzegovina, the Democratic People's Republic of Korea (North Korea), Ethiopia, Iran, Iraq, Syria, Uganda, Vanuatu, and Yemen.
Bitfinex Key Features
By far the most important feature on Bitfinex is the buy/sell wall and the provided Dashboards. They allow users to deal, place and complete orders. The GUI of the dashboards is by no means the most stylish in the field, but it provides a plethora of advanced details allowing advanced traders gain an edge over their competition.
One of the most advanced features provided by Bitfinex is support for margin trading with a leverage of up to 3,33X. This means that you can boost your winnings by borrowing USD or BTC on Bitfinex.
For a bit of convenience, Bitfinex also provides its users with modern and user-friendly mobile applications for both iOS and Android. The mobile apps provide users with full access to all the exchanges features and can deposit and withdraw cryptos and fiat.
Supported Currencies
Bitfinex's range of supported cryptocurrencies is but one aspect that makes it such an appealing exchange. At the time of this writing, Bitfinex supports close to 100 cryptocurrencies, including popular tokens such as BTC, BCH, ETH, LTC, XMR, DASH, and a plethora of ERC-20 tokens. It's worth noting that Bitfinex also supports fiat currencies such as USD, EUR, GBP, JPY. This provides traders with a lot of options when it comes to trading cryptos for fiat and vice-versa.
Bitfinex Fees
Bitfinex operates according to its official fee schedule. The fees are determined by the trading volume over the last 30 days as well as maker and taker status. Marker fees range from 0,1% to 0,0% while the taker fees range from 0,2% to 0,1%.
Maker fees need to be paid when you add liquidity to the order book by placing a limit order below the ticker price when buying and above the ticker price for sales. Conversely, taker fees are paid when you do the opposite and remove liquidity from the order book by filling an order that's already in the order book.
All crypto deposits on Bitfinex are free, but withdrawal fees range from crypto to crypto. Furthermore, deposits made via bank wire are also charged a 0,1% fee.
Trading Options
Besides leveraged margin trading mentioned in the Key Features sections, Bitfinex offers traders the following types of orders: Market, Limit, Stop, Trailing Stop, Fill or Kill, One cancels other (OCO0, Post-only limit order, and Hidden order.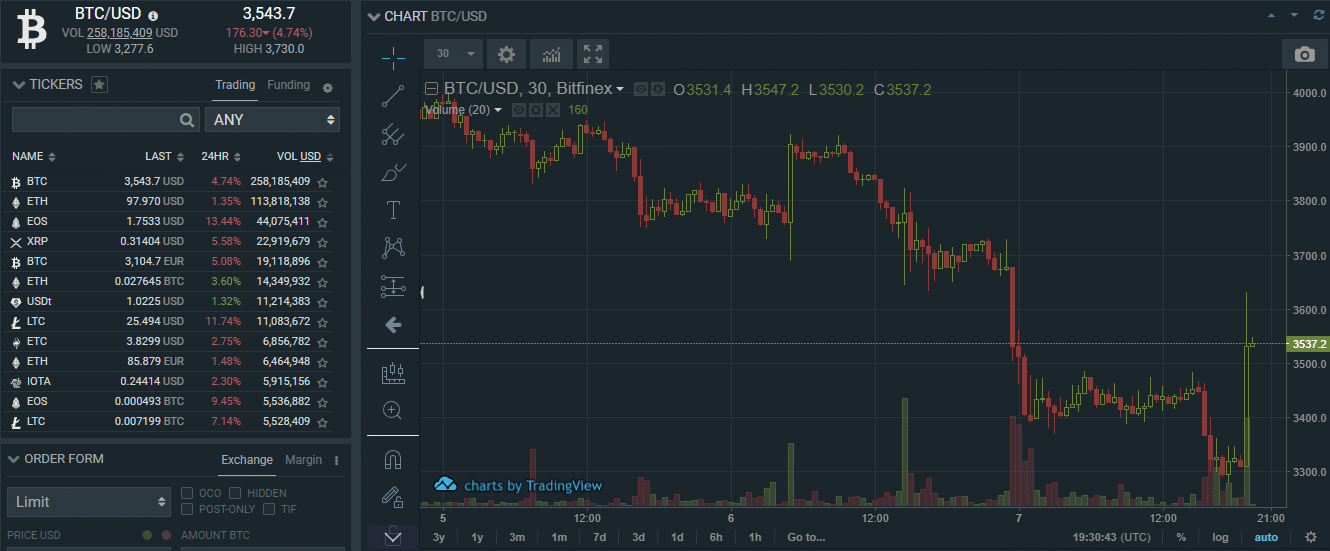 Customer Support
Bitfinex boasts a customer support service that's available via email 24/7. Even though the team usually answers queries and tickets within a 12-hour margin, some responses can take longer. For any issues, users are advised to check out the service's Help Center.
Bitfinex Security
Security is one aspect that also defines Bitfinex. It is true that the exchange suffered two attacks, one that allowed a hacker to obtain 1500 Bitcoin from a user's hot wallet, and a later one that allowed another hacker to access up to 119,756. Bitfinex managed the situation gracefully and reimbursed the victims in full.
Following these attacks, Bitfinex has stepped up its security game, storing almost 99,5% of client funds in offline, cold storage systems with multi-signature functions. In addition, the platform also boasts two-factor authentication and PGP email encryption.
To top it all off, accounts are also monitored and strengthened by using various advanced tools such as the analysis of saved login data (useful for detecting unusual activities), the use of a smart IP detection system (prevents session hijacking), email notifications for all logins (helps to freeze out account in case of malicious activity), and limited access to accounts based on IP.
Final Words
To conclude, Bitfinex is a platform designed for professional traders that boast high liquidity numbers, support for a plethora of cryptocurrencies and fiat currencies alike, lots of trading options, as well as some of the most advanced security features to date.
Even though Bitfinex was the victim of various attacks in the past, the company behind the exchange has learned from these mistakes and has proved itself as being very transparent when it comes to situations like these.