Bitfinex is a well-known, controversial crypto exchange in the industry, and today, in our review, we will be exploring the key features, security, pros, and cons of this exchange to find out if it is the right trading platform for you.
Bitfinex Review: Exchange History
Bitfinex was initially based in the British Virgin Islands, founded in 2012 by Raphael Nicolle, who also worked at iFinex.inc. It was then headquartered in Hong Kong, offering only Bitcoin margin lending when it first started out. The exchange moved its base operation in 2018 to Switzerland.
Bitfinex is also tied to Tether, the issuer of the USDT stablecoin, as it is claimed that both companies have the same CEO, Jan Ludovicus van der Velde.
ETHfinex, an equivalent exchange that supports ERC-20 token trading, is also managed by Bitfinex.
Bitfinex used the source code of a previous exchange called Bitcoinica, which has been active for almost a year. Bitcoinica had a deeply flawed code, losing over the span of a few weeks 61,000 BTC in two hacking incidents( more on that later in our Bitfinex review).
Bitfinex has one of the highest reported trading volumes, processing $2B worth of trades a day, and trading around $600m per 24 hours in the BTC/USD pair, accounting for 6.27% of the total market.
Supported Currencies
The exchange lists over 150 cryptos and tokens on its platform, including Bitcoin (BTC), Ethereum (ETH), Litecoin (LTC), Ethereum Classic (ETC), Bitcoin Cash (BCH), Dash (DASH), Ripple (XRP), TRON (TRX), Zcash (ZEC), NEO (NEO), Monero (XMR), Augur (REP), Bitcoin Gold (BTG), Golem (GNT), Qtum (QTUM), Status (SNT), Bytom (BTM), Verge (XVG), Storj (STORJ), Basic Attention Token (BAT), 0x Project (ZRX), FunFair (FUN), and Tezos (XTZ).
To see all the coins supported by Bitfinex, access their "Support" section, click on "Knowledge Base," and click on the "Currencies & Token" section.
Fiat trading can be done in the following currencies: USD, EUR, GBP, and JPY.
Available Countries
The services of the exchange are available to all global users aside for residents from the following countries:
Bangladesh;
Bolivia;
Ecuador;
Kyrgyzstan;
United States of America;
Bitfinex Apps
Bitfinex can be used in web browser format on all PC and tablet operating systems, including Windows and Mac. The platform also released Android and iOS applications.
User Interface and Experience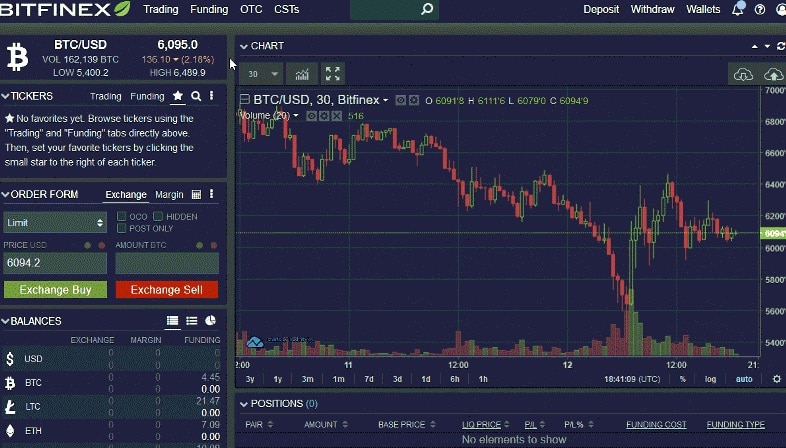 Bitfinex's interface and features mostly cater to intermediate and experienced traders, as it includes advanced trading tools and charting functionalities. The GUI allows for customization for its wide array of order types, as well as advanced charting options and API access.
Available Trading Options
Users can make trades by using a variety of order types:
Over the Counter (OTC);
Limit Order;
Stop Order;
Stop-Limit Order;
Market Order;
Trailing Stop Order;
Fill or Kill (FOK) Order;
Immediate Or Cancel (IOC) Order;
Scaled Orders;
"Reduce Only" Order;
One Cancels Other (OCO) Order Option;
Hidden Order Option;
Post-Only Limit Order Option.
Shorting
Margin trading
Bitfinex also has margin trading, with a leverage of 3.3x, with the user being able to establish the amount, duration, and interest of the borrowing conditions.
Signing up for a Bitfinex Account
Access the site and click on the "SIGN UP" button;
Provide your username, password, time zone, email address, and agree to the terms;
Complete the captcha and agree to the terms;
Click the "Open Account" button after;
Click the "Confirm Email Address" link.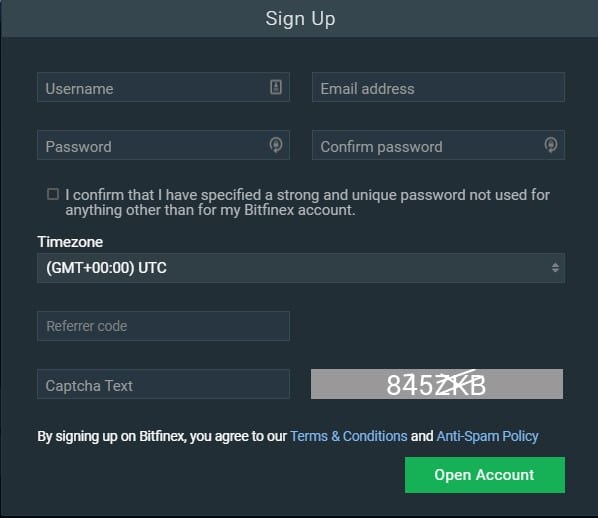 How to Use Bitfinex Exchange
Making a deposit
Open your Bitfinex account;
From the top right, click the "Deposit" link;
Select your crypto;
Select one of the wallets (exchange/margin/funding) according to your account;
Click on "Click to generate address";
Click "Copy to Clipboard".
Paste this address in the wallet from where you want to move your funds.
Fiat deposits require account verification, meaning you will have to present identity documents (passport, driving license, etc.). The process can take up to 6 or 8 weeks to be completed.
Buy crypto
Click on "Trading" from the top left;
Select your trading pair;
Access the "ORDER FORM" and click the "Exchange" tab;
Select your type of order and how much you want to buy;
Click the "Exchange Buy" button.
Withdrawing funds
Click the "Withdrawal" link;
Select which crypto to withdraw;
Paste your external wallet address, withdrawal amount, and select the wallet (exchange/trade/funding) from which you want to withdraw the funds;
Click the "Request Withdrawal" button.
Bitfinex Exchange Fees
The fees charged by Bitfinex are based on a maker-taker model that is calculated on the trading volume over a 30 day period.
Deposit fees
Fiat deposit: 0.1% fee;
Cryptocurrency deposit: Free for deposits over $1,000. Nominal (less than $1) fees apply otherwise;
Tether (USDT) deposit: Free for deposits over $1,000 equivalent. 20 USDT otherwise.
Withdrawal fees
Fiat withdrawal via bank wire: 0.1%;
Fiat withdrawal via express bank wire: 1%;
Fiat withdrawal via high frequency/volume bank wire: 3%;
Cryptocurrency withdrawal: varies based on crypto, usually less than $1 equivalent;
Tether (USDT) withdrawal: 20 USDT.
Margin trading fees
Charge on fees collected by margin trading providers: 15%;
Charge on fees collected by margin trading providers when opened by a hidden offer: 18% fee;
Charge on funding that is borrowed and returned without being used in a margin position: Up to 1 full day's interest.
Payment Methods
Bitfinex can only fund their accounts through bank wire or crypto. EUR, JPY, GBP, and USD deposits are accepted. There are no credit/debit card payment options.
Transaction times
Transaction times depend on the payment method used, network traffic, and other factors.
Transfer limits
There are no minimum or maximum limits for fiat deposits. Fiat withdrawals come with a minimum limit of $200, and a fee limit of $20. Trading wise, there are no limits on Bitfinex.
Security Features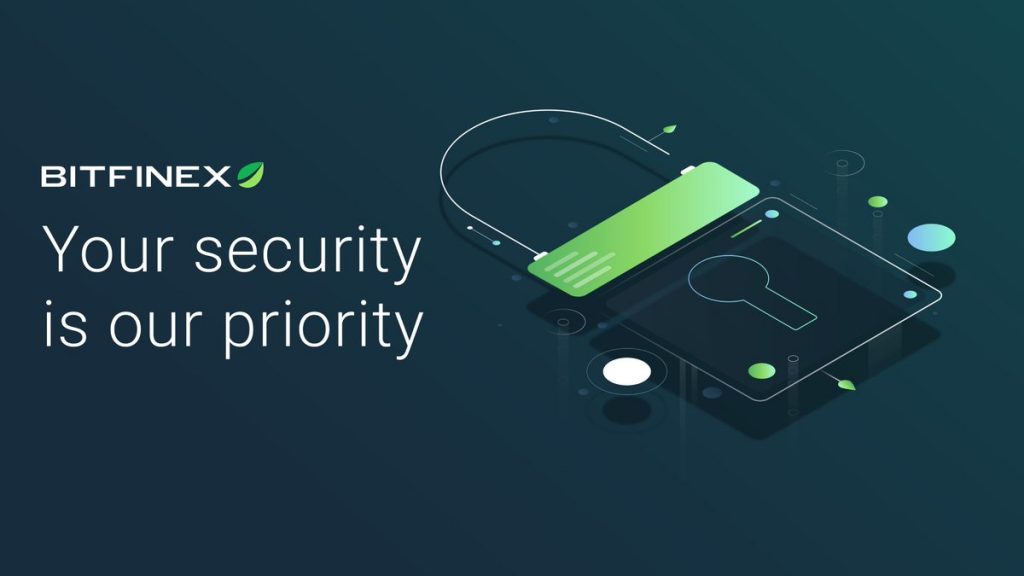 Bitfinex has had its fair share of hacks and controversies that have left many users wary of the security measures integrated by the exchange.
As the exchange used the faulty code of Bitcoinica, it was unexpected why in 2015, Bitfinex lost 1500 BTC to hackers. Another hack occurred in August 2016, this time losing 100,000 BTC.
The exchange was also heavily criticized for taking 36% from its users' balance to cover the damage, including from users that were not hacked. Bitfinex gave them the equivalent share of a token called BFX. The swaps were not welcomed by any of the users, suspecting the platform had forced them into doing so in order to get their money.
Bitfinex then lost its banking partners, Wells Fargo and a Taiwanese bank, in 2017. This led to big issues in 2019, as Bitfinex had to turn to a Panamanian payment processor called Crypto Capital Corp for its banking needs. The exchange deposited $1 billion in Crypto Capital. The money has been allegedly locked by the payment processor, but essentially the money was lost. Bitfinex decided not to tell customers of this, and allegedly tried to cover the loss of $850 million by using money from Tether's reserves.
In April 2019, New York's Attorney General, Letitia James, accused Bitfinex of the Tether cover-up.
Bitfinex claims that 99.5% of all customer funds are kept in cold multi-sig wallets where the keys are geographically distributed in different secure locations.
The accounts of users can enable 2FA, U2F, and PGP email encryption, and benefit from monitorization and advanced verification features, including:
saved login data analysis;
system for IP address monitorization and session hijacking prevention;
email notifications with instant account freeze link when suspicious account activity is detected;
IP address monitoring.
Customer Support and Reputation
The Bitfinex support team is available 24/7 and can be reached via a ticketing system. The support staff has been reported to respond within 12 hours, with some users claiming that it took even more than that to receive an answer. Unfortunately, there is no live chat or phone number available.
The "Knowledge Base" section is also featured on the site, and it offers explanations on various subjects related to account use and trading.
The reputation of the exchange is hard to establish, as the community is divided online. When searching for a Bitfinex review, you will find most of them to be positive, but there will also be many users posting on forums to relate a negative experience.
Bitfinex Review: Verdict
Bitfinex is a crypto exchange which is better suited for advanced traders, as it offers a wide diversity of pairs and order types and decent market rates. You will have to keep in mind that the exchange has experienced security issues in the past, and it is still connected to controversies that are not solved to date. We hope that the information in our Bitfinex review has helped you discover if the service meets your trading needs.
Note: This post was originally published on 10 December 2018 and has been totally updated for the completeness and veracity of the content on 14 April 2020.
The Review
Bitfinex Exchange Review
Bitfinex is a well-known crypto exchange, which has low fees and advanced trading options. The platform is easy to use, so that it is a good option for both beginners and advanced traders.
PROS
Low fees
Advanced trading options
Many order types
A wide selection of crypto
CONS
Transparency issues
Security concerns
Controversial connections
A limited number of fiat payment options
Review Breakdown
Supported Currencies

Rates and Fees

Security

Transaction Speed

Ease of Use

Customer Support