With the start of a new year, investors are looking to optimize strategies to their expectations, and this brings Coti price prediction to mind. Coti coin has been faced with a turbulent few months, but the uptick in crypto payments could provide the much-needed lifeline.
So, is Coti crypto a good buy now? Investors should consider a bet in Coti coin as the startup is sporting some attractive fundamentals, and the price chart bolsters an optimistic opinion on the future of the native currency to the Coti ecosystem. Here's our Coti crypto price prediction.
Coti Price Prediction | Introduction
At the time of writing this Coti crypto price prediction 2022, the coin was trading at $0.4074, according to price data on CoinMarketCap. The market cap of the Coti ecosystem is estimated at more than $300 million, fully diluted to nearly $800 million.
Coti is the best cryptocurrency payment gateway that allows enterprise clients to accept crypto payments on their online stores, websites, and more. It is a simple, easy-to-navigate service, and the only step enterprises need to create individual payment solutions and digitize any currencies.
The mission of the network is to make it cheaper for a consumer to pay for everyday goods and services in cash, only in a digital ecosystem rather than using a bank, PayPal, AliPay, and more. It's bringing stability, simplicity, and scalability to the blockchain as a solution for the masses.
Coti Price Prediction: Technical Analysis
By looking at the historical price data and applying technical analysis to explain every movement, a pattern can be identified that will point to a Coti coin price prediction.
| | | | |
| --- | --- | --- | --- |
| Month | Open Price | Closing Price | Month High |
| December 2021 | $0.4513 | $0.3552 | $0.5116 |
| November 2021 | $0.6393 | $0.4513 | $0.6581 |
| October 2021 | $0.6211 | $0.6393 | $0.6826 |
| September 2021 | $0.3140 | $0.6211 | $0.6770 |
| August 2021 | $0.1367 | $0.3140 | $0.4854 |
| July 2021 | $0.1520 | $0.1367 | $0.1555 |
| June 2021 | $0.2349 | $0.1520 | $0.2767 |
Coti crypto price has bounced off a crucial barrier, suggesting an uptrend is likely in early 2022. This Coti price prediction, however, faces a confluence of resistance barriers, revealing that the upside of COTI is capped.
The crypto price has retested the $0.3062 and $0.2927 support floor for most of December 2021 and has not been breached once. The latest encounter with this support zone resulted in a rally of nearly 25% in a week.
Since the price uptick, COTI has retraced to where it is currently trading. As it trades, the coin is facing the 50-day Simple Moving Average and must overcome this hurdle to have any chance at a significant upswing in 2022 and validate bullish Coti crypto price prediction 2022.
Clearing this barrier will allow COTI to rally 20% further to retest $0.4763 to challenge the 50 and 100-day Simple Moving Averages. This confluence of SMAs could also mean that COTI will have it rough attempting to move beyond this level.
However, under special circumstances, a bullish Coti coin price prediction can emerge here. All Coti needs is a significant spike in buy orders that could push an advance that breaches the resistance barrier, allowing Coti Price to retest the $0.5724 resistance barrier.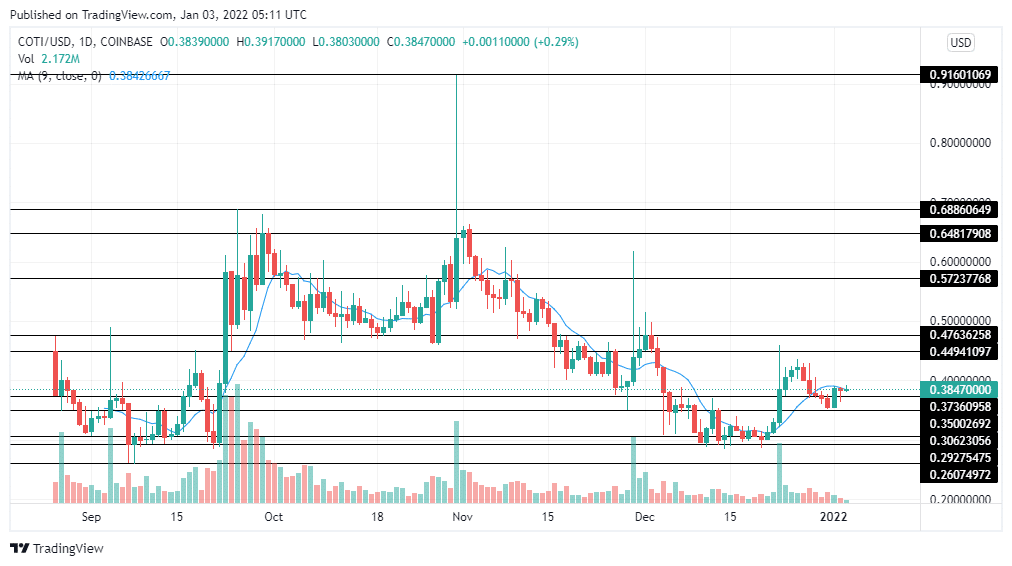 The blockade at $0.4494 is a cause of concern as any short-term spike in buying orders will push COTI into profit-taking and send the price tumbling due to selling pressure from investors trying to break even.
As a result, from an optimistic standpoint, investors should expect a 20% upswing to the $0.4494 and $0.4764 area from the current position, and anything beyond this Coti crypto price prediction is ephemeral and unlikely to hold up, at least in the first quarter of 2022.
Coti Price Prediction: Market Opinions
To further support a Coti price prediction, let's take a look at the market sentiments concerning Coti crypto and consider the forecasts of popular systems. The start of a new year is always marred by the risk associated with unfinished business coming from the previous year.
Growth in Coti has been slowing for the last few months of 2021 amid concerns about a deflating cryptocurrency bubble and the fate of altcoins. Let's consider other COTO price prediction 2022 narratives.
Coti Price Forecast for January – February
TradingBeast
TradingBeast Coti price forecast for January – February shows the bulls attempting to sidestep a bearish fate in 2022, as Coti is likely to prepare for a 25% uptick for $0.6879. An increase in buying pressure will set up COTI for a launchpad that will secure a bullish outlook in 2022.
CoinArbitrage
CoinArbitrage predicts Coti consolidating after the recent uptick in buying pressure. The run-up that followed formed equal highs as a Coti price forecast for January – February capped at $0.5678, leaving quite a bit of liquidity for the rest of the year.
Coti Price Forecast for the Rest of the Year
WalletInvestor
WalletInvestor is bullish with a Coti price forecast for the rest of the year that eyes $0.749. This bullish Coti coin price prediction is established from a directional bias that forms from a breakout in February and continues to make a possible test of $1 during the year.
DigitalCoin
DigitalCoin says for the rest of the year eyes $0.9300 as the currency bounces off the crucial support level. COTI is taking a jab at an upswing after retracing for a quick run-up. The pullback is far from setting up a lower low, further confirming this Coti coin price prediction.
Coti Price Forecast for the Next Year
PricePrediction
PricePrediction eyes retest of $0.63 after COTI breaks out of $0.53. This Coti price forecast for the next year suggests 2022 is the year of the big move as Coti is bent on triggering a 50% uptick to book an average trading price of $0.55 within a year.
Gov.Capital
Gov.Capital Coti coin price prediction is bound for explosive moves to $0.9417. Coti's price forecast for the next year shows the biggest buy opportunity closes in February as price needs to form a base for COTI to rally 100%.
Cryptocurrency Experts and Influencers
Noble1Legion shows Coti trading a new crucial resistance zone on a higher time frame, indicating diminishing downward pressure. This Coti price prediction could breach the crucial resistance barrier, revealing its intention to move higher than $0.4899.
ROMM3LL Coti price prediction 2022 predicts Coti is preparing to revisit its all-time high at $0.9160 as a bullish pattern suggests Coti is awaiting a 75% ascent. However, this optimistic Coti crypto price prediction will only be on the radar if Coti manages to slice above the crucial resistance barrier at $0.6886.  
Latest News and Happenings Concerning Coti
Coti has outlined growth plans that will see it grow into the premier financial ecosystem for digital payments. Recently, the ecosystem partnered with Ardana – a hub for stablecoins within Cardano – to enable decentralized payments to AdaPay.
For the last few years, Coti has been thriving, presenting itself as a DeFi for enterprise clients to avoid, if not reduce, transaction fees. The ecosystem is the official issuer of Djed – a stablecoin running DeFi protocol within the Cardano blockchain.
This announcement was made by Cardano founder Charles Hoskinson and Coti CEO Shahaf Bar-Geffen at the Cardano Summit. Djed runs smart contracts that, along with its algorithmic design, keep it from price instability and an instrument for the transactions.
The stablecoin works like an autonomous bank that is designed for paying transaction fees on the Cardano network. It's structured in a way that the user avoids the volatile and high gas prices by making transaction costs more predictable and included in the fine print of the smart contracts.
With Coti coming into this partnership, a bullish Coti price prediction looks likely. Coti is positioned to reach an entirely new audience with the entry of enterprise players; the network is ready to experience astronomical growth.
We also recommend: 1Inch Price Prediction
FAQs
Is Coti Coin a Good Investment?
Yes. Coti is a solid investment in 2022. The fundamentals of the network are flying high, and the technical indicators are strengthening. COTI is likely to remain in these fertile conditions for the better part of 2022.
What Is Coti in Crypto?
The native currency of the Coti ecosystem is COTI crypto. COTI is the currency used with the ecosystem for service and transaction costs.
How Much Is the Coti Coin Worth?
At this time, Coti was trading at $0.3808. For the updated value of Coti crypto, you can visit CoinMarketCap for real-time data.
Coti Price Prediction: Verdict
The median Coti price prediction is bullish. This network is sporting some strong technical and fundamental indicators that are bullish over Coti price prediction 2022.