In this Fantom price prediction, let's take a look back at the price history and trading patterns Fantom established in 2021 and see the good chance this could be the unlikely star of 2022. If the remarkable track record is anything to go by, perhaps Fantom deserves an entry in your new year crypto picks.
Fantom enjoys the attention of millions of cryptocurrency investors – large and small. After all, the coin emerged from the noisy realm of altcoins, surprising many with a stellar performance against the odds. So, is Fantom a solid investment in 2022?
Fantom Price Prediction | Introduction
At the time of making this Fantom crypto price prediction, FTM was trading at $2.84, according to data on CoinMarketCap. The value of the entire network at this price is estimated at over $7 billion, fully diluted to nearly $9 billion.
Fantom launched with the promises of giving developers more than just a blockchain platform for dApps and digital assets. The startup leverages its native currency – FTM – to build a service model with greater security and higher scalability.
Investors' demand to invest in or trade digital assets is at its peak despite the volatility in the cryptocurrency market. Fantom, in particular, is a network of interest to developers looking to cash in on this boom. Is this enough to validate a bullish FTM coin price prediction?
Fantom Price Prediction: Technical Analysis
This Fantom crypto price prediction will not be complete with a comprehensive study of everything that makes the FTM coin tick. Here is a summary of FTM's recent price movements:
| | | | |
| --- | --- | --- | --- |
| Month | Open Price | Closing price | Month High |
| December 2021 | $2.14 | $2.26 | $2.33 |
| November 2021 | $2.87 | $2.14 | $3.17 |
| October 2021 | $1.21 | $2.87 | $3.48 |
| September 2021 | $0.7161 | $1.21 | $1.93 |
| August 2021 | $0.2555 | $0.7161 | $0.8977 |
| July 2021 | $0.2411 | $0.2555 | $0.2775 |
| June 2021 | $0.3209 | $0.2411 | $0.4021 |
FTM coin is at an inflection point in its journey up as it approaches a make or breakpoint. A successful flip of the next crucial resistance level into support will jump-start the uptrend back to life and fuel the continuation of the uptrend.
A failure, however, could result in a retracement that will likely undo gains made in 2021 and push the holder into profit-taking to break even. At this point, this Fantom price prediction points to a climb higher.
FTM price set up equal highs at $2.88 at the end of October and the start of November. This price action was followed by a 25% correction to $1.91. FTM then spent 21 days trading around this level in consolidation mode.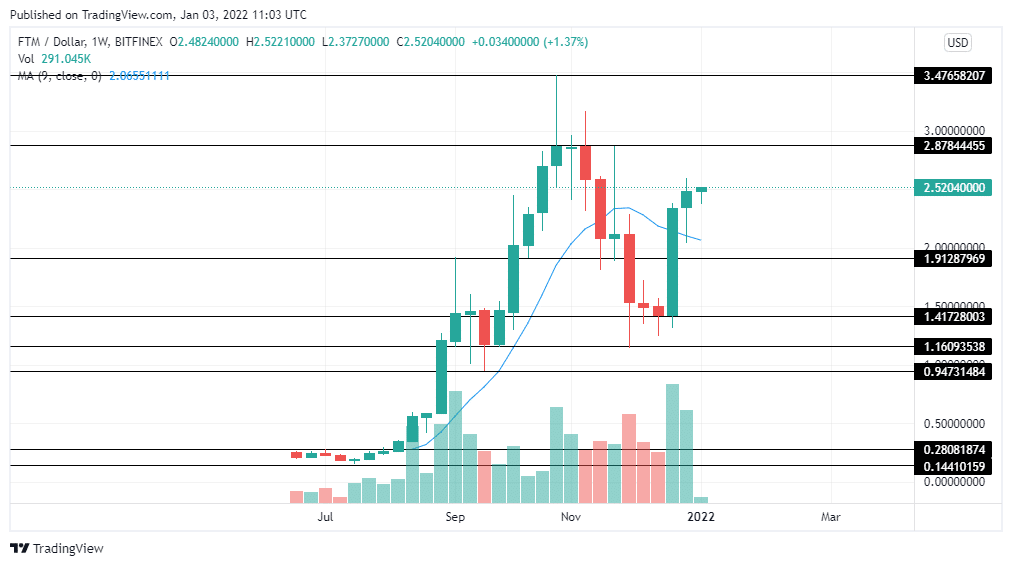 After a few quick sweeps towards $1.42 and $1.16, the FTM price recovered above $1.91 and embarked on a 9% ascent to retest the $2.89 resistance barrier. FTM faces a decisive moment here as a successful flip of this barrier into support will validate a bullish FTM coin price prediction.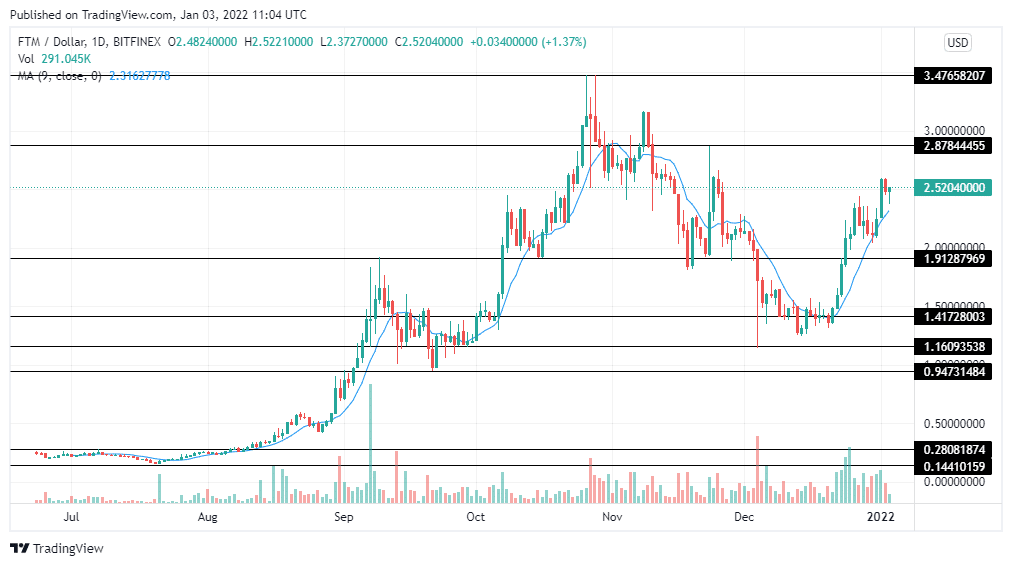 The best thing that could happen for a bullish FTM coin price prediction is for sidelined buyers to open long pilot positions at $2.89. The resulting development will send a signal for more buyers to jump on the FTM bandwagon.
This bullish momentum will likely push FTM crypto to rally with a target of 15% to attempt the next barrier at $3.48 and collect the buy-stop liquidity resting above this level. Still, the prediction assumes FTM will penetrate above $2.89.
A failure at this level will result in a retracement of $1.91, where buyers will get a second chance to make their comeback. This level would provide the best conditions for a bounce-off provided buyers put in long positions to their existing positions.
However, a lack of bullish pressure will send FTM falling through the support floor and revisit $1.42 and $1.16. A lower low candlestick formation below this level will invalidate the bullish thesis and justify a bearish outlook.
Fantom Price Prediction: Market Opinions
The key takeaway from the technical analysis of FTM coin price prediction is that the actions of bullish actors will determine the future of Fantom crypto. These buyers will only make a move on the market if they believe there is room for greater gains by investing in Fantom crypto.
In this section, let's consider the sentiments of investors and the Fantom crypto price prediction outlooks by forecasting systems and cryptocurrency trading experts. Let's also consider predictions over different time frames.
Fantom Price Forecast for January – February
TradingBeast
TradingBeast projects FTM will test key support in early 2022 as bulls prepare for a 35% rally. The Fantom price forecast for January – February shows FTM price slicing past the resistance barrier, coinciding with a move to test $3.5 in early 2022.
CoinArbitrage
CoinArbitrage FTM price prediction shows price searching for reliable support before FTM bulls target $3.12 by February and discover reliable foothold for bullish showing for the rest of 2022. This Fantom price forecast for January – February sees a buying opportunity at a slightly lower price than the close of 2021.
Fantom Price Forecast for the Rest of the Year
WalletInvestor
WalletInvestor determines FTM coin has positioned itself for steep correction that could see the crypto test $4.724. If this Fantom price forecast for the rest of the year is validated, it will trigger a rally that will knock several barriers on its way to book a new all-time high.
DigitalCoin
DigitalCoin eyes an upswing with a Fantom price forecast for the rest of the year targeting $3.61. This Fantom price prediction hopes for bullish technical signals as FTM offers hope of recovery with signs for a bounce towards the upside for the rest of 2022.
Fantom Price Forecast for the Next Year
Gov.Capital
Gov.Capital targets $3.713 next as the bullish pattern is established early in the year. This optimistic target will only be on the radar if FTM manages to clear the existing resistance barrier and reverse the short period of underperformance to book a bullish Fantom price forecast for the next year.
PricePrediction
PricePrediction shows Fantom price will go on a steady uptrend for roughly six months with no signs of slowing down at $4.25. This Fantom price forecast for the next year determines investors can expect FTM to form a base at $3.53 that will result in a bullish outcome within a year.
Cryptocurrency Experts and Influencers
Altcoin Sherpa Fantom price prediction is a rally of 20% for $2.60 after FTM managed to secure a reliable foothold above $1.91, the lower boundary of the governing technical pattern. The bulls are now aiming higher level as FTM crypto prepares for a powerful recovery.
Pharmlord FTM price prediction eyes a rally to $3.5 since FTM crypto has been consolidating after its massive run in 2021. FTM appears to be ready to escape its recent downtrend as it nears a critical hurdle. Slicing above the crucial line of resistance could unleash nearly 40% gains for the FTM token.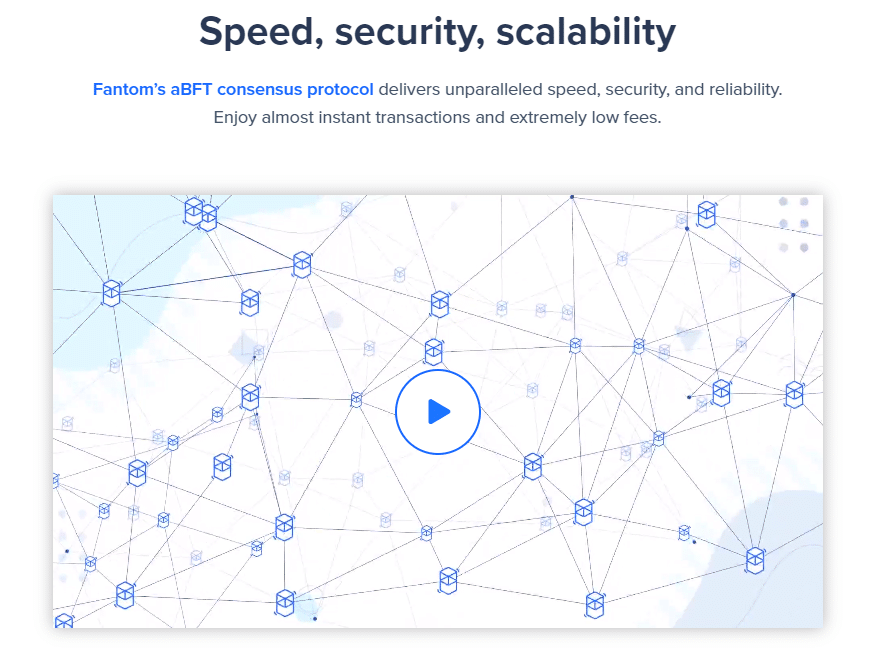 Latest News and Happenings Concerning Fantom
Recently, Binance USA listed the Fantom crypto on their platform, thereby allowing US-based investors to trade FTM against the dollar and USDT stablecoin. This listing brought with it a burst of liquidity and a bullish FTM price prediction outlook.
At the same time, the Fantom network made it easy for developers to integrate FTM wallets into their dApps. This development targets greater use cases for the FTM token by leveraging its ever-growing ecosystem of dApps that run on top of its blockchain.
For most of 2021, the development team worked on creating support for FTM crypto, which included a partnership with blockchain infrastructure provider Chainstack for the mainnet and testnet. That meant developers gained access to tools that allowed them to manage their own nodes and deploy dApps, launch NFTs, run trading bots, and other applications.
We also recommend: Coti Price Prediction.
FAQs
What Is FTM?
FTM is the token of Fantom. Fantom is a highly scalable blockchain platform for DeFi, crypto dApps, and enterprise applications.
Where Can I Buy Fantom?
FTM crypto is listed in dozens of cryptocurrency exchanges, including Binance US, Binance, Bitfinex, Gemini, Crypto.com, FTX, Uniswap, Sushi, and more. Fantom is planning to list its token to more exchanges, including those operating in the US in the future.
How to Buy Fantom Crypto?
To buy FTM crypto, you need to create an account in the crypto exchange and own any FTM-supported wallet to store your Bitcoin. You can exchange your base currency for FTM, provided it's supported.
How Many Fantom Coins Are There?
The total supply of FTM tokens is 3.175 billion, of which over 2.1 billion are already in circulation.
Fantom Price Prediction: Verdict
Cryptocurrencies continue to be volatile assets going into 2022, but there's some positive news coming from this Fantom price prediction. Following a comprehensive study, this FTM price prediction is bullish that FTM crypto will make major moves in the new year.