Digital art is usually unique, and it is impossible to find this form of art duplicated, as they possess unique digital signatures. This read outlines the steps needed on how to sell digital art.
Even though digital art has existed since 2014, the growth of cryptocurrencies has significantly contributed to their popularity. Currently, digital assets are taking this opportunity to showcase their talent to the world and, more importantly, to make a profit out of their work.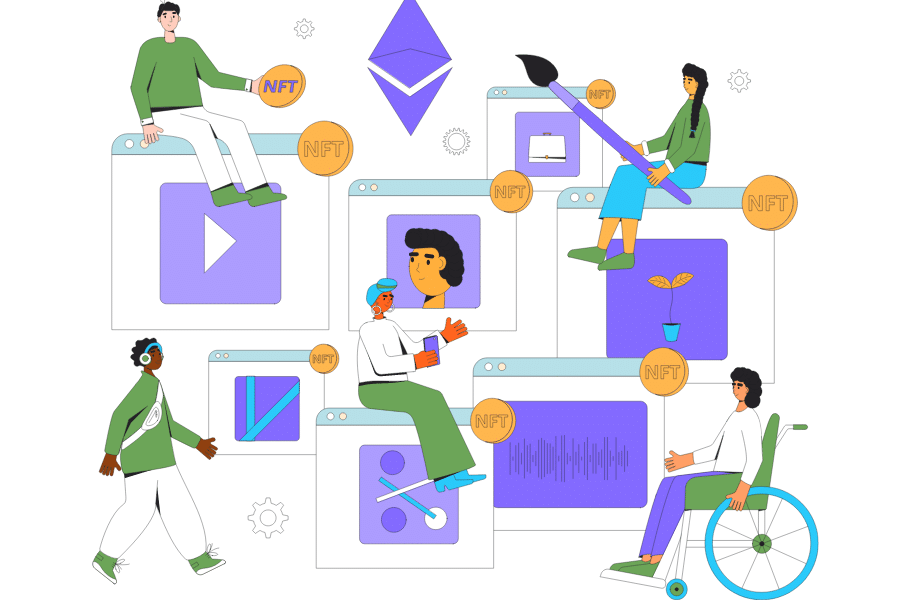 Sell Digital Art – Introduction
Selling digital art is the newest way in which one can invest in the crypto world. One can decide to make this either a full-time career or a part-time job where they can turn their talents into money. Depending on the category of art you wish to sell, there are different prices attached to them, with others weighing more in price than others.
Since buying and selling digital art requires the owner to have full rights to the art, digital, built-in authentication is assured. This authentication also serves as proof of ownership to those who purchase it.
What Is Digital Art?
Before you know how to sell NFT, you first need to understand what digital art entails. Digital arts traded in the cryptocurrency world are usually regarded as Non-Fungible Tokens (NFTs). They are assets that represent the real world regarding objects such as music, art, items used in games, and others.
Digital art is usually purchased and sold online, and in most cases, they are encoded with crypto software. This article gives you an idea of how to sell digital art, either those initially created by you or any that you can buy.
How to Sell Digital Art – Step by Step Guide
The advancement of technology has brought forth plenty of digital artists struggling to find a market for their digital art. However, many digital artists do not know how to sell their digital art online. There are several steps to sell your digital art NFT successfully.
Step 1: Identify a Digital Art NFT Marketplace
Unlike the selling of physical art forms, digital arts require a digital marketplace. Several marketplaces provide digital artists with a platform to display their digital art. Through these marketplaces, you can sell your digital art as an NFT.
These marketplaces are compared to other online selling platforms such as Amazon and Alibaba, whereby people worldwide come to list their products to sell or visit the platform to make purchases of already existing digital art. In the past three years, it has been estimated that at least $400 million worth of NFTs has exchanged hands-on NFT platforms.
It is clear that the market for digital art continues to grow and is lucrative to those who have the means to create digital forms of art. Currently, OpenSea is considered the most established marketplace for digital NFT art. However, through research, you will be able to find several other marketplaces worth considering.
Step 2: List Your Digital Art NFT for Sale
Identifying a favorable marketplace requires you to open an account with the platform. Most of these platforms need the user to create an account with their email addresses, after which they will confirm the usability of the account. After your account has been verified, you will be able to list your digital art on these platforms.
It is, however, essential to note that digital art marketplaces charge a service fee to list your sale on their platform. Therefore, depending on the market you choose, you will have to infer the costs to make the payment required, after which you can go ahead and list your digital art.
It is also acceptable to list your NFT on different marketplaces to broaden the possibilities of making the needed sale, but this decision will also cost you extra fees. To list the NFT, you will choose the sell option on the marketplace of your choice and follow the prompts. In some instances, you will be required to provide details about the price or time of auction of your digital art and the types of cryptocurrencies that buyers will be able to pay you with.
Once these have been completed, the platform will list all the required fees, primarily a percentage of the selling price. If you are interested in using royalties to monetize your digital art over time, you can set the royalty amount as you list the piece of art.
Step 3: Set Up and Link an NFT Wallet
Like crypto wallets, NFT wallets provide users with an easy solution to storing their NFTs safely and giving them a proper solution in the investment process. Several NFT wallets in the crypto arena will provide you with the needed services.
Currently, Crypto.com is considered one of the best NFT wallets to invest in. The wallet has over 100 cryptocurrencies to deal with, making it the best wallet to use when selling your NFT. The wallet can also be easily downloaded from the Apple or Android store since it is non-custodial, and there are no transacting fees when selling or purchasing NFTs.
You will quickly sell your digital art without incurring further fees. However, this cannot be considered the final option as there is an array of NFT wallets that you can use depending on the features they offer.
Step 4: Managing Your Listing
The final step on selling your digital art NFT after listing it with a marketplace is managing your listing. After the listing, your NFT will have been made available to be purchased on the selected marketplace.
You will take note of the changes included in the listing, and you can go ahead and promote your art through your social media channels. However, if you wish to withdraw your piece of art from the marketplace, you might incur more fees.
Related articles: How to Mine ETN | Best NFT Wallet
How to Sell Digital Art – Conclusion
The sale and purchase of digital creations are not just for digital creators. Some may wish to collect digital art and resell them to make a profit, and therefore, similar procedures will be used in both instances. However, when selling a digital creation you purchased previously, there will be no need to create it.
You need to transfer the NFT to the marketplace you intend to sell it. But, of course, this is if it isn't there yet or the digital art has been stored in your crypto wallet.
Since you know how to sell digital art, you may wonder when the best time is to make the sale. The best time to sell digital art depends on the kind of art being sold and why you created it in the first place.