How to mine ETN? The answer is in this article. With fast-growing technology in the crypto mining world, Electroneum is one of the many cryptocurrencies that have come to exist. The Electroneum application is a mobile-based crypto app that is powered by an instant payment system where users receive, send, and transfer funds with instant transactions.
This platform does not require any middlemen, and tokens are earned easily through a few steps. Electroneum mining came into existence in 2017 to provide a platform that is easy to use by anyone with interest in mining. It is currently the leading innovator in the blockchain and crypto world, as it has about 3.5 million registered users all over the world.
This article gives a precise idea of how to mine ETN.
How to Mine ETN | Introduction
Electroneum mining allows users to mine their first coins a few minutes after downloading the app. The miners are usually rewarded with coins from a block reward and a mining fee charged in all the transactions they are performing. Mining of Electroneum is considered the easiest way to begin as compared to mining for other cryptocurrencies like bitcoin since you do not need any special hardware.
One can mine ETN by using a CPU, mobile device/application, or a GPU even though the mobile app is widely used. Electroneum also allows miners to run their nodes as they continue mining. There are two different types of Electroneum mining: solo mining and pool mining.
Solo mining only takes place when a user can afford high computing power, such as GPUs. Pool mining, on the other hand, does not need to have any special hardware, as miners will make use of their computers and phones.
What You Need to Know Before Mining Electroneum
Before you decide to settle on Electroneum mining, you will need to understand a few things. You will first need to learn how to mine ETN as well as utilize ETN mining pools. You will also need to know how ETN GPU mining works and how you will make a profit from your mining.
This read will expound on your understanding of the aspects of ETN mining pools too. Being one of the leading mobile cryptocurrencies, ETN aims to bring about convenience in terms of mobile devices, smart micropayments, and faster transactions. This has captured the market of online gambling and mobile gaming and provided an easy-to-use payment system for developing countries.
It all began in 2015 when the development of this cryptocurrency was put in place. In 2017, Electroneum Ltd was registered. During its ICOs, it attracted almost $40million while over 115,000 investors bought coins. ETN has its own blockchain, which is moderated, thus reducing attack risks.
One can sell their Electroneum through the same exchange they bought it. Over the years, the prices have been fluctuating, but according to storm grain price prediction, the price is set to keep increasing in the next five years.
How to Mine ETN | Step by Step Guide
If you are not a technical person, the idea of mining can be a bit scary but worry not as this guide will ease up things for you even as a beginner. Let's learn together how to mine ETN:
Mobile Phone Mining
We had mentioned that one could mine ETN through their mobile phone. Following through these steps will get you started.
You first download the application from the Apple or Google store and install it on your device.
Register or create an account on the Electroneum site by using your email address or Facebook account.
After following through with all the steps, you log into the app and click the box that says start mining.
Activate your wallet by setting up your PIN confirming basic required information, which is followed by accepting a security notice.
Once done, you can start mining without keeping the app active, though you need to visit the app once a week.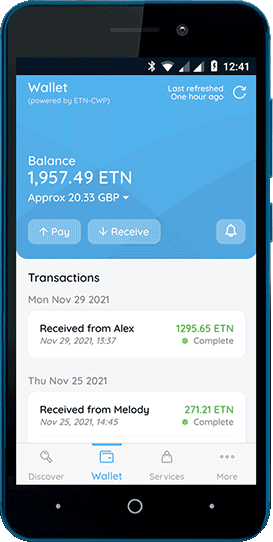 Computer Electroneum Mining
This guide will easily get you started in the mining of Electroneum on your computer. It is only recommendable for windows system users.
Visit the Electroneum website. Click on the let's get started icon where you have to move your mouse around some random patterns to get a random key set.
Click on the save wallet as PDF and then open it and print the key sets.
Install the mining software, which can be found on Github.
After downloading, extract the zip file and open the folder with the software.
Locate the software, and in this case, it's called smr-stak.exe, then double click on it to begin its installation process.
A tab will pop up where you are asked which algorithm/ currency one wants to mine and type "CryptoNight," then click enter.
One needs a pool address. In this example, we will use a space pool. To select space pool as your preferred mining pool, enter http://pool.etn.spacepools.org:3333/
Key in your Electroneum wallet address the click enter.
Lastly, enter the miner (miner1). When asked about TSL/SSL and nice-hash type letter "n" and click enter on all occasions. Repeat this process when asked about multiple pools.
Electroneum Mining – Recommendations
There are different Electroneum mining pools, and ways in which you can learn how to mine ETN. Below are a few that you can get started with.
Spacepools is one the oldest existing mining pools; it charges a meager fee of 0.1% for mining. They control 10% of the hash rate network. Poolin has a 2% mining fee, controls about 12% of the entire hash rate network, and one can mine from anywhere in developing countries.
Fairhash charges a 1% fee for mining and has less than a 10% hash rate of the entire network. F2Ppool charges a fee of 3%, which is quite high for some users. They also manage a high percentage rate of the hash rate network, and overall, it is the best mining pool.
Lastly, we have the Nanopool, which charges a 2% rate, and manages about 10% of the hash rate network. It focuses on both confidential Electroneum coin and Electroneum.
Related articles: Best NFT Wallet | How to Mine Monero
How to Mine ETN – Conclusion
The two types of mining that we saw above both have their advantages and disadvantages. Let's go through them so that you may be able to choose what is reliable for you when it comes to mining ETN. In solo mining, the advantage is there are no fees needed to be paid and no intermediary charges, and due to no intermediary, your pool cannot be hacked easily.
The disadvantage of solo mining is the time one can have to wait to win a reward. It can be a very long time when you decide to go down the road of solo mining. Think of solo mining as working on commission where unless you make a sale, you don't get paid.
On the other hand, by mining in a pool, you can get consistent rewards, and you as a miner do not need special hardware to mine the cryptocurrency. It is like combining your computing power with other miners, and you get the same percentages of rewards of ETN. We hope that our guide on how to mine ETN was useful.