Investors have set their sights on making record returns from BTC in 2022, and these sentiments are catalyzed by a flurry of bullish Bitcoin price prediction narratives. The concentration of high-income earners around the BTC ecosystem is perhaps evidence of the level of investor optimism.   
A steady rise in crypto-interest and optimistic BTC price prediction outlooks convinced investors to keep their fingers in the 'buy BTC' button in early 2022. Bitcoin's unparalleled returns and iron-hold on market share make this Bitcoin price prediction 2025 a tribute to the power of buy and hold.
Bitcoin Price Prediction | Introduction
When making this Bitcoin price prediction 2025, BTC price traded at $40,557.40 according to data by CoinMarketCap, a drop from the New Year price. The market cap of Bitcoin at this BTC price was a mind-blowing $770 billion, fully diluted to nearly $853 billion.
Bitcoin, being the first widely successful digital currency, needs no introduction. The works of its infamous founder, Satoshi Nakamoto, are well documented online and in traditional media. It is considered the looking glass by which investors weigh the entire market. That is intentional.
This most expensive, most valuable cryptocurrency in the world reached new heights in the bull market of 2021, with BTC price inching closer to the $100K Bitcoin price prediction. So far, in 2022, Bitcoin is having a great year in a down market.
Bitcoin Price Prediction: Technical Analysis
Online Bitcoin circles have become the perfect environment for the wildest of BTC price prediction posts, analysis, and everything else. So to add context to our Bitcoin price prediction, let us dive deeper into the recent price action to identify areas of opportunity, strength, weakness, and threat.
| | | | |
| --- | --- | --- | --- |
| Month | Open Price | Closing Price | Month High |
| February 2022 | $38,481.77 | $43,193.23 | $45,661.17           |
| January 2022 | $46,311.75 | $38,483.13 | $47,881.41 |
| December 2021 | $56,907.96 | $46,306.45 | $59,041.68 |
| November 2021 | $61,320.45 | $57,005.43 | $68,789.63 |
| October 2021 | $43,816.74 | $61,318.96 | $66,930.39 |
| September 2021 | $47,099.77 | $43,790.89 | $52,853.77 |
| August 2021 | $41,460.84 | $47,166.69 | $50,482.08 |
BTC prices have revealed a plan to revisit the $47k resistance barrier. This behemoth has been stuck in a tight range for roughly six weeks with minor daily returns. This sideways movement is reminiscent of Q2 of 2021, just before the uptrend that set a new record.
That bullish BTC price prediction breakout seems likely in 2022. BTC price showered a lack of volatility as it traded sideways since the New Year. This consolidation resulted in a bullish breakout that allowed BTC to rally 13% and set a swing high at $45187.79.
However, the momentum was insufficient and returned to lower areas. As the BTC price range tightens again, the sideways movement now is reminiscent of the earlier one. Interestingly, since early March, the RSI has set up higher lows, while BTC has set up lower lows.
This bullish divergence forecasts a Bitcoin price prediction, crediting the bullish thesis. In the case of a breakout, investors can expect the BTC price to rally at least 30% and tag the $49272.22 psychological level.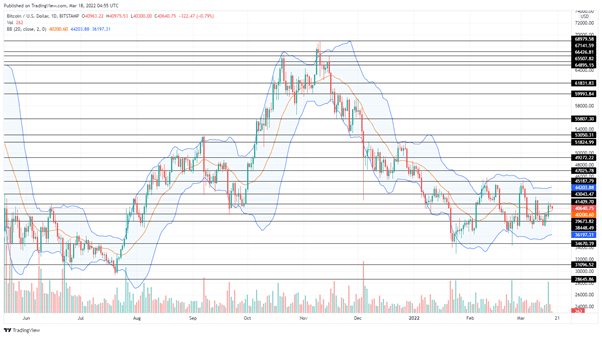 On the other hand, if Bitcoin bulls fail to muster up the strength to move higher, that could impact Bitcoin price prediction 2025. BTC is likely to slide lower and collect the liquidity resting below equal lows at $38448.49. This liquidity run is another chance for bullish players to make a comeback.
Bitcoin Price Prediction: Technical Conclusion
A daily candlestick formation above $45187.79 will create a higher high and validate the bullish Bitcoin price prediction. However, a daily candlestick formation below $38448.49 will create a lower low and invalidate the bullish BTC price prediction.
Bitcoin Price Prediction: Market Opinions
The high Bitcoin price helps attract long-term investors backed by bullish Bitcoin price prediction 2025 and encouraged speculation. In this section, let us consider the investing acumen of market participants.
Bitcoin Price Forecast for March-April
TradingBeasts
TradingBeasts awaits a 15% recovery as the BTC range tightens in March. According to this Bitcoin price forecast for March- April, Bitcoin prices are likely to be kept in check by the consolidation range, a short-term sell at $48691. 
Long Forecast
Long Forecast sees a bullish correction in the works set up a technical formation to test the limits of the overhead barrier. This Bitcoin price forecast for March – April details a path to recover the losses from the New Year first at $43566 then $43041
Bitcoin Price Forecast for the Rest of the Year
WalletInvestor 
WalletInvestor sees a choppy 2022 but still forecasts a Bitcoin price prediction eyeing $62593. It predicts Bitcoin undergoing a massive devaluation in the coming months before hitting a parabolic bulls rally in the Bitcoin price forecast for the rest of the year. 
DigitalCoin
DigitalCoin eyes a 25% upswing as BTC recovers crucial support levels to build a recovery effort, signaling chances of a bullish 2022. In the same direction, the Bitcoin price forecast for the rest of the year targets $57798. 
Bitcoin Price Forecast for the Next Year
Gov.Capital
Gov.Capital set sights on a bullish Bitcoin price prediction for 2025, with a bullish stopover at $73548.81 in its Bitcoin price forecast for the following year. The prediction suggests BTC price has triggered a massive breakout from an optimistic pattern but remains range-bound. 
PricePrediction
PricePrediction hints at a retest of the current all-time high that will be followed swiftly with the conversion of $53406.93 into support. This Bitcoin price forecast for the next year has its sights set on a $64031.26 upswing. 
Cryptocurrency Experts and Influencers
Apple Cofounder Steve Wozniak hints at a 100% recovery for BTC followed by a burst of momentum that will see the coin set up a new all-time high around $100k. This Bitcoin price prediction comes as BTC is experiencing a surge in interest from retail and institutional investors.  
Nexo's Trenchev predicts Bitcoin's uptrend will maintain itself moving forward, setting up decisive support levels that set the stage for new highs, particularly around $100k. While the corrective hold is still being enforced, this influencer is bullish on the long-term BTC price prediction. 
Latest News and Happenings Concerning Bitcoin
A year into his tenure as US President, Joe Biden is expected to make a move on the crypto industry that could impact Bitcoin price prediction in 2025. Looking at the recent crypto Execute order, any action from this head of state against Bitcoin could be devastating. 
Experts believe a bullish interpretation of any moves by the President could ignite a bank-Bitcoin boom and set the pace for hitting Bitcoin price prediction 2025 ahead of schedule. With the stroke of his pen, the President could make or break BTC price prediction in 2022.
Some of the most important exchanges where you can trade Bitcoin are:
Related articles: XVG Price Prediction | PSG Coin Price Prediction
Verdict
Bitcoin's corrective phase has maintained its hold of BTC prices. However, based on our Bitcoin price prediction, BTC will maintain itself and break the consolidate phase. Although there are signs of exhaustion, the average BTC price prediction is bullish long-term. 
Note: This post was originally published on 20 January 2021 and has been totally updated for the completeness and veracity of the content on 21 March 2022.
Featured image: cryptonews.com