With the calmness and coolness only the best football team in Europe can possess, this fan token has stepped up in the face of bearish market-leading investors to lean towards a bullish PSG coin price prediction. Investors can take some cues from the strikingly similar performance of the club.
In a world where cryptocurrencies keep setting records, fan tokens look dull in comparison. Nevertheless, don't give up on PSG price prediction. PSG crypto price prediction can have a place in your crypto portfolio for a variety of reasons – here's why.
PSG Coin Price Prediction | Introduction
At the time of making a PSG price prediction, the PSG coin was trading at $17.47, according to CoinMarketCap. The value of the Paris Saint-Germain Fan Tokens traded on the market is over $54 million, fully diluted to $348 million.
PSG token allows you to be more than a fan and take part in important club decision-making. Influence the team, access VIP rewards, and enjoy exclusive PSG fan club promotions along with millions of superfans around the world.
As the earning power of the PSG club grows and star-signings like seven-time Ballon d'Or winner – Lionel Messi, PSG token bodes well for fans getting sold on the PSG team. That, in turn, generates bullish building blocks for PSG coin price prediction, fuelled by positive sentiments among football fans.
PSG Coin Price Prediction: Technical Analysis
Now, all our PSG crypto price prediction needs are solid on-pitch performance, too much such lofty fundamentals to back the bullish thesis. PSG price prediction features a play on some of the most exciting price levels with the potential of setting the stage for remarkable gains in 2022.
| | | | |
| --- | --- | --- | --- |
| Month | Open Price | Closing Price | Month High |
| February 2022 | $14.29 | $16.19 | $19.82 |
| January 2022 | $15.10 | $14.29 | $15.59 |
| December 2021 | $17.21 | $15.10 | $19.33 |
| November 2021 | $20.40 | $17.22 | $28.31 |
| October 2021 | $24.62 | $20.37 | $26.58 |
| September 2021 | $31.97 | $24.58 | $34.17 |
| August 2021 | $24.96 | $32.01 | $61.23 |
PSG fan token has struggled to maintain the bullishness witnessed in early February. This lack of commitment has led the token to go astray from bullish PSG price prediction narratives from earlier in the year and revisit lower levels.
Despite the recent bullishness in the crypto market, the fan token has rallied conservatively. PSG token briefly consolidated below the $20.25 barrier and $12.96. Any upside potential will likely be capped at $35.20, a level where upward price movements since September stopped on their tracks.
The resulting downswing sent PSG fan token to as low as $11.83, which recovered in consolidation. Since then, PSG has rallied 23% – an attempt to rake the value lost in the downtrend, and faced rejection at the hands of the monthly resistance barrier at $29.
Rejection at this level has the potential to undo any recent gains and drag the PSG fan token to the $11.83 support level. If this PSG crypto price prediction plays out, it will create a reversal setup, which forecasts a pending uptrend.
The said technical formation could trigger a 20% ascent to $20.25 – the current token price target. In this bullish PSG coin price prediction, the PSG token could make a move to $24, bringing the potential gains earned to nearly 40%.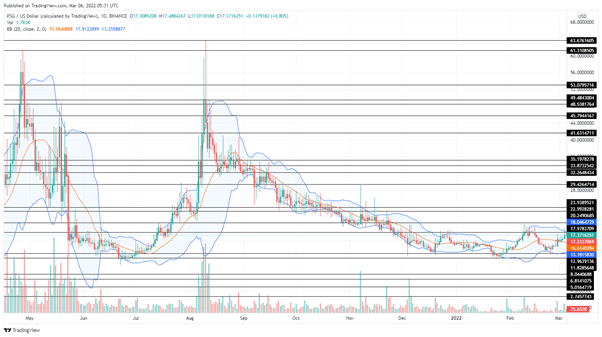 PSG Coin Price Prediction: Technical Conclusion
While things are looking increasingly in favor of a quick bullish trade, PSG fan token price needs to hold above the $15.60 support level. A daily candlestick close below this barrier will create a lower low and invalidate the bullish PSG coin price prediction.
In this PSG price prediction, the token could slide lower to collect the liquidity resting around $8.04 to $6.81 support zone. The development will be another catalyzing event for bullish PSG crypto price prediction.
PSG Coin Price Prediction: Market Opinions
From an investor's point of view, several good things are coming out of the recent PSG fan token price action. To continue on that technical trading outlook, here are some of the prominent PSG coin price prediction forecasts and opinions that matter.
PSG Coin Forecast for March-April
TradingBeasts
TradingBeasts eyes a bounce to $22 as bulls stop the bleeding to pierce a critical resistance barrier in its PSG coin price forecast for March – April. PSG might head towards a stable support level before triggering a brief throwback to $19.37 by April.
CoinsKid
CoinsKid PSG coin forecast for March – April predicts the risk of a sell-off to follow the build-up to the $20 resistance zone. The upside of this PSG crypto price prediction will be capped at $19.8, combined with the reinforcement of the support level that could spell gains of up to 5% and 7%.
PSG Coin Price Forecast for the Rest of the Year
WalletInvestor
WalletInvestor is pulling a bearish PSG crypto price prediction eying a quick 19% fallout as bullish actors retreat. Therefore, market participants can expect a reaction of the current support level that will result in a fall-back to $10.23 as the PSG price forecast for the rest of the year.
DigitalCoin
DigitalCoin forecast PSG could revisit crucial support before exploding to $24.28. PSG price could retrace on failing to pierce through a thick resistance barrier, but going forward, investors should anticipate trading around $22.73 according to the PSG coin price forecast for the rest of the year.
PSG Coin Price Forecast for the Next Year
Gov.Capital
Gov.Capital forecast potential for a one-year historical maximum performance: This PSG coin price forecast for the next year identifies signs of a move higher, which bulls could follow through and settle in for a PSG price prediction at $79.22.
PricePrediction
PricePrediction PSG coin price forecast for the next year eyes stable support around $23.33 and $24.02 as PSG bulls make a comeback. The uptrend might stabilize around this area as PSG prepares for an attempt to shoot for $26.98.
Cryptocurrency Experts and Influencers
AlexBos073 PSG price prediction hints at a 25% ascent as PSG fan token approaches an inflection point. PSG could sweep above major support levels to collect liquidity, suggesting that an uptrend is likely to retest $36 soon.
Meghani PSG coin price prediction shows the token might just be coiling up in anticipation of an explosive move. So, investors should expect to see a reversal in the coming week with the potential to attempt to break the $50 resistance barrier.
Latest News and Happenings Concerning PSG
Football star Lionel Messi recently received a free batch of PSG fan tokens as part of this fee for signing to the club. This endorsement appears to reveal that the PSG football team is keen on creating a new stream of revenue from the token.
Already, the arrival of the star to the French club sent investors on a bullish frenzy that supercharged the fan token's performance that saw the coin reset the all-time high. As the team's chances of winning the Champions league improve, so will its performance on the market. You can buy Paris Saint-Germain Fan Token on Binance, Gate.io, Hotbit, or FTX.
Related Articles: SNX Price Prediction | Polymath Price Prediction | HEX Price Prediction
PSG Coin Price Prediction: Verdict
This value cryptocurrency should be receiving more attention – even though the fan tokens have remained largely ignored by investors for many years now, PSG has made significant progress in improving its business and PSG coin price prediction. It makes for a solid addition to your portfolio.