Exciting developments are coming to this novel crypto – hence, investors are boosting SNX price prediction in anticipation of a launchpad for stellar gains. SNX has bounced off well following the fall of the wider altcoin market in early 2022.
A perfect storm has materialized for a bullish Synthetix price prediction, an industry-wide transformation, and a tokenization boom combined with the entry of institutional players has set a thriving environment for SNX. Here is the complete SNX coin price prediction. 
SNX Price Prediction | Introduction
When writing this SNX coin price prediction, Synthetix crypto was trading at $5.68, according to CoinMarketCap. The market cap of the entire network is $657 million at this SNX coin price, fully diluted at $1,216,416,314. 
With the market dip likely passed, SNX coin is now poised for a period of mid-single, maybe even double-digit topline growth and high-single-digit bottom-line growth. After all, SNX enjoys strong fundamental support, making Synthetix price prediction an investor favorite. 
Synthetix is a protocol that enables the creation of synthetic assets to increase exposure to real-world assets on the blockchain. That means users can create vehicles that capture the price movements of securities with zero slippage – essentially eliminating the need for asset conversion.
SNX Price Prediction: Technical Analysis
To add value to our Synthetix price prediction, let's start with a critical analysis of price action in recent months. This analysis will reveal strengths, weaknesses, opportunities, and threats for SNX crypto price prediction. Here is a history of SNX crypto:
| | | | |
| --- | --- | --- | --- |
| Month | Open Price | Closing Price | Month High |
| February 2022 | $ 5.7365 | $ 3.7440 | $ 6.0561 |
| January 2022 | $ 5.5002 | $ 5.7380 | $ 7.4282 |
| December 2021 | $ 7.6546 | $ 5.4999 | $ 7.7703 |
| November 2021 | $ 10.1117 | $ 7.6674 | $ 11.7163 |
| October 2021 | $ 9.5992 | $ 10.0616 | $ 11.4207 |
| September 2021 | $ 11.5731 | $ 9.5903 | $ 15.8284 |
| August 2021 | $ 10.0926 | $ 11.5975             | $ 14.4987 |
Synthetix crypto price has reached the surface of a vital support area after piercing it a while ago. This upswing is likely to be the trigger that propels SNX to higher highs, thereby validating SNX coin price prediction narratives.
The token pierced the seven-day demand zone, extending from $3.9063 to $5.1641, and stayed there for a considerable amount of time. The recent bullishness propelled it higher, and is currently contemplating a minor retracement before it triggers a new uptrend. 
SNX will most likely share the immediate hurdle at $8.3737 to $10.1520 and focus on breaching through the monthly resistance barriers at $13.5785 to $16.4845. There is a good chance the next leg up will slice through these barriers and hit $16.4845.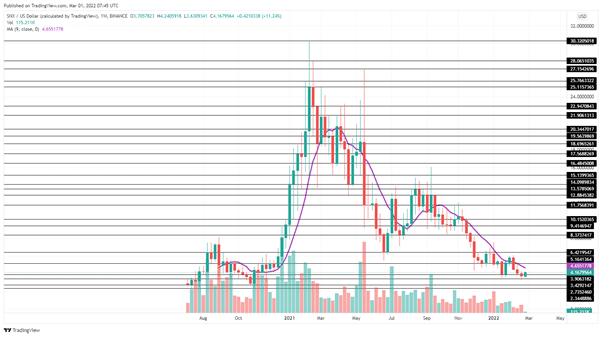 Investors should note that a move beyond $16 will be an arduous journey for Synthetix crypto and is likely where a local top will form. Other on-chain metrics support the notion that SNX will not face significant hurdles up to $15.1399.
Alternative SNX Price Prediction: Technical Conclusion
The bullish Synthetix price prediction is obviously due to the recent spike in BTC price. Therefore, a sudden U-turn for the big crypto could also translate to the altcoin and vice-versa. Lately, the latter has been happening more often than the former.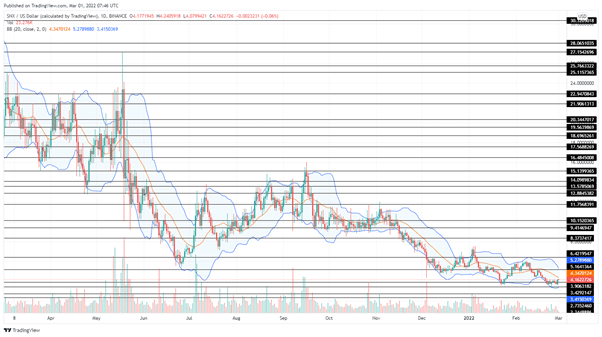 If SNX produces a daily close below the seven-day demand zone's lower limit at $3.9063, it will create a lower low and invalidate the bullish SNX price prediction. All in all, SNX inches closer to this make or break point that will fall squarely on the hands of investors and large market forces. 
SNX Price Prediction: Market Opinions
The overall attitude toward SNX crypto is critical to profitable trading, and adding this general feeling on the crypto to your trading strategy increases your chances of success. In this section, let's consider popular SNX crypto price prediction by forecasting systems and market influencers.
SNX Price Forecast for March – April
TradingBeasts
TradingBeasts expects a quick relief rally in April as bears retreat from the support floor but stop at $4.5464. A quick run-up would allow SNX to retest two hurdles at $5.57 and $5.68, according to the SNX price forecast for March – April.
Long Forecast
Long Forecast Synthetix price prediction shows SNX crypto is currently hovering around a buying opportunity before SNX explodes to $4.23 in March but falls back to $3.16 in April. It is likely to allow market participants to position themselves before the SNX price forecast for March – April materializes. 
SNX Price Prediction for the Rest of the Year
WalletInvestor
WalletInvestor is bearish, suggesting SNX is a bad investment in the long run. This SNX price prediction for the rest of the year devalues the coin to around $0.3025. The forecast anticipates a major pullback as bulls play a critical role in identifying key support floors.
DigitalCoin
DigitalCoin anticipates a bullish fate for SNX coin price prediction as it predicts that the coin will slice through the consolidation breaker, leading to a quick run-up. As a liquidity run, SNX could find support at $5.61 according to the SNX price prediction for the rest of the year. 
SNX Price Forecast for the Next Year
Gov.Capital
Gov.Capital suggests the technical formation forecast a bullish SNX price forecast for the next year. Investors can expect SNX to see substantial gains since the setup forecasts a trend reversal followed by a bullish momentum to see good returns in the upcoming weeks.
PricePrediction
PricePrediction SNX price prediction eyes a support floor around $5.28 to $5.48 for another round of profit-making. SNX will make a swift comeback, allowing SNX crypto to test $6.48 according to the SNX price forecast for the next year. 
Cryptocurrency Experts and Influencers
TG-L SNX price prediction maps out a return to $16 as SNX could bounce off a crucial support level to avoid a bearish fate. From this launchpad, investors can expect to see substantial gains shortly. 
Lorene_Malvoo SNX coin price prediction is bullish, eyeing 25% gains and breaking the current correction phase. SNX, in this case, triggers a recovery rally that could propel Synthetix crypto to retest its all-time high.  
Latest News and Happenings Concerning SNX
Synthetix integrates ETH loans on the Layer Two of the network through a staking dApp. These loans give investors more room to navigate the numerous investing option. They provide funding in the form of stablecoin, USD.
Thanks to a partnership with Gauntlet, a simulation platform, investors can also access financial risk management solutions directly on Synthetix protocol. That means average investors can leverage the power of SNX to apply deep analysis to optimize capital efficiency.
If you are interested in trading SNX, you can do it on Kucoin, Binance, Coinbase, or Gate.io.
Related Articles: Polymath Price Prediction | Origin Protocol Price Prediction | Hex Price Prediction
SNX Price Prediction: Verdict
Synthetix has been slower than most altcoins to recover from the losses of early 2022, but it's primed to enter 2022, nipping at its previous all-time highs. Generally, the average SNX price prediction is bullish, with a very strong likelihood of retesting $16 in the coming months.