The bull market in the cryptocurrency sector from 2021 could be on shaky ground this year, so investors might want to take a broad approach to Compound price prediction in 2022. A brilliant place to start is to look at the coin that forecasts even more outperformance in 2022.
Compound is a significant buy-in in a sector that could be in for a year of outperformance. Rising interests in decentralized finance and strong and rising crypto investors should keep COMP price prediction flying high. Here is the complete Compound coin price prediction.
Compound Price Prediction | Introduction
When making this COMP price prediction, the COMP coin was trading at around $$130.26, according to data available on CoinMarketCap. The startup is positioned for continued growth, boosting a market of $872,385,888, fully diluted to nearly $1.8 billion. 
Compound occupies a prominent seat among a new breed of crypto-centered startups that are changing the face of finance through blockchain protocols designed to unlock value from open financial applications. As a result, DeFi as a sector could be in for another year of outperformance.
COMP coin was one of the biggest winners of 2021, and market strategists believe Compound coin price prediction 2022 will outperform by wide margins. Still, a rising tide might lift all cryptos and invalidate the Compound price prediction.
Compound Coin Price Prediction: Technical Analysis
Here is how this Compound price prediction works: we will survey the recent price movement to identify levels of strength and weakness, which will reveal levels of opportunity and threat. That way, the investor is thoroughly equipped with a stronger recommendation. Here is the recent price history:
| | | | |
| --- | --- | --- | --- |
| Month | Open Price | Closing Price | Month High |
| March 2022 | $120.76 | $148.62 | $163.72 |
| February 2022 | $122.00 | $120.76 | $150.62 |
| January 2022 | $200.28 | $122.01 | $242.94 |
| December 2021 | $278.30 | $200.29 | $286.61 |
| November 2021 | $345.92 | $278.89 | $400.25 |
| October 2021 | $317.85 | $345.84 | $358.85 |
| September 2021 | $442.30 | $318.75 | $528.32 |
COMP coin appears to be entering a buy zone where an uptrend might be attempted in the coming weeks. The coin is picking up steam as side-lined buyers bought the recent deep and jump-started a move higher.
The sudden buying pressure is not an isolated case to Compound coins alone; instead, it is a market-wide reaction to the mini-crash observed on BTC price charts. Regardless of the correlation, the COMP coin was ripe for a quick retracement anyway due to its exponential rally. 
Compound price rallied 9% since retesting the historical support level around $99.69 to challenge the year's high at $242.94. Bulls could likely face exhaustion, much to the frustrations of new buyers, which could see COMP coin drop back to the support floor.
While recovery is likely, there is a chance for a bearish COMP to drop lower and retest the immediate support level. Doing so will allow COMP coin to set a base before launching higher. As for the bullish Compound coin price prediction, the bulls likely target the yearly open at $200.28.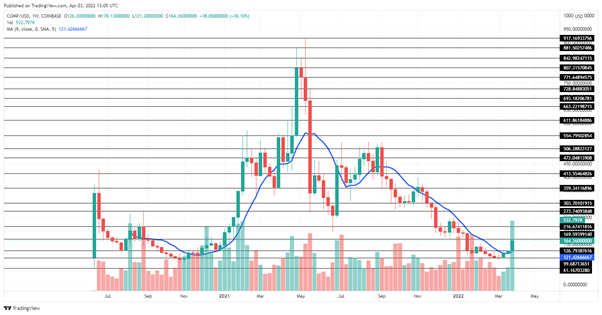 From $126.79, the move would constitute a 37% ascent and is likely where the upside is capped for COMP. However, if the Compound price decides to revisit the $99.69 support floor, the rally would constitute a 51% ascent.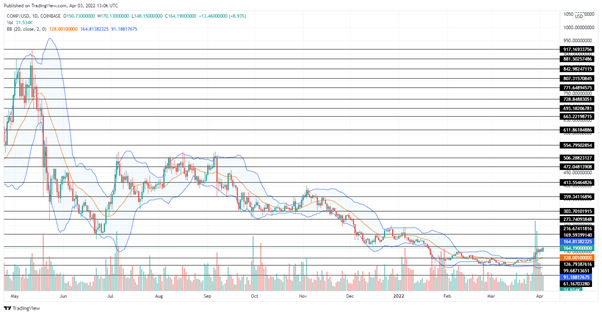 Additionally, the bullish Compound coin price prediction depends entirely on the directional bias of the BTC price chart. Therefore, any surge in sell orders that triggers a flash crash for Compound coin will easily cross-contaminate the Compound price prediction. 
Compound Price Prediction: Technical Conclusion
A daily candlestick formation close below $91.19 will invalidate the bullish COMP price prediction by undoing the recent gains. Such a move would further sow seeds of doubt and trigger a potential crash in COMP price to dipping to $61.17.
Compound Coin Price Prediction: Market Opinions
Advocates for buy-and-hold COMP coin price prediction have much robust evidence to support the wisdom of their ways. Moreover, the coin enjoys a place among an elite group of cryptocurrencies, enjoying a base of die-hard supporters.
Compound Coin Price Forecast for April-May
TradingBeasts
TradingBeasts COMP price prediction signals a bull rally ahead, bouncing off the support level at $142.97 and $140.55. This bullish move could propel the COMP coin into the demand zone, suggesting the possibility of a quick run-up to $178.7 according to the Compound coin price forecast for April – May. 
Long Forecast
Long Forecast shows COMP coin fast-tracking the development of a bullish set up towards $150 by the end of April. However, according to the Compound coin price forecast for April- May, a retest of $155 is likely before the end of May. 
Compound Coin Price Forecast for the Rest of the Year 
WalletInvestor
WalletInvestor Compound coin price prediction identifies signs of a move southwards due to recent developments that fail to convert a long-standing resistance barrier into support. As a result, this Compound coin price forecast for the rest of the year targets $4.87.  
DigitalCoin
DigitalCoin shows how the COMP coin will capitalize on the next exponential rally to set up a massive run-up with the potential of testing the all-time high. For the rest of the year, this Compound coin price forecast supports around $170.58 and $182.55, potentially testing $196. 
Compound Coin Price Forecast for the Next Year 
PricePrediction
PricePrediction COMP coin price prediction sees a consolidation of COMP coins from around $145.29 to $150.79. According to the Compound coin price forecast for the following year, this bullish move will build the case for a bullish turnover that will see COMP test $173.07. 
Gov.Capital
Gov.Capital proposes that this simple setup for COMP coin will yield 400% returns to $914.37 in its Compound coin price forecast for the following year. Moreover, the bullish pattern in play hints at a breakout soon, potentially breaking the overhead resistance barrier. 
Cryptocurrency Experts and Influencers
Jalapablo COMP coin price prediction forecasts a 32% gain in the run-up to $180. After that, COMP price will experience a sudden surge in buying pressure around the demand zone, providing the perfect launching pad to send COMP to new highs. 
HarmonicPitchforks charts why testing $1000 in the coming months is not out of the question. This forecast shows the COMP coin's affinity to move higher after a short period of trading around the demand zone, suggesting the stage is set for the next leg-up.
Latest News and Happenings Concerning Compound Coin
The Compound protocol is wholly owned and governed by the community it serves. This autonomous protocol will unlock value for investors, drive back liquidity into the market, and enable more value to be unlocked for other tokens.
So far, Compound has developed several products to facilitate every stage of the savings and value creation process. That includes a treasure that issues the interest, ledger, and integration to other institutions such as Coinbase, further extending its reach to investors worldwide. 
Related articles: SNX Price Prediction | VGX Price Prediction | XVG Price Prediction
Compound Price Prediction: Verdict
There are a few simple reasons why investors should buy COMP coins. First, the Compound coin has smashed past investor estimates with a solid set of numbers, putting to bed any bearish Compound price prediction fears.