With worldwide investments in cryptocurrencies expected to ramp up over the next several years, let's explore what these developments could mean for HEX price prediction 2022. Pitching itself as the future of investing, HEX, itself, is at stake this year. 
Everything that's going on under the hood, ultimately, could be the key ingredient for making a HEX coin price prediction. In this HEX crypto price prediction, let's examine whether this crypto makes the grade for an income-rich 2022.
HEX Price Prediction | Introduction
At the time of writing this HEX crypto price prediction, HEX crypto was valued at $0.1956, according to CoinMarketCap. The market cap of the entire network at a price is nearly $34 billion, fully diluted to a mind-blowing $124 billion. 
HEX is a high-interest blockchain Certificate of Deposit. The crypto firm produces Certificate of Deposits for the crypto world, allowing investors to enjoy a yield that is slightly higher than what the average bank customer earns from putting their money in a regular savings account.
The CDs work the same way as in the traditional sense. HEX delivers an average annual percentage yield of 40%, depending on the duration of holding on to the investment. The network mints coins that are paid off to existing holders.
HEX Price Prediction: Technical Analysis
Before making a HEX price prediction 2022, looking at the price history of the cryptocurrency will give greater context to our prediction. This analysis will help us to identify points of strength, weakness, and opportunity in trading. Here is a summary of HEX crypto price action: 
| | | | |
| --- | --- | --- | --- |
| Month | Open Price | Closing Price | Month High |
| January 2022 | $0.285 | $0.1697 | $0.2868 |
| December 2021 | $0.1715 | $0.285 | $0.352 |
| November 2021 | $0.2326 | $0.1715 | $0.5561 |
| October 2021 | $0.3963 | $0.2326 | $0.433 |
| September 2021 | $0.2531 | $0.3963 | $0.5107 |
| August 2021 | $0.1229 | $0.2531 | $0.2596 |
| July 2021 | $0.08403 | $0.1229 | $0.1819 |
HEX coin has been in an uptrend for quite some time, but the exhaustion of the recent rally has led to consolidation. A breakout from this coil up has the potential to deliver HEX the level of momentum to trigger further gains for HEX.
The coin has rallied 17% since 2022 and set up a short-term higher high at $0.1968. This HEX price action is currently coiling up in a tight range between the 50-day SMA and the 100-day SMA, suggesting a lack of directional bias.
Considering the overall outlook of the cryptocurrency market at the beginning of 2022, there is a good chance that HEX crypto will retrace at the support level of $0.1554. Interested market participants can capitalise on this downtrend and open a long position at $0.1554.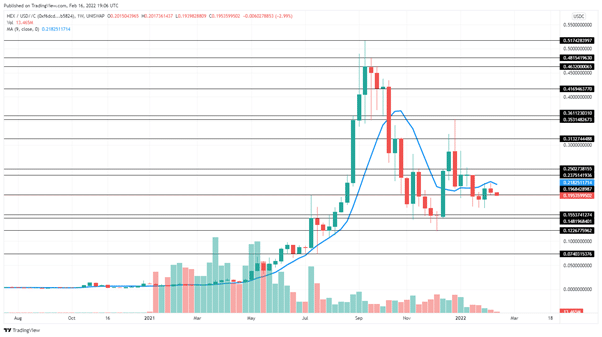 The result upward shift will likely shatter through the aforementioned SMA and make for a run for the $0.3133 resistance barrier. While traders can book profits here, there is a chance that the HEX coin will extend even further beyond this hurdle and retest the $0.3531 barrier.
Alternative HEX Coin Price Prediction: Technical Analysis
In the face of the bullish correction, if the HEX token produces a lower low below $0.1482, it will invalidate the bullish HEX crypto price prediction. While this development might sound bearish, the 5-day demand zone, extending from $0.1227 to $0.1553, will absorb any incoming selling pressure.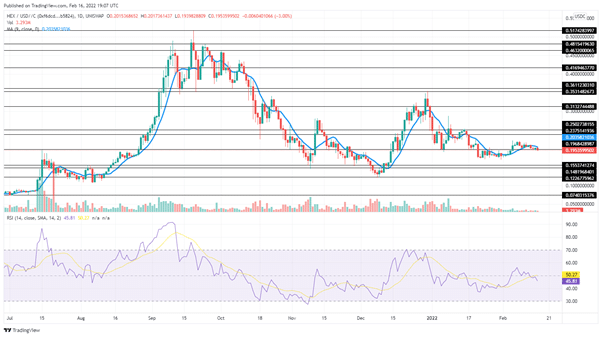 This price action will keep the bullish HEX coin price prediction intact – at least in the long term. A daily candlestick formation at this level, however, will set up a lower low, hinting at a continuation of the downtrend to $0.0740.
HEX Price Prediction: Market Opinions
From the technical analysis, it looks like HEX is undergoing a small fade before the next leg takes it higher into a relief rally. In this section, let's consider the HEX coin price prediction analysis according to experts and forecasting systems.
This token has defied big odds and consistently beat investor expectations since its launch. Moving forward, investors have bigger plans and greater predictions for HEX that will continue to play out in the way they approach the HEX coin. Here are some notable HEX crypto price prediction narratives. 
We also recommend: How Long Does Binance Verification Take
HEX Price Forecast for February – March
TradingBeast
TradingBeast anticipates a revisit of $0.20 as the risk of a sell-off continues to dwindle. The HEX price forecast for February – March predicts an upswing for HEX even as the coin could move lower in search of a launching pad.
Long Forecast
Long Forecast predicts a bullish outcome for HEX in the coming months. According to the HEX price forecast for February – March, investors should watch the price action closely and target $0.21 as the bears take a breather. 
HEX Price Prediction for the Rest of the Year
WalletInvestor
WalletInvestor eyes a trend reversal as HEX retests a stable support level. HEX price is bouncing off a stable support level, suggesting the possibility of a significant upward movement according to the KEX price forecast for the rest of the year. It targets a test of $0.44. 
DigitalCoin
DigitalCoin bullish HEX crypto price prediction eyes a bounce to $0.21 as HEX bulls top the bleeding. The forecast predicts a rally potential that could pierce a critical resistance barrier as it searches for support to sustain the HEX price forecast for the rest of the year. 
HEX Price Prediction for the Next Year
PricePrediction
PricePrediction is bullish as HEX price prediction approaches a launching pad that could propel the coin by 15%. According to this HEX price forecast for the next year, HEX has breached multiple support levels and is approaching a stable demand zone at $0.22 and $0.23 on the road to $0.27. 
Gov.Capital
Gov.Capital HEX price prediction 2022 is $0.58. The forecast cites a recent move that slipped below a stable support level to collect liquidity, which could propel HEX in the coming. This HEX price forecast for the next year is eyeing a reversal within a year. 
Cryptocurrency Experts and Influencers
Zorrita is bullish eyes a retest of the historical support at $0.12 to set up a higher high. This downswing will stabilize around the support level as HEX prepares for a new attempt as bulls come back to set the stage for a bullish HEX price prediction.
Dave1214 HEX crypto price prediction anticipates a pullback back to bounce off a significant support level confluence and give the uptrend another go. This forecast eyes a massive upside that will propel HEX to $0.48. 
Latest News and Happenings Concerning HEX
HEX has delivered unbelievable results so far. The coin managed to ward off the advances of big cryptocurrencies like XRP and Bitcoin Cash in August of 2021, to become the third most valuable coin in the market. 
FAQ:
What Is HEX?
HEX is a crypto that lets you lock up your money in a high yield certificate of deposit that works like a traditional savings account, earning interest over time while increasing the value of your holdings by redistributing profits among HEX holders.
How to Buy HEX?
Open a cryptocurrency exchange account and download or buy a wallet. Exchange your base currency for cryptocurrency such as USDT to exchange for HEX crypto.
Where to Buy HEX?
Hex is listed on multiple cryptocurrency exchanges, including Coinbase and Uniswap.
We also recommend: Coinmama Review
HEX Price Prediction: Verdict
As the 204th largest cryptocurrency in the world, HEX is something to take 100% seriously. Traders have plenty to work with and a lot of reasons to stay bullish on HEX price prediction 2022. The coin has been on a decline lately, perhaps opening a window of opportunity for long positions. Unfortunately, you can't buy Hex on Gate.io.