Should you invest in this high-risk, high-reward crypto – find out in this Polymath price prediction. Currently, over 200 tokens are deployed on Ethereum's solution, but Polymath is dreaming big, promising to deliver an institutional-grade system that will reshape security tokenization.
Polymath is an unheralded token that deserves more attention, and not just because of its stellar price performance. This POLY coin price prediction will reveal how the token is leaving up to the hype. With the altcoin market in the dpi, now might not be the time to follow the crowd but to buy the dip.
Polymath Price Prediction | Introduction
At the time of writing this POLY price prediction, the POLY coin was trading at $0.3623, according to CoinMarketCap. The market cap of the entire Polymath network at this price was over $325 million, fully diluted to $364 million.
The first catalyst for Polymath price prediction is that interest in tokenization and digital assets has grown rapidly in the span of the past few months. So far, POLY has lived up to its potential, especially with the launch of the Polymesh Mainnet.
This project has been unique from the very start – that's another selling point in this POLY coin price prediction. Polymesh is designed specifically for regulated assets, which makes it less controversial to some of its big brothers in the market. The goal is to leverage blockchain to streamline antiquated processes.
Polymath Price Prediction: Technical Analysis
It is not just the strong fundamentals that are causing POLY coin to gain traction in the market. The rapid rise of the token price is also attracting the attention of investors and market participants. Here is a summary of POLY coin price:
| | | | |
| --- | --- | --- | --- |
| Month | Open Price | Closing Price | Month High |
| January 2022 | $0.4795 | $0.3868 | $0.6538 |
| December 2021 | $0.7704 | $0.4795 | $0.779 |
| November 2021 | $0.7091 | $0.7704 | $0.9514 |
| October 2021 | $0.6767 | $0.7091 | $1.06 |
| September 2021 | $0.3601 | $0.6767 | $1.34 |
| August 2021 | $0.2747 | $0.3601 | $0.3651 |
| July 2021 | $0.182 | $0.2747 | $0.3243 |
The POLY coin has been on a steady downtrend with lower lows and lower highs depicted by a declining trend line. However, this correction could be a blessing for Polymath price prediction, as it is likely to provide a buying opportunity, allowing investors to position themselves for a quick gain.
The token has been stuck in a declining trend line for nearly five weeks and shows no signs of recovery in the near future. This development might be a bearish POLY coin price prediction, but it might as well be an opportunity for sidelined buyers to buy the dip due to proximity to a stable support floor.
A continuation of this trend will push the POLY price to retest the three-week demand zone, extending from $0.3045 to $0.3600. Interested buyers could look to accumulate POLY crypto at a discount here, thereby setting the stage for the climb upwards.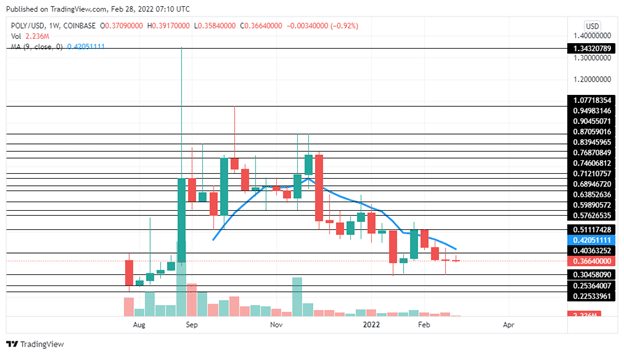 Alternative POLY Price Prediction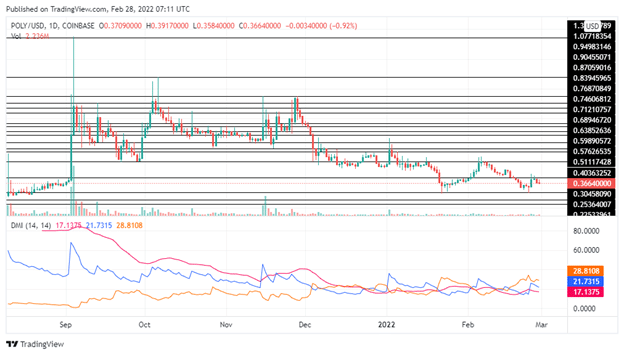 A resurgence of POLY buyers will likely repel bearish POLY crypto price prediction and propel the coin to slice through the declining trend line and make its way to the resistance barrier at $0.5989. This move would constitute a 35% ascent, and the price is more than likely to sweep above it to collect liquidity.
The spectacular failure of the bulls to push past $0.4036 indicate that investors are not interested in POLY crypto at the current price levels. On-chain metrics show that POLY holders are selling at a loss, suggesting a lack of investor confidence.
At the same time, this move could be interpreted as an opportunity for long-term investors to accumulate POLY crypto at a discount and wait for the uptrend to cash on their bets. If the bulls fail to absorb the POLY selling pressure, there is a good chance POLY might retest the range low at $0.3045.
A daily candlestick formation below $0.3045 will create a lower low and invalidate the bullish POLY crypto price prediction. Such a move will open the path for bears to drag POLY to a lower level and may retest historic support levels.
Polymath Price Prediction: Market Opinions
The key takeaway from this Polymath price prediction technical analysis is that the future of POLY crypto is leaning on the perception of both bulls and bears. In this section, we will analyze the Polymath price thesis by forecasting system to identify the likely POLY coin price prediction.
Polymath Price Forecast for March – April
TradingBeasts
TradingBeasts is bullish on Polymath price prediction eyeing $0.52 and $0.53 in March and April, respectively. This Polymath price forecast for March – April predicts a bounce off a crucial support level that will absorb the selling pressure and set up a new trend.
Long Forecast
Long Forecast targets $60 in its Polymath price forecast for March – April as POLY readies for a massive run-up as the altcoin market recovers from the bearish episode in early 2022. A bounce from the current support level could set up a new trend in the next two months.
Polymath Price Forecast for the Rest of the Year
WalletInvestor
WalletInvestor bullish Polymath price prediction eyes a retest of $0.734 on a one-year forecast. The Polymath price forecast for the rest of the year builds on the confirmation of the support floor to set the stage for massive gains throughout 2022.
DigitalCoin
DigitalCoin eyes a 50% rally as POLY could avoid a bearish fate with a trend shift favoring the bulls. This Polymath price forecast for the rest of the year expects POLY to see substantial gains in the new future as daily higher high validate the bullish thesis.
Polymath Price Forecast for the Next Year
Gov.Capital
Gov.Capital forecast a revisit of $0.5845 as POLY crypto established a launchpad. POLY price is likely to showcase a swift bounce that triggers a quick uptrend, according to the Polymath price forecast for the next year. In the meantime, price contemplates a reversal.
PricePrediction
PricePrediction anticipates a 20% ascent as POLY crypto price prediction reveals a bullish setup likely to find vital support around $0.51 and $0.52. The price action forecast on this Polymath price forecast for the next year eyes a quick run-up to $0.60 on a yearly timeframe.
Cryptocurrency Experts and Influencers
Danny Bernard Polymath price prediction charts the end of the correction phase with the potential for reversal. This swing formation could be the key trigger for a recovery rally that will confirm the base and set up a chance at an uptrend.
MattKasmani POLY coin price prediction eyes a quick 15% rally if POLY crypto can hold above the support line. POLY crypto is stuck between two massive barriers that are squeezing the altcoin into consolidation at $0.64.
Latest News and Happenings Concerning Polymath
By early 2022, Polymath enjoyed the support of 14 Their-1 regulated financial institutions. These firms support the Polymesh mainnet as a permissioned node operates. This support brings the network one step closer to revolutionizing the tokenization of securities.
The Swiss Financial Market Supervisory Authority could soon be using the POLY crypto. This initiative suggests that POLY coin could be a compliance-focused blockchain with a mission to move beyond the transactional application of crypto and into legacy securities.
F.A.Q.
Is Polymath Coin a Good Investment?
Polymath is a massive profit driver, and its token is the main ingredient in making Polymath a safe investment. Its core business looks strong, but a series of downswings could derail bullish Polymath price prediction narratives.
Will Polymath Reach $2?
Yes. In fact, WalletInvestor POLY coin price prediction in a five-year timeframe eyes a sustained rally faced with intense rejection upon retesting the support level. Moreover, Polymath enjoys amazing fundamentals that are unique in the broader market, something investors are bound to take notice of.
How Do I Invest in Polymath?
A POLY coin is available in most of the top cryptocurrency exchanges in the world. The coin is available on Coinbase, Binance, Kraken, Gate.io, and more.
Polymath Price Prediction: Verdict
In a worst-case scenario, the POLY coin could fail to rebuild momentum to tackle the immediate resistance barrier. However, the Polymath price prediction technical conclusion hints at a solid recovery as bears exhaust selling pressure.