Coinbase is among the top exchanges in the crypto industry, which is regarded as one of the most secure and reliable crypto brokerages. We will be looking at what Coinbase has to offer in our review so that you can find out if the exchange is the right one for you.
Coinbase Review: Introduction
The San Francisco exchange was launched in 2012, founded by Ben Reeves, Brian Armstrong, and Fred Ehrsam. Initially, the platform only supported the trading of Bitcoin (BTC), but over the years, it has incorporated more and more coins to its listing to cater to more types of traders.
Coinbase is fully compliant with all the necessary regulations required to provide its storage and exchange services all over the world. It has received its licenses from the most stringent financial authorities in the US, as it was the first in the country to hold a BitLicense, which allowed the exchange to operate in New York (more on regulation later in our Coinbase review).
Supported Currencies
The exchange supports the trading of 50 different cryptocurrencies. Some of them are:
Bitcoin (BTC)
Ethereum (ETH)
Avalanche (AVAX)
Solana (SOL)
Cardano (ADA)
USD Coin (USDC)
Dogecoin (DOGE)
Polygon (MATIC)
Tether (USDT)
The fiat currencies supported are Euro (EUR), British Pound (GBP), and US Dollars (USD). Keep in mind that some of the cryptos featured above are not available in all countries, and some might have limited functions (you might be only able to send or receive the crypto).
Available Countries
Coinbase can be accessed by residents from more than 100 countries, including the United States, Canada, Singapore, Andorra, Austria, Belgium, Bulgaria, Croatia, Cyprus, Czech Republic, Denmark, Estonia, Finland, France, Gibraltar, Greece, Guernsey, Hungary, Iceland, Ireland, Isle of Man, Italy, Jersey, Latvia, Liechtenstein, Lithuania, Luxembourg, Malta, Monaco, Netherlands, Norway, Poland, Portugal, Romania, San Marino, Serbia, Slovakia, Slovenia, Spain, Sweden, Switzerland, United Kingdom, Mexico, and Chile.
Coinbase Apps
You can access your Coinbase account via web browsers on your laptop and PC, regardless of their operating systems. The exchange also features mobile apps compatible with iOS and Android devices.
User Interface
The developers have created an easy-to-use and navigate interface which can be used even by inexperienced traders. The design is aesthetic and concise so that you can easily find the features you are looking for.
The basic interface of Coinbase comes with limited charting features that only show the price changes for a certain cryptocurrency. Coinbase Pro is Coinbase's platform for professional traders, and naturally, it includes more advanced features, such as customizing watchlists for price tracking.
Both Android and IOS apps feature all the functionalities that are available in the web accounts and have been reported to work seamlessly.
Signing up for a Coinbase Account
Access the Coinbase website and click the "Get started" button;
Create an individual account;
Provide the required personal details;
Click on the link sent to you in your confirmation email to have your account verified;
You will be asked to enter a phone number for 2F-Authentication;
Provide a passport, driver's license, or photo ID to verify your identity;
Sync your personal bank account or credit/debit card to your Coinbase account.
Buying and Selling on Coinbase Exchange
Buying Crypto
From your Coinbase dashboard, click the "Buy/Sell" link;
Select the "Buy" tab;
Choose the coin you want to purchase from the "Cryptocurrency" heading;
Choose a payment method (a screen will appear with all the supported payment methods);
Type in the amount you would like to purchase;
Click the "Buy" button;
Confirm the purchase;
A "Your Purchase was Successful" message will soon be displayed on your screen;
The crypto you purchased will be credited soon to your account.
Withdrawing Crypto
Select the "Sell" tab from your Coinbase dashboard;
Click on the wallet from which you will be making the withdrawal;
Choose the coin you want to sell;
Select your withdrawal method (provide a wallet address if you want to move your coins to an external crypto wallet);
Type in the amount you want to sell;
Click the "Sell" button;
Wait for your funds to be redirected to your new location.
Coinbase Fees
Coinbase's services do not come cheap, as it applies rather pricey fees. The exchange has a fee based on the trading volume of all its assets, with an added 0.5% spread fee for all crypto transactions:
≤ $10 – a fee of $0.99 | €0,99 | £0,99;
​≤ $25 – a fee of $1.49 | €1,49 | £1,49;
≤ $50 – a fee of $1.99 | €1,99 | £1,99;
​≤ $200 – a fee of $2.99 | €2,99 | £2,99.
Withdrawal and deposit fees vary based on the payment method used and your country of residence. A conversion fee is also applied if you deposit in other fiat currencies that the ones supported.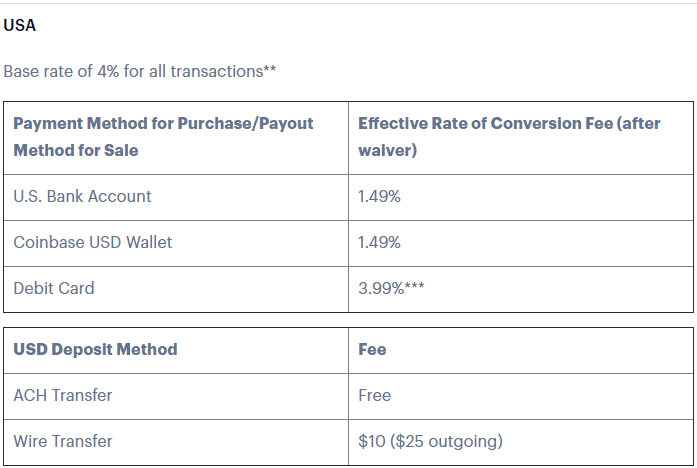 Credit and debit card purchases incur a fee of 3.99% in all countries.
Payment Methods
Coinbase supports deposits and withdraws through a number of payment methods:
Bank transfer: US customers only;
Credit/debit card;
Wire transfer: ACH for the US, and SEPA for Europe;
Xfers: Singapore only;
PayPal: Withdrawals only;
Cryptos.
Transaction Times
Transaction times vary based on the country you live in, the network speed, and the selected payment method. For instance, the US credit card transactions are instant, while bank transfers have a minimum five-day processing time. Coinbase transactions through ETF for Canadian residents can take up to 4 days, while Interac transactions are executed instantly.
SEPA bank transfers have a 1-3 day processing time for all European residents.
Transfer Limits
Coinbase has 4-tiered accounts that have different identity verification requirements. Buying and selling limits are higher for accounts that have the most verification requirements.
There are no limits for fiat or cryptocurrency deposits, but the withdraw and purchase limits depend on your level of verification and country of residence.
The four account levels are:
Level 1 – email address, and phone number. Buy and withdrawal limit < $1,000.
Level 2 – full name, date of birth, and address of residence. US customers daily purchase limit < $25,000.
Level 3 – input of bank account details, as well as credit and debit card details.
Level 4 – government-issued identification document, taxpayer identification number, and identity verification by responding to a few questions.
Other Coinbase Products
Coinbase Pro
Formerly known as GDAX, Coinbase Pro is the advanced version of Coinbase dedicated to professional traders. Coinbase pro supports more cryptocurrencies than Coinbase and advanced trading options, not to mention the fees are considerably lower.
Coinbase Wallet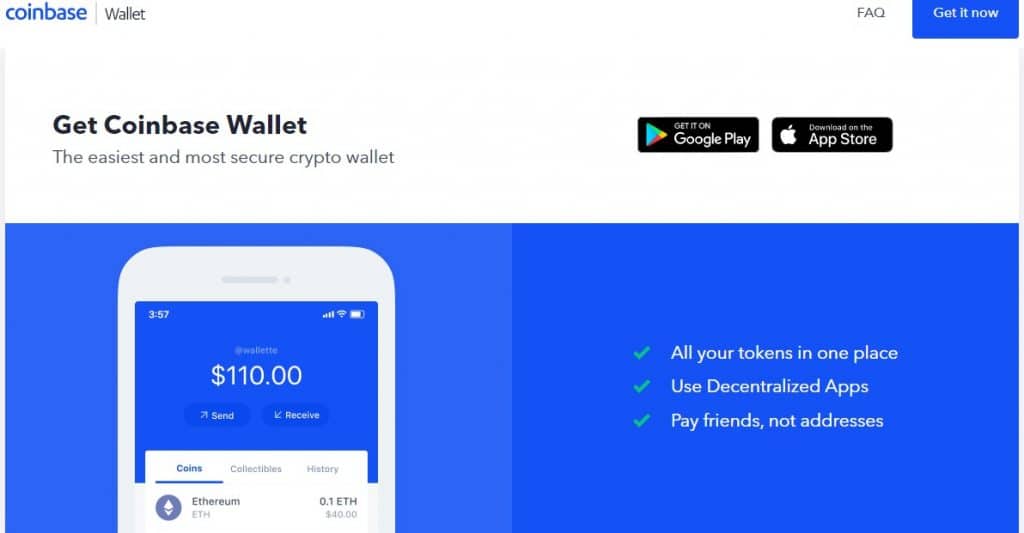 This wallet option gives the company control over your digital assets. You are required to keep your Coinbase login and account password stored in a safe place. Coinbase has the right to shut down this type of account and restrict access to its funds at any time.
Coinbase Custody
Coinbase Custody is a cold storage option for financial institutions and hedge funds that have Coinbase accounts that want to securely store large amounts of crypto for a longer period of time.
Coinbase Card
A "Coinbase Card" can be acquired by users of the exchange, which can then be used to make crypto purchases worldwide. Your Coinbase account balance is directly connected to your physical Visa Debit card to enable you to make contactless payments and ATM withdrawals. Additional conversion fees apply to this service.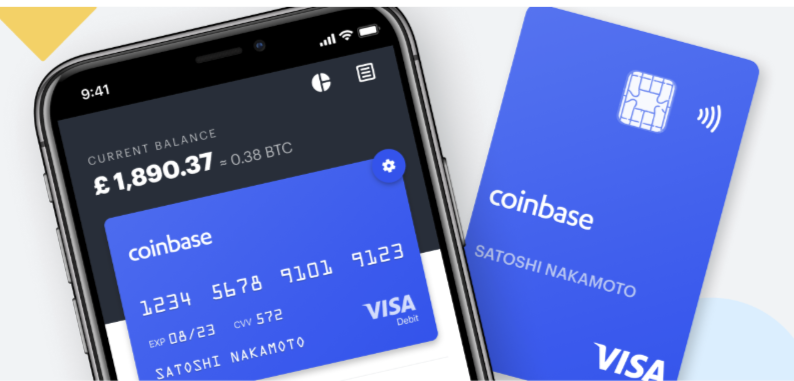 Security and Privacy
Coinbase is fully compliant with all U.S. regulations at a federal and state level, is licensed by the ​FinCEN, ​The Bank Secrecy Act, and ​The USA Patriot Act. Because of this, Coinbase must comply with all KYC laws, meaning you will be required to provide personal details, including name, phone number, email. Personal addresses and balances are stored by the exchange and can be linked to your identity and IP address.
Data stored by the platform and its partners are kept securely and in compliance with all relevant laws, including the Data Protection Act 2018 and the General Data Protection Regulation.
All cryptos held in the exchange's hot wallet benefit from insurance, and according to the company, "the insurance policy would pay out to cover any customer funds that are lost." Coinbase USD Wallets have FDIC insurance for up to $250,000.
According to Coinbase, they store 98% of users' funds in cold wallets, with the keys to the wallets distributed in various locations worldwide. Account security options include 2FA, strong SSL, AES-256 wallet encryption, and email verification upon withdrawing.
But the exchange Is not immune to hacks, as, in January 2018, the company lost 40 BTC to hackers. Users allegedly lost $10,000 worth of Bitcoins in a series of hacks. The funds were not reimbursed to those who suffered from the attack.
Customer Support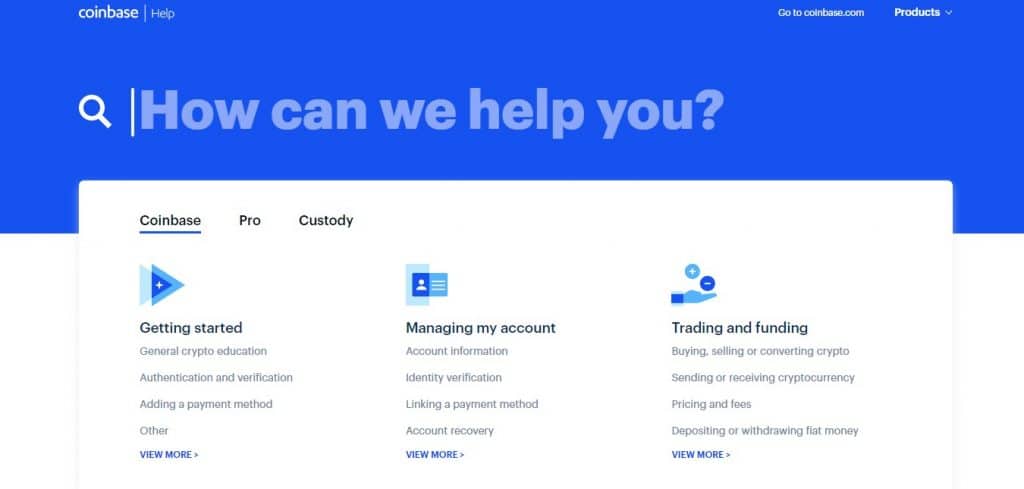 The Coinbase support team can be reached via email 24/7. There are also phone numbers that are only available to residents from the U.S. and UK.
The exchange can be contacted through Twitter for general questions, and the site also includes a comprehensive FAQ section that offers answers to some of the most common account and trading-related problems users might encounter on the platform.
In terms of responsiveness, some users have experienced issues, claiming that they received a reply only after 72 hours.
Coinbase Review: Verdict
With this, we conclude our Coinbase review. While more expensive, the exchange allows beginner traders to make fast and easy purchases with a variety of payment options. Coinbase is still one of the most prominent and highly regarded crypto exchanges to date.
Note: This post was originally published on 8 May 2020 and has been totally updated for the completeness and veracity of the content on 2 March 2022.
The Review
Coinbase Exchange Review
Coinbase is a well-known crypto exchange, which is regarded as one of the most secure and reliable crypto brokerages. The platform is easy to use for beginners and has many fiat payment options for their customers. However, it has a limited range of supported cryptocurrencies.
PROS
Secure, regulated, and reputable
Simple to use for beginners
Fund insurance
Many fiat payment options available
CONS
Higher fees
Limited range of supported cryptos
Review Breakdown
Supported Currencies

Rates and Fees

Security

Transaction Speed

Ease of Use

Customer Support