From its establishment in 2012, the San Francisco- based Coinbase has become one of the most popular exchanges in the crypto world, operating in 32 countries and trading over $40 billion in digital currencies.
Coinbase allows users to transact with their cryptocurrency at a price set according to their market value, which in turn lets users acquire their coins and tokens at a faster rate.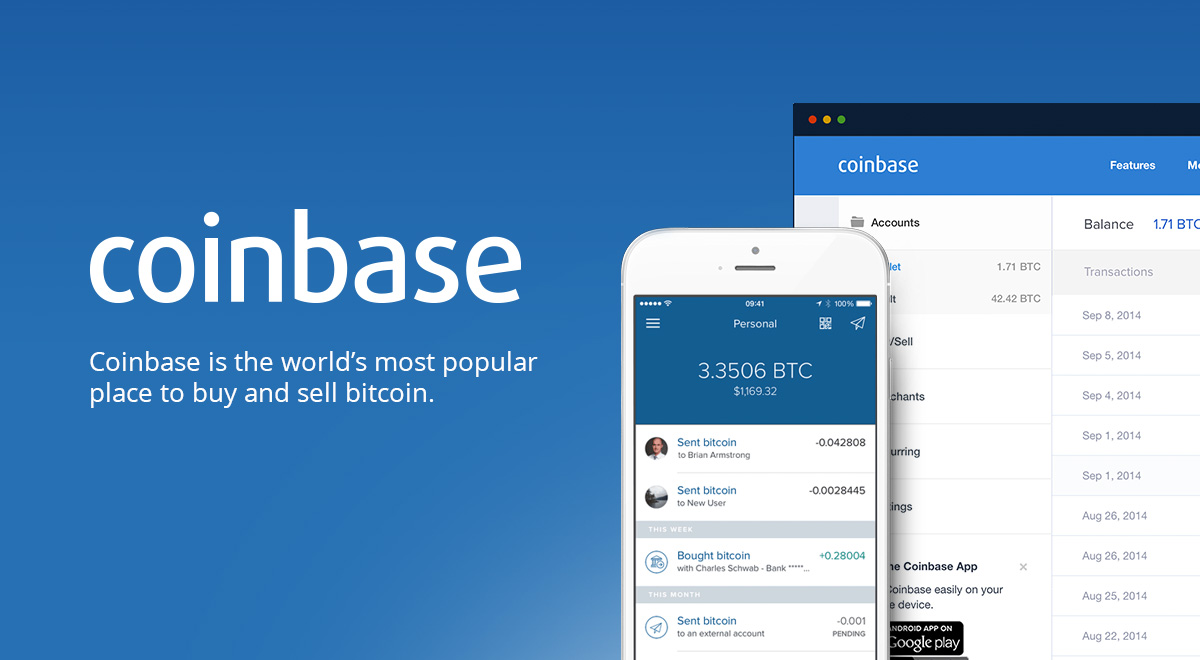 Coinbase Fees
Coinbase's fees are set in between 1.49% and 3.99%, depending on what payment method you opt for. Credit card transactions will result in higher fees.
Currently, Coinbase only has listed on its platform Bitcoin, Bitcoin Cash, Ethereum, and Litecoin, and most recently it announced that it plans on adding Ethereum Classic.
GDAX
Coinbase also operates the GDAX exchange, which is a trading platform especially aimed at professional trading.
Buy and Sell Limits
Buy and sell limits depend on the user's location, payment means, and verification status.  The limits can be verified at any time on the account's limits page.  Customers have the following weekly limits:
$5,000 Buy through Bank Account.
$50 Buy through Credit/Debit Card
$50,000 Sell
Users can apply for higher limits, and limits for instant purchases, such a credit card purchases, may not have their limits increased.
Payment Options
Customers can purchase digital coins with a linked bank account, SEPA transfer, Interac Online, and PayPal.
Wallet Security
Coinbase offers its users three types of wallets: wallet, vault, and multisig vault.
Wallet
This wallet option gives the company control over your digital assets. You are required to keep your Coinbase login and account password stored in a safe place. Coinbase has the right to shut down this type of account and restrict access to its funds at any time.
Vault
This type of wallet offers an interesting option for Coinbase traders that want to secure larger amounts of bitcoin.
Coins that are kept in a Vault account can be secured by requiring multiple approvals. If a user has two approvers to his vault, then he can only make withdrawals from his account if he receives confirmation from both approvers.
All Vault withdrawals require a processing time of 48-hours. The time delay acts as an additional security layer because if the withdrawal request was not made by the user, he can the cancel the withdrawal if he notices the problem.
Vault accounts can also be shut down by Coinbase at any time.
Multisig Vault
Coinbase also offers complete control for those users that want to completely manage their funds.
This multi-sig vault requires to have 2 out of 3 keys to make transactions, where Coinbase own one key, one key is shared, and the third key is kept by the user.
In the eventuality that the site goes down, the user still has access to the shared key and their own key. Because the shared key is encrypted with the user's password, funds cannot be held.
The platform also began supporting Segwit-enabled Bitcoin wallets since February, which facilitated the reduction of withdrawals fees on the site.
Privacy
A number of personal details are required, including name, phone number, email. Coinbase stores your addresses and balance and can link this to your identity and IP address.
Due to the nature of its operations, the exchange must comply with all KYC laws. Each payment request makes use of a new address, which prevents the linking of wallet addresses.
Supported Countries
Coinbase operates and offers its trading services in the following countries:
Austria, Australia, Belgium, Bulgaria, Croatia, Canada, Cyprus, Czech Republic, Denmark, Finland, Greece, Hungary, Ireland, Italy, Latvia, Liechtenstein, Malta, Monaco, Netherlands, Norway, Poland, Portugal, San Marino, Singapore, Slovenia, Slovakia, Spain, Sweden, Switzerland, United Kingdom, United States.
Setting up a Coinbase Account
By following the below step by step guide, you will be able to buy cryptocurrency through Coinbase.
1.Sign up
To get an a Coinbase account you will need to provide your name, email address, and password.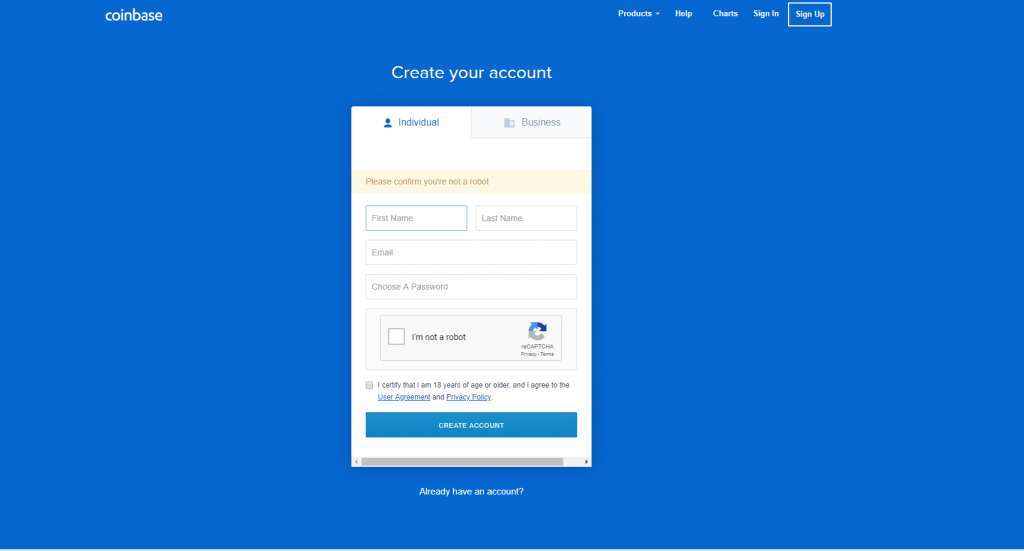 2.Select your account Type
By request, you will be requested to confirm your email address. After this,  you will be taken to the startup page, where you will be asked if you want an individual or business account.
3.Verify your Phone Number
After you've verified your email, you will then be asked to confirm your phone number. These validations are part of the 2-factor identification process that will maintain the security of your account. Additional 2-factor identification methods are also offered.
4.Set up Payment Method
Coinbase offers two payment methods: bank transfer and credit card. For bank transfers, they will check your account by sending two small transactions to and from your account. For credit cards, you will be required to provide a screenshot of the credit card.
5.Start Buying Cryptocurrency
Once you have transferred funds into your account you can start buying cryptocurrency.
Review Verdict
Coinbase is one of the most prominent exchange platforms in the crypto space, and through it, the exchange lets inexperienced users purchase digital currencies in a facile manner.