Things are moving fast in the crypto world, but RVN price prediction has fought-off many paradigm-shifting challenges to emerge as a disruptor. Ravencoin has already proven it can thrive in a highly competitive environment. 
Expert Ravencoin's price prediction says RVN crypto will remain ahead of the curve, partnering with developers to ensure crypto is the future of payments. This RVN crypto price prediction reveals how this altcoin boosts its profile in a crowded space.
RVN Price Prediction | Introduction
At the time of making this RVN crypto price prediction, RVN was trading at $0.051282, according to data available on Coinstats. This price delivers a combination of financial stability and potential for growth with a market cap of nearly $540 million, fully diluted to over $1.1 billion.
RVN has pulled off an impressive run and has brought a developer package that will compete with Bitcoin and Ethereum, which are easily the most prominent players in the industry. However, it is essential to put Bitcoin on steroids.
Unlike transaction-only blockchains, Ravencoin is increasing its focus and growing its ecosystem to become a valuable asset to people looking to jump on the crypto bandwagon. So far, the startup is providing valuable and strategic partnerships for users.
RVN Price Prediction: Technical Analysis
The key to killing out this RVN price prediction is to buy at high-quality price levels, where seasoned crypto pickers make their money. Here is a summary of the recent price movements to get you started:
| | | | |
| --- | --- | --- | --- |
| Month | Open Price | Closing Price | Month High |
| March 2022 | $ 0.062553 | $ 0.069388 | $ 0.076261 |
| February 2022 | $ 0.070210 | $ 0.062562 | $ 0.080527 |
| January 2022 | $ 0.098595 | $ 0.070210 | $ 0.137728 |
| December 2021 | $ 0.107322 | $ 0.098577 | $ 0.117482 |
| November 2021 | $ 0.121106 | $ 0.107483 | $ 0.149579 |
| October 2021 | $ 0.096163 | $ 0.120895 | $ 0.131707 |
| September 2021 | $ 0.128455 | $ 0.095964 | $ 0.166260 |
From the onset, it is clear that RVN crypto is getting ready to present a buying opportunity that could see many investors sidelined. The support level at this point could act as a catalyst for Ravencoin price prediction with a potential rally to 30%.
Ravencoin coin has been on a sideways movement after the recent run-up showcased at the start of 2021. Moreover, the recent consolidation has the hallmarks of a consolidation that comes after a retracement that puts the RVN coin in a deep discount mode, ready to stage a reversal.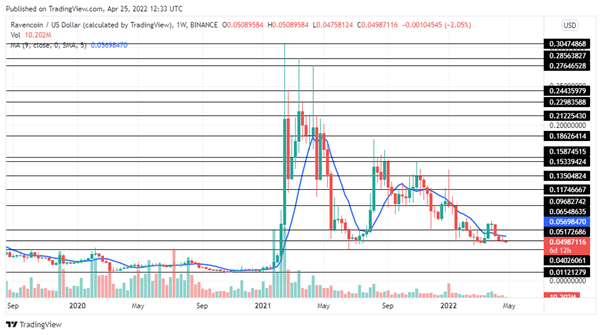 In March, Ravencoin crypto sprouted roughly 25% to expose a mid-term resistance level around $0.0805. The run-up from this price level collected liquidity that rests around the support level from $0.03949 to $0.06319, a region where RVN has been currently testing.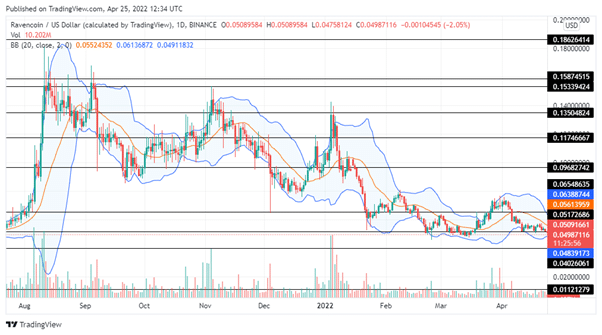 RVN crypto investors have been on a profit-taking spree, allowing the crypto to retrace by around 29% from $0.1817. Since then, RVN price prediction has been consolidating around a resurgence of volatility and market sentiments, driving volumes up and down.
Going forward, one thing that must happen for RVN crypto price prediction is a reversal that triggers an uptrend for RVN or a retest of the daily demand zone. This zone ranges from $0.01962 to $0.04102. A reaction from this level could help draw a conclusion to Ravencoin price prediction.
RVN Price Prediction: Technical Conclusion
Ravencoin token could be looking at a 35% run-up to the recent swing high at $0.08612. Beyond this, the coin could retest the resistance barrier at $0.1075, indicating a 55% gain from the current position.
However, if RVN crypto fails to hold above the demand zone, it will indicate a weak buying pressure and signal investors to start booking profit. A daily close below $0.02343 will produce a lower low, invalidating the bullish RVN crypto price prediction. In this case, RVN could be headed for support at $0.00892.
RVN Price Prediction: Market Opinions
From a possibility to a plausibility, the idea of RVN crypto staging a super-charged bull run is now at the forefront of investor concerns. Here is a summary of each RVN crypto price prediction and how every player and influencer is betting on this token:
RVN Price Forecast for April – May
TradingBeasts
TradingBeasts RVN price prediction takes a page out of the bullish outlook. The RVN price forecast for April – May projects the coin could reach $0.07187 if it can find support around $0.06109. This setup presents RVN crypto as the hottest trade right now.
CoinArbitrage
CoinArbitrage offers a slightly less enthusiastic outlook on RVN coins. Suggesting the coin might deviate from the bullish path, the RVN price forecast for April – May is $0.04472. RVN could be hanging by a thread as this forecast signals a strong sell signal for investors to pick up RVN at a discount.
Ravencoin Price for the Rest of the Year
WalletInvestor
WalletInvestor Ravencoin coin price prediction plays well within the grand scheme of a 5-year forecast. The RVN price for the rest of the year eyes $0.0840, which forms a critical base for the move towards $0.217. RVN could find bullish momentum to reclaim its place in best-performing tokens.
DigitalCoin
DigitalCoin is playing a cautious game that seems to propose any moves beyond $0.0791 on the RVN crypto price charts as highly unlikely. RVN could extend the decline in this RVN price for the rest of the year to hold above $0.0608, where the bulls will contemplate their next moves.
Ravencoin Price Prediction for the Next Year
PricePrediction
PricePrediction RVN crypto price prediction pokes holes in the bullish outlook, suggesting any upside moves will be capped at $0.12. The RVN price prediction for the next year is betting on RVN finding support around $0.81 to $0.98, where the resistance level at $0.1 can be challenged.
Gov.Capital
Gov.Capital suggests the descent could go on a long hold while major moves upwards loom. The forecast sees steady pip gain until RVN crypto is ready to hit $0.15013. In this RVN price prediction for the next year, participants could continue to be more interactive, which means investors should expect wild rides on the road.
Cryptocurrency Experts and Influencers
RedSonja679 suggests taking a long position considering RVN crypto is retesting a historically reliable support base. The RVN crypto price prediction targets $0.4. Ravencoin could be punching above its weight class as it aims to establish a bullish directional bias.
R81 RVN price prediction is bullish. While it recognizes the delicate position RVN crypto is trading in, it suggests a move to $0.0786 in the coming weeks is likely. This forecast further supports the idea that RVN crypto is enjoying a growing sway over the resistance barriers lying waiting above the current trading level.
Latest News and Happenings Concerning RVN
Ravencoin is currently developing its core wallet to add more applications and features, including view swaps in detail, execute swaps, and creating swaps. The development projects are tailored to give Ravencoin greater application in creating, transacting, and storing crypto assets.
Taken together, these developments are designed to make this decentralized currency protocol expand the use cases of crypto significantly. That means making crypto and blockchain products available with far-reaching implications.
Related articles: Ecomi Price Prediction | Compound Price Prediction
RVN Price Prediction: The Verdict
There could be some significant tailwinds for cryptocurrencies this year. Nevertheless, Ravencoin is clearly trading around positive catalysts putting RVN price prediction in an especially strong position to benefit. Moreover, RVN crypto's business transformation since the depths of this bear market has been simply remarkable, with plenty of room for improvement.