2021 was an incredible year for SUSHI, emerging from obscurity to become a billion-dollar unicorn, further fuelling bullish SushiSwap price prediction forecasts for 2022. Many investors are checking out Sushi coin as a potential star entry to their portfolios.
SUSHI is ready for a big 2022 based on the price action leading up to the New Year. Even though a bullish Sushi coin price prediction is desired, the likelihood of a bearish outcome is not eliminated. Here's the complete Sushi crypto price prediction: 
SushiSwap Price Prediction | Introduction
At the time of writing this SushiSwap price prediction, the SUSHI coin was trading at $7.48, according to data on CoinMarketCap. The market cap of the sushi ecosystem at this price was nearly $900 million, fully diluted to over $1.7 billion. 
Sushi emerged as the next big thing, promising a new ecosystem for people who have become weary of the financial system at the hands of governments. The new home of DeFi is building a decentralized trading infrastructure to support the future of finance on the digital stage.
Already a hub for stack yields, lending, borrowing, and leveraging crypto – the sushi ecosystem aims to connect the world to better financial products. SushiSwap network is an evolving community whose mission is to solve the liquidity problem.
SushiSwap Price Prediction: Technical Analysis
Before making a Sushi coin price prediction, it is important to consider the sushi coin price trading history. This analysis will clearly lay down the window of opportunity and threats that investors should watch keenly as they could make or break the direction of the Sushi coin.
| | | | |
| --- | --- | --- | --- |
| Month | Open Price | Closing Price | Month High |
| December 2021 | $8.02 | $9.45 | $10.61 |
| November 2021 | $10.85 | $8.02 | $13.43 |
| October 2021 | $10.15 | $10.85 | $12.14 |
| September 2021 | $12.06 | $10.15 | $16.10 |
| August 2021 | $8.86 | $12.06 | $14.81 |
| July 2021 | $8.16 | $8.86 | $9.70 |
| June 2021 | $12.48 | $8.16 | $13.50 |
SUSHI price has fumbled around a stable support zone, flipping it into a resistance level multiple times. However, this price action was a necessary evil as SUSHI needed to collect the liquidity resting below it. Therefore, this downswing could be the spark to kick-start an advance in 2022.
The token tagged the $4.99 to $6.05 support level in May 2021. SUSHI briefly sliced through the support zone, collecting the sell-stop liquidity resting below this level – a significant move with implications far into the future.
This move allowed side-lined buyers to accumulate sushi coins at a discount, triggering a minor uptrend that allowed the DeFi to recover above $6.05. Going forward, SUSHI needs to stay above this trend line to push for a 20% advance to $8.97 or the buy-stop liquidity resting above it.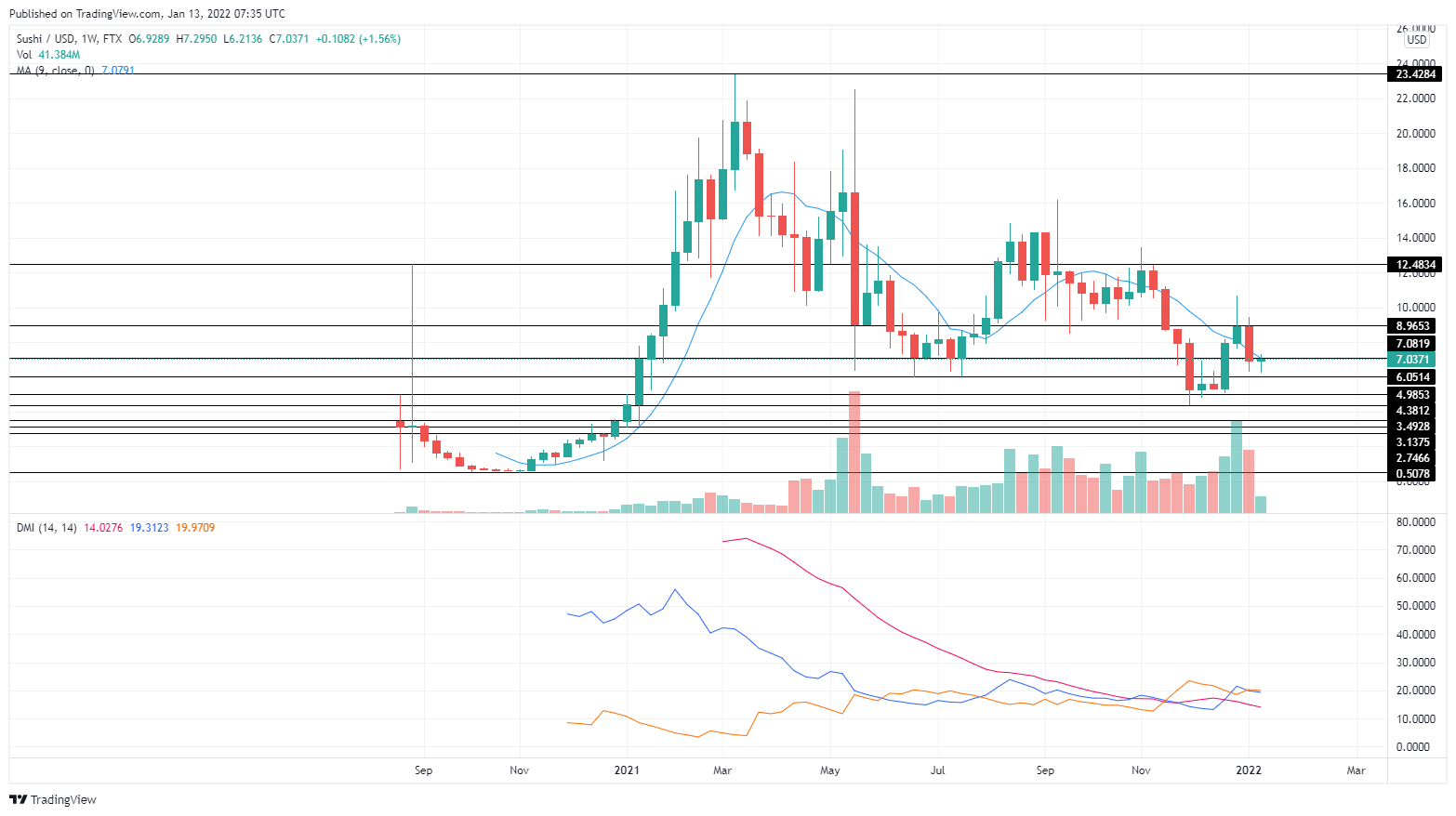 Although unlikely, SUSHI could continue to rally and make a run for $12.48. Supporting a bullish Sushi crypto price prediction to $12.48 is that resistance on lies at $7.08 to $8.97: a level that has served as reliable support for an advance to the same level. 
Here, weak hands are likely to sell at break-even, resisting any advances for this cryptocurrency. On-chain metrics also point to SUSHI hovering above an opportunity zone, where the risk of a sell-off is less – indicating a bullish outlook.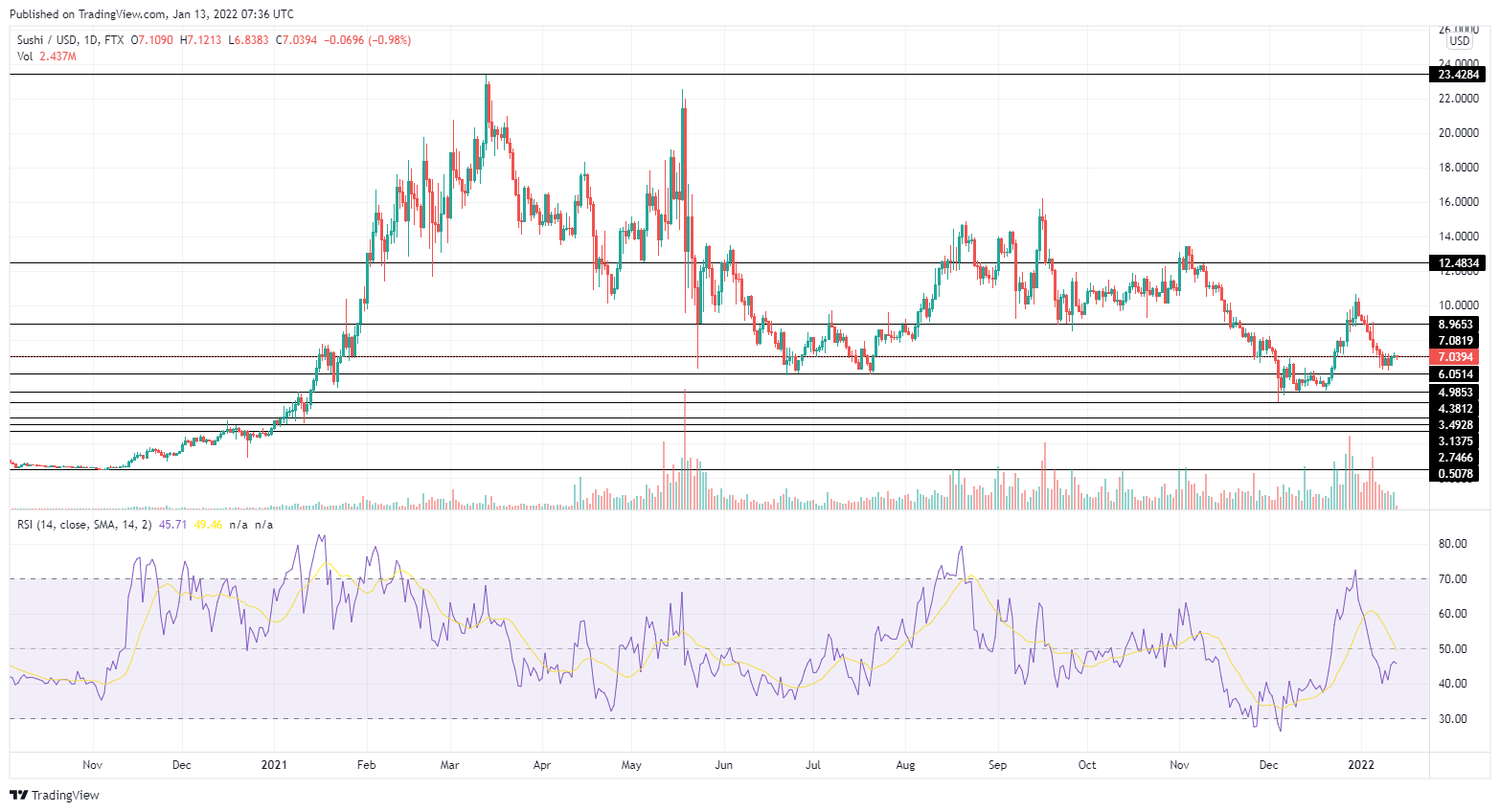 As such, investors can expect SUSHI to see considerable buying pressure around its current trading levels. Regardless of the bullish SushiSwap price prediction, if SUSHI price fails to stay above the demand zone extending from $3.49 to $4.99, it will indicate a weakness in bullish momentum. 
A daily close below $3.14 will create a lower low, invalidating the bullish thesis. In such a case, traders can expect SUSHI's price to crash by at least 15%, retesting the support level at $2.75 at a make or breakpoint. 
SushiSwap Price Prediction: Market Opinions
Investing is all about betting on individual opinions about a coin, and as a result, investor sentiments on sushi coin price will determine the future price of the coin. In this section, let's consider the opinions of investors and traders concerning the future of this coin.
SushiSwap price prediction forecasts are generating a lot of interest from industry experts, long-term investors, and crypto influence. Here are some of the popular predictions and analyze each based on the technical conclusions.  
SushiSwap Price Forecast for January – February 
TradingBeast
TradingBeast eyes an upswing as Sushi faces a crucial confluence of support levels, which could trigger an uptrend. This bullish SushiSwap price forecast for January – February identifies multiple barriers that are likely to cut the bull rally short and send Sushi back to $6.95 in February. 
Long Forecast
Long Forecast SushiSwap price prediction shows SUSHI price could slide below a crucial higher time frame support level, leading to a steep correction. The SushiSwap price forecast for January – February predicts SUSHI will bounce off a significant level at $5.14. 
SushiSwap Price Forecast for the Rest of the Year
WalletInvestor
WalletInvestor eyes a minor slowdown on Sushi coin price prediction after its recent uptrend that could clear up with a retest of $7. The uptrend is likely to continue, according to this SushiSwap coin price forecast for the rest of the year, considering the bullish nature of the broader market.
DigitalCoin
DigitalCoin reveals that sushi coin will continue heading higher, making sense from a technical perspective rallying for an average trading price of $9.58 in 2022. The SushiSwap price forecast for the rest of the year suggests that its path doesn't harbor significant barriers. 
SushiSwap Price Forecast for the Next Year
PricePrediction
PricePrediction SushiSwap price forecast for the next year forecasts a palpable bounce after retesting a support confluence. This Sushi crypto price prediction on a long-term perspective shows strength, hinting at a test of $11.59 with support at $9.51 to $9.79.
Gov.Capital
Gov.Capital forecasts a quick rally as Sushi bounces off a crucial support level. Although the market, in general, exhibits a bullish outlook, this SushiSwap price forecast for the next year shows SUSHI coin's upside potential is at an advantage with a barrage of support levels on the road to $39.33. 
Cryptocurrency Experts and Influencers
Crypto Dynamics SushiSwap price prediction proposes the token is at a point in its journey where the bulls are waiting to make a comeback, but Sushi trades along a risky opportunity zone that favors a bearish outcome. He points to a retest of support at $3 before an uptrend can manifest. 
Baby rhino cautions investors on Sushi coin price prediction, pointing to the uphill battle bullish actors face as the coin has continued to decline and shows no signs of a directional bias. However, the forecast eyes a test of $19.5 on the supply zone in 2022. 
Latest News and Happenings Concerning SushiSwap
The network (which also acts as a decentralized exchange) recently announced a partnership with the People Initiative by Celo to improve access to DeFi products for over 6 billion smartphone users. This plan includes a $12.6 million rewards program in Celo and Sushi as an incentive. 
Partnering with Celo makes a lot of sense as it gives Sushi a leg up in the mobile-friendly and user-oriented features. With its DeFi expertise and line-up of products and services, this joint venture will serve to meet users' needs and expose more to the benefits of crypto and DeFi. 
We also recommend: Fantom Price Prediction
FAQ:
Will Sushi Price Go Up?
Yes. Sushi price has seen a considerable drop over the last few days leading up to the end of 2021 as the crypto market continued to bleed. Even though this descent looks bearish, it has allowed Sushi crypto price prediction to reach an inflection point and a chance to make a comeback. 
What Is the Future of Sushi Coin?
Sushi price has been trading around a crucial support level for some time. The coin might remain under a bearish cloud, which may be setting up reverse on the current trend. A recovery above this level will be the key to retesting a quick run higher.
How Many SushiSwap Coins Are There?
250 million SUSHI coins. The current supply of SUSHI coins in circulation is currently at just above 127 million. For the latest data on the circulating supply, visit CoinMarketCap. 
SushiSwap Price Prediction: Verdict
Even though this SushiSwap price prediction aims for a fun trading environment, it's no joke. Sushi coin faces an uphill battle with Sushi crypto price prediction upside potential capped by broader market forces. It is very possible to be as popular as DOGE, according to Dogecoin price prediction.