Is Telcoin real? Telcoin is a cryptocurrency that uses the Ethereum blockchain as its foundation. It was created in Singapore in July 2017 with the goal of serving as a link between cryptos, blockchain, and the telecommunications industry.
Telcoin Price Prediction: Introduction
Based on Telcoin price prediction, analysts expect TEL to explode as the network leads the way in intelligent money transfer. TEL is posting gains with the rising adoption of Telcoin blockchain solutions. Moreover, developments in the Telcoin ecosystem have boosted the utility of the native token TEL.
TEL is currently valued at $0.0208, according to data from CoinMarketCap. The trading price computes the market cap of Telcoin at more than $1 billion and a fully diluted market cap of over $2.1 billion.
The Telcoin ecosystem has several recent updates that boost TEL price predictions. This growth has brought with it the arrival of market makers who have triggered the increase in value. Here is everything you need to know about Telcoin price prediction for 2021.
Telcoin Price Prediction: Technical Analysis
The Ticker TEL has been tradeable since December 2017; hence, there is plenty of price action data to mount a solid technical analysis for Telcoin price prediction. TEL enjoyed a great deal of momentum against the USD in 2021 with the launch of the upgraded protocol. Shortly after the release, the price shot up from $0.003 to $0.008.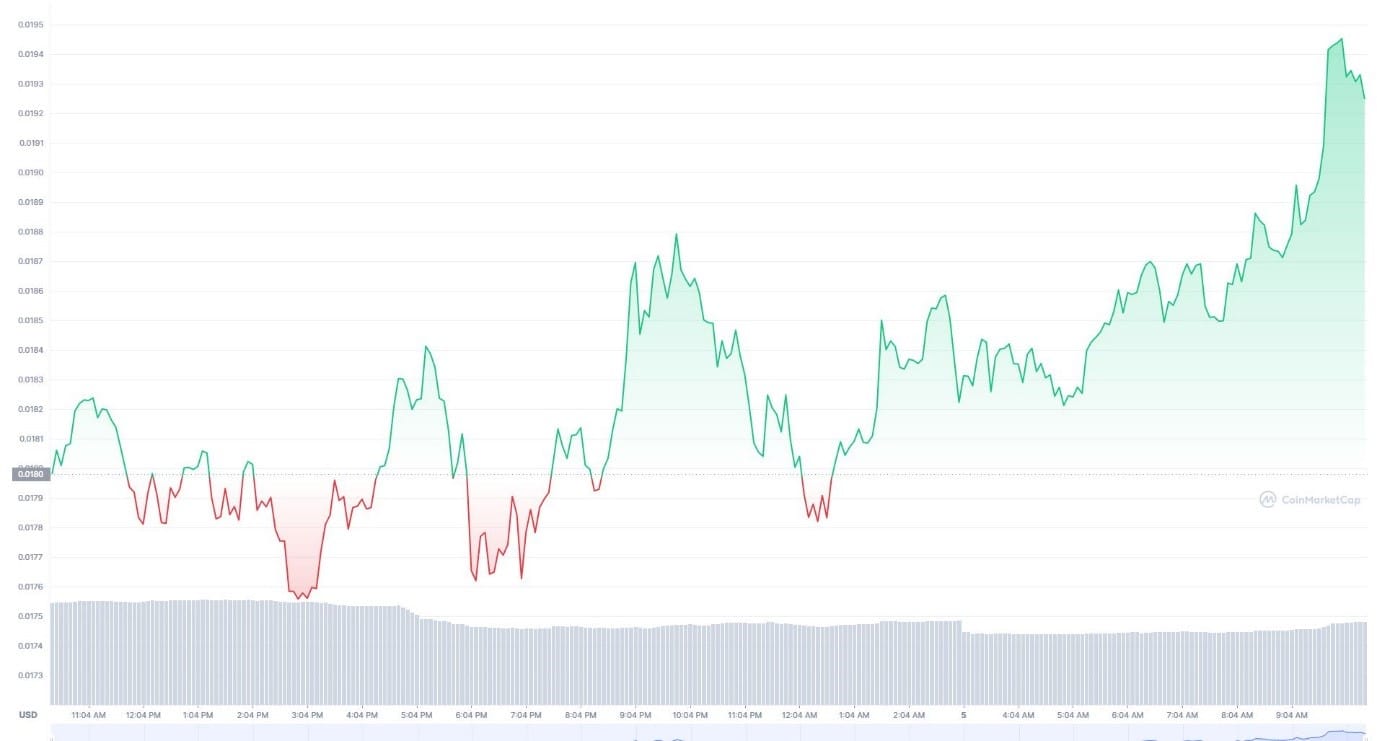 The Telcoin price chart above shows TEL is approaching a key support level at $0.01807, which is situated in the months leading up to the recent rally. For the last three months, before falling to this level, a strong buyer reaction has been detected, allowing us to assert that another support level exists could be forming around $0.017.
After the technical analysis of Telcoin price prediction 2021 using Fibonacci channels, another interesting conclusion can be drawn. By taking the price action towards the end of 2020 as a basis, then Fibonacci channel extensions levels show limitation of TEL bullish potential. That's when a historic high of $0.02 is considered. The coincidence confirms the validity of other Fibonacci levels, which can be used as keys to form a forecast for Telcoin.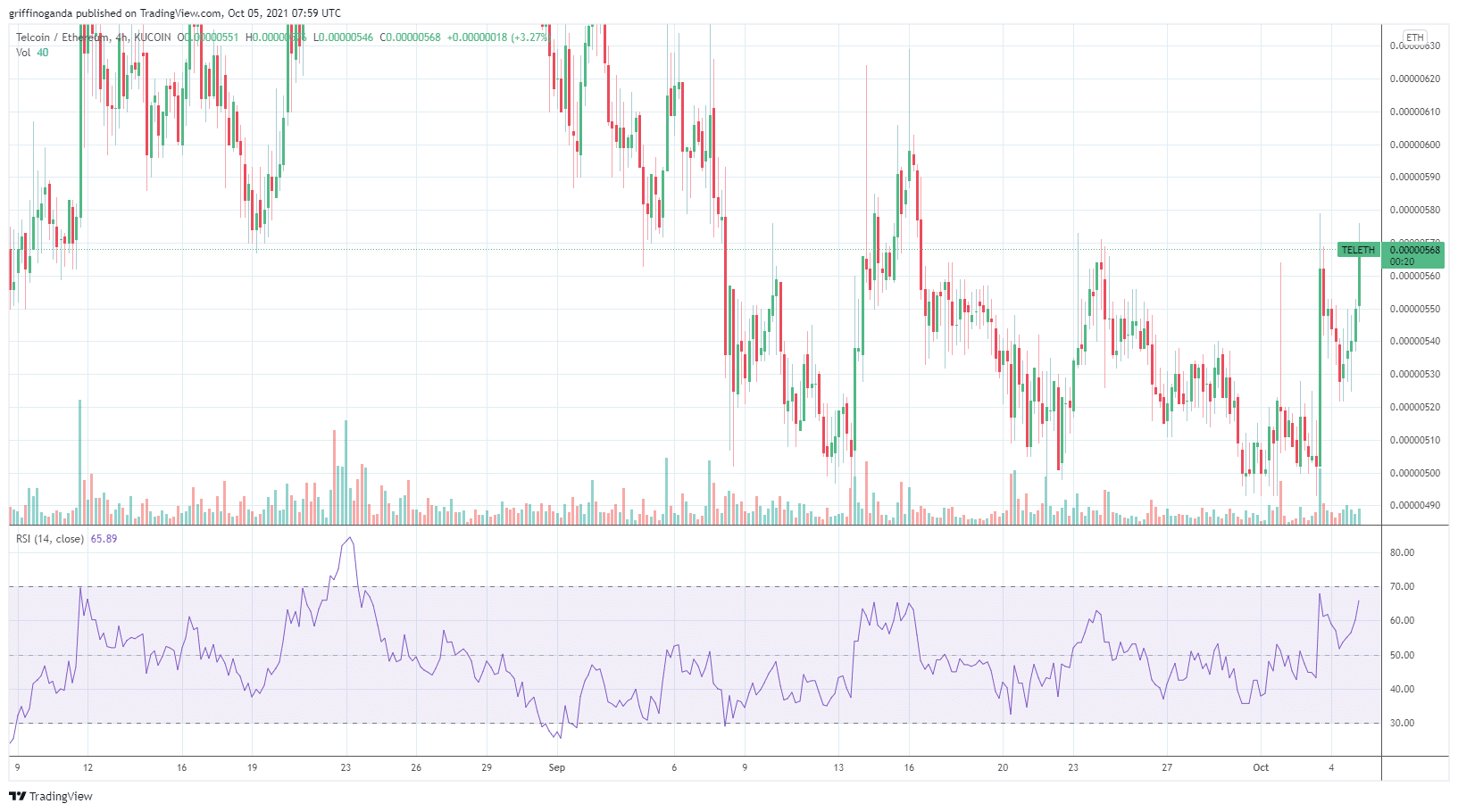 From a general description of TELETH, price chart, it can be noted that the TEL bullish potential against ETH is building upon the background of strong RSI readings. A sharp fall below ETH 0.000004, which is difficult to imagine in the current situation, can serve as a break of the trend.
Telcoin Price Prediction: Market Opinions
In this section, we have collected the most reliable price predictions for Telcoin from popular forecast services and cryptocurrency analysts and experts. The projects are rather contradictory but offer an invaluable glimpse at every possible direction Telcoin could take.
WalletInvestor
WalletInvestor, for starters, predicts that Telcoin could be valued from $0.03 to $0.04 in the next year. With this TEL price prediction from 2021 to 2022, investors can still expect Telcoin to be an awesome investment. Moreover, the forecast system targets a potential earning of up to 32.68% based on current and past price action.
TradingBeasts
On Telcoin price prediction 2021 to 2022, TradingBeasts experts project $0.036 by the end of 2022. The forecast projects Telcoin could rise to as much as $0.042 in 2022. However, a possible slow start to 2022 might be on the way as sellers attempt to make a quick profit on 2021 gains. That means the value of TEL could continue to go up, which makes it a solid long-term investment.
Digital Coin
The DigitalCoin Telcoin price prediction for 2021-2022 shows the gains made in these recent months will remain through to the next five years. The prediction states that TEL will be worth $0.029 by February 2022. Moreover, TEL is projected to go as high as $0.048 in 2022 and continue its growth to 2023-2024. However, this forecast is dependent on sound crypto market conditions.
LongForecast
LongForecast offers another bullish TEL price prediction for 2021 to 2022. This trusted forecast system projects prices will go up to $0.036 in 2021. In 2022, Telcoin could be valued at $0.044 but could face a rocky start to the new year, where prices are projected to rely heavily on support levels. Moving on, TEL is projected to break out past $0.1 between 2023 and 2024.
Gov.Capital
Gov.Capital paints a positive picture of TEL price predictions for 2021-2022. The forecast sees TEL prices starting 2021 at an average valuation of $0.0380, which is poised to grow to around $0.043 by December 2021. Likewise, the value growth flow is expected to experience a slowdown on broader market pressure but will not impact the positive prognosis.
CoinQuora
CoinQuora projects significant fluctuations for this cryptocurrency based on historical price action, but this fact does not deter TEL price predictions. The projection is $0.034 and $0.065 by December 2021. That's based on technical analysis alone, using key measures and other considerations to come up with the best prediction.
TradingView
Croset, a cryptocurrency analyst and investor, is of the opinion that TEL is backed into a corner against ETH, and the only way to go is up. Based on fundamental analysis alone, his TEL price prediction relies heavily on the fact that Telcoin has performed relatively well in the 2021 bloodbath. Therefore, he is keen on focusing on the asset in the coming months.
Likewise, PaidBoy, Crypto analysts and traders, predicts that TEL could be a sleeping giant waiting to explode in 2022 against BTC. His bet looks to a gain of more than 500% following the bounce off the 200-day moving average and a strong show of support from the buyers. Besides, RSI is also bullish on Telcoin price prediction for 2021.
Latest News and Happenings Concerning Telcoin
On June 30th, 2021, Telcoin formalized its native liquidity engine, TELx, as the decentralizing execution, settlement, and delivery arm of the network. The platform serves as a point of entry for users across a network of Polygon-native, self-custodial decentralized financial markets.
Moreover, Telcoin is working on TELxchange and the SMS Network, which will be user-owned products and powered by TELx. These features will be a few taps away in the Telcoin mobile application, which is designed to ensure the ease of crypto transactions.
In July 7th, Quickswap markets began liquidity mining, which has ramifications for Telcoin price prediction 2021. That means participants can earn both QUICK and TEL rewards in addition to fees (TEL/USDC, TEL/QUICK, TEL/WETH). The system works to help investors grow cryptocurrency portfolios. Besides, users can also earn TEL, which, as you have seen, is poised for exponential growth and trading fees (TEL/WMATIC, TEL/WBTC, TEL/AAVE).
Still, in Q3 of 2021, Telcoin grew the number of TELx markets to 16 from six. These markets grew from a single marketplace to three now. This structure is set up in addition to the decentralized foreign exchange protocol, DFX as a Telcoin Platform component. Investors in these three marketplaces earn TEL and DFX incentives designed to boost the platform's liquidity.
Moving forward, Telcoin is committed to expanding its efforts to grow the existing liquidity incentives. Along with a few parameter changes, upgrades, and the introduction of BAL incentives, Telcoin is promising to dedicate the last quarter of 2021 to improve liquidity for smart money transfer. With more milestones in the future, analysts expect TEL prices to skyrocket.
Telcoin Price Prediction: Verdict
Next-generation money transfer service Telcoin poses tough competition to bitcoin with its functionality, attracting exciting user adoption and applications. As a result, even the most conservative TEL price predictions point to this cryptocurrency going up. Of course, these Telcoin price prediction also paint tough times ahead, but the long-term future is brighter.