Jaxx Wallet has finally gone through its much-awaited upgrade. The older version will now go under the name of Jaxx Classic, and all support will cease for the app beginning with the 28th of February, 2019.
Jaxx Classic will be deprecated (no support) which means that after the last day of February, users will not be able to send any funds from the wallet. Users are encouraged to transfer their funds to the updated wallet, Jaxx Liberty.
Jaxx Liberty incorporated new built-in features such as block explorers, crypto news, portfolios, and market data, increasing its convenience and use as a wallet app.
Users that have not transferred their funds from Jazz Classic before the last day of February are not in danger of losing their funds. The development team posted on their official Jaxx blog the instructions requires to make the transition to the new updated version: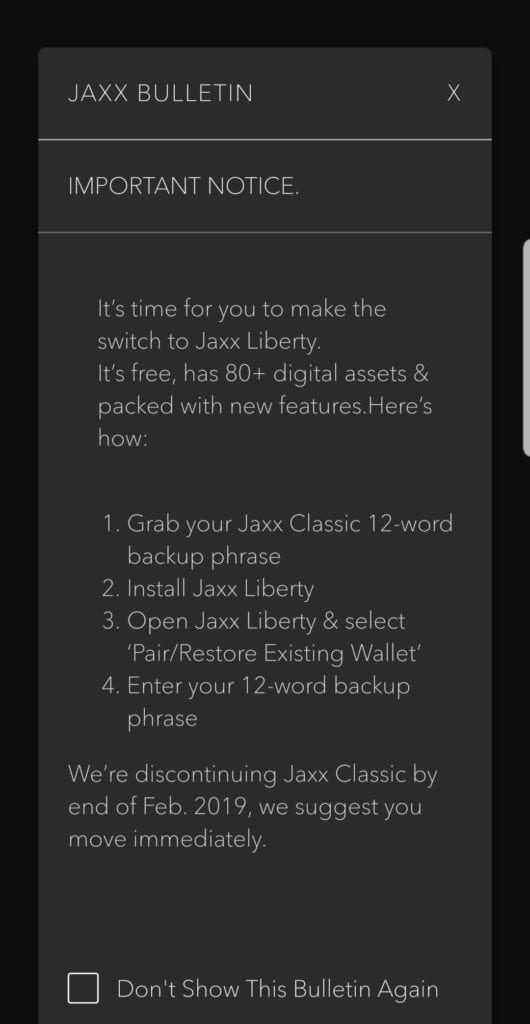 "We want to make your transition from Jaxx Classic to Jaxx Liberty, easy and seamless. 
You will have access to the same digital assets currently found in Jaxx Classic, and more.
Jaxx Liberty has more cryptocurrency and digital assets available than there are in Jaxx Classic. Currently, there are over 85 digital assets available in Jaxx Liberty. 
Jaxx Liberty is available across all platforms.
It is available across iOS, Android, macOS, Windows, and Linux environments, and as a Google Chrome browser plug-in. 
Jaxx Liberty is a new platform, not an update.
We built Jaxx Liberty from scratch — bottom up. This is a new download, not an app update. Simply head on over to your favourite app store, or jaxx.io and select your device. 
Your 12-word backup phrase remains the same.
Simply enter your Jaxx Classic 12-word backup phrase into Jaxx Liberty and you'll then be able to access your digital assets. 
There's a simple process to migrate to Jaxx Liberty."
That process is explained in a video featured on the same blog page. We will relay the steps succinctly:
Open Jaxx Classic, and in the menu go to the Tools option. Select a new backup seed.
Write down the 12-word backup phrase.
Open the Jaxx Liberty App and click on Pair/Restore Existing Wallet.
Enter the backup seed from the Jaxx Classic and Restore the wallet.
The keys of your Jaxx Classic wallet will then be imported to your new wallet.
Users are able to receive cryptos in their Jaxx Classic wallet up until March 1, 2019. Afterward, they can move the funds to Jaxx Liberty by using their recovery seed. They also have the option to export the keys manually and import the private keys to another wallet service if they choose to.
The updated Jaxx Liberty wallet will present more features and increased functionality, and the Jaxx support team will continue to aid customers as they did with the classic version.
Featured Image: Coinsutra