Investing in any asset requires a lot of knowledge and research to be able to make the right decisions. The same thing applies to cryptocurrency investment. There are different sources of information on cryptocurrency investment, but one of the most important of such information is the price prediction of the asset you are interested in.
This article highlights the top ten cryptocurrency price prediction websites you should follow to stay up to date on any asset of your choice so that you can invest with expectations. The following are those websites.
1. WalletInvestor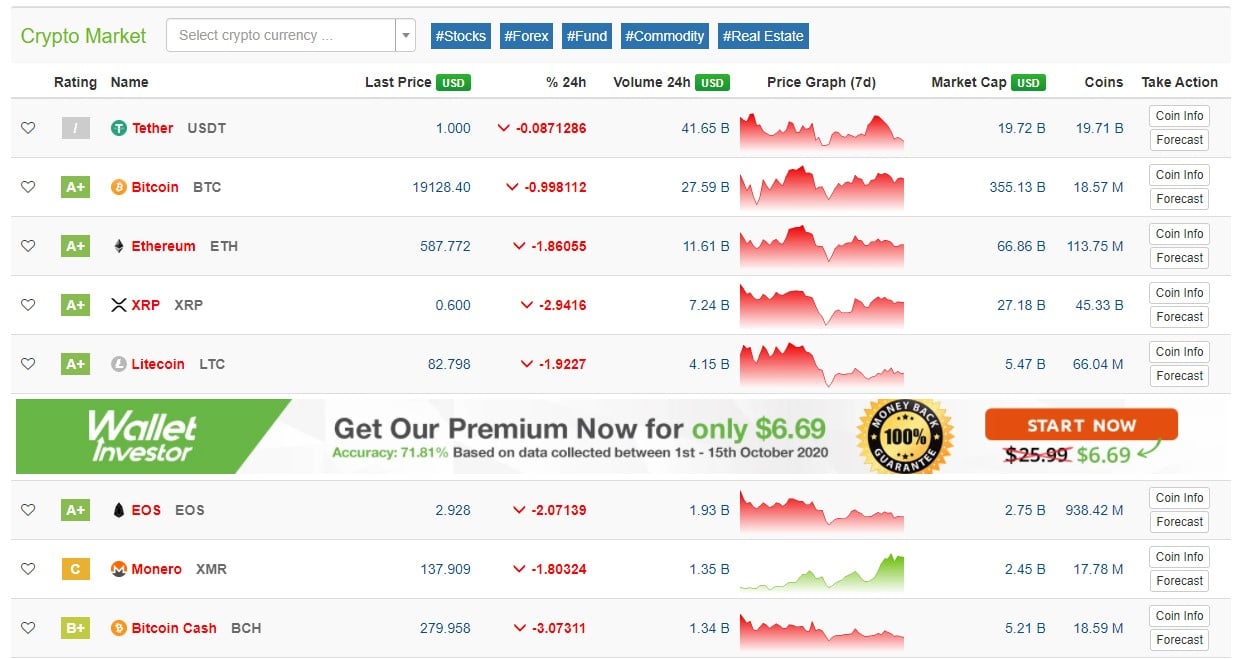 Walletinvestor is one of the most popular websites when it comes to investing in cryptocurrencies. Its price predictions cover virtually all cryptocurrencies, and they give a day-by-day prediction, 14 days at a time. This seems to be the only weak point of this website, as other platforms give predictions for a full month all at once.
Walletinvestor doesn't only give price predictions but goes further to give traders a clue on how to set their entry and exit points by calculating and making available the most important resistance and support levels for any cryptocurrency at any point in time.
2. Tradingbeasts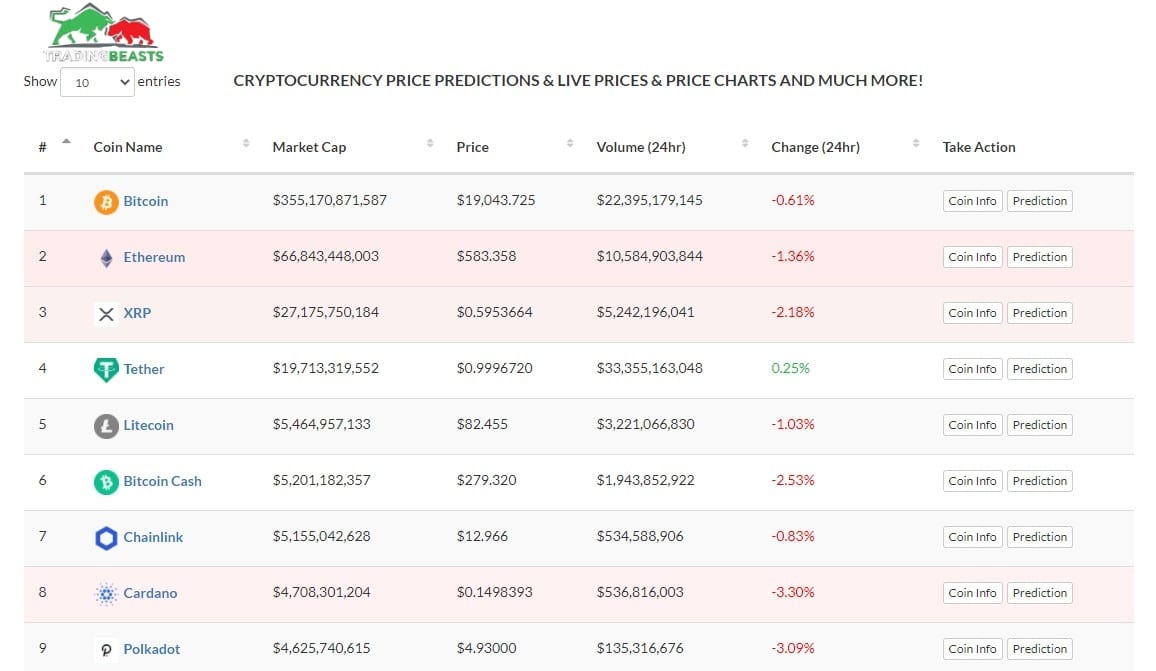 This website gives price predictions over a long period of time, up to several years in a row. Tradingbeasts provides detailed predictions, including the average price, the minimum and maximum price to expect for any given month within any year.
For Dogecoin, for instance, the website provides a monthly price prediction for the next 3 years, from 2021 to 2023. Tradingbeasts says its predictions are based on the past performances of the price. If you are looking for a long-term price prediction for any cryptocurrency, this is one place to look, and you will never be disappointed.
3. Longforecast

As the name implies, Longforecast is another website that gives long-term price predictions for cryptocurrencies. For now, it only supports 16 cryptocurrencies that are picked randomly, which include Bitcoin, Ethereum, XRP, NEM, Monero, IOTA, and others. Longforecast gives price predictions for up to 4 years into the future, as this example with Bitcoin shows.
Like Tradingbeasts, it gives details of the minimum and maximum price expected every month, the average price as well as opening and closing price for the month. The website also has a BTC to USD converter that you can use to calculate the USD value of any amount of Bitcoin based on the exchange rate at the time.
4. Gov.Capital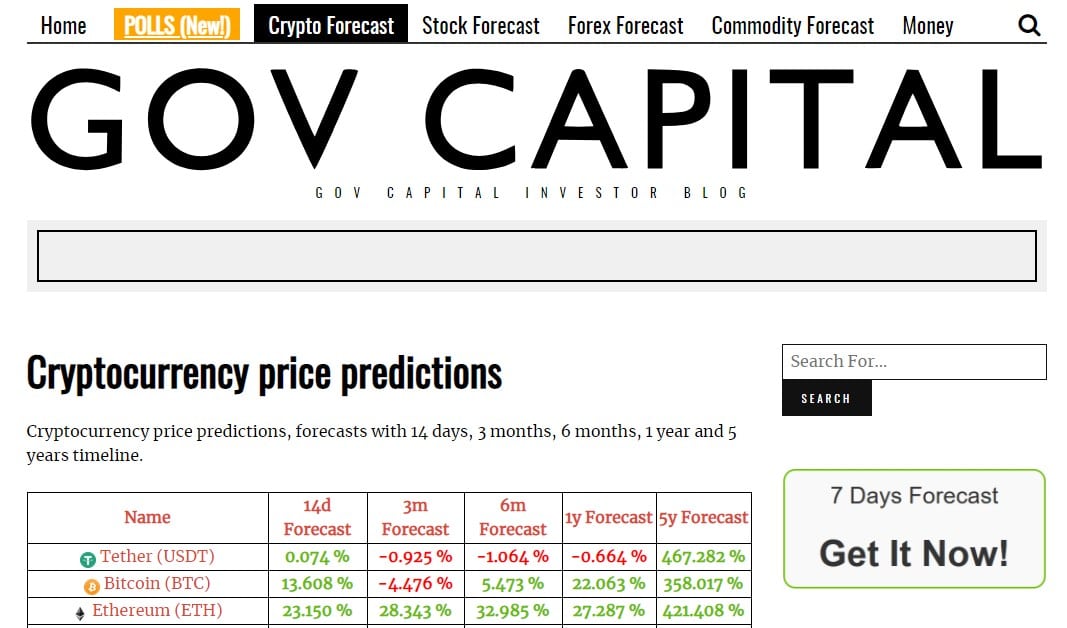 Gov.Capital is like another Walleltinvestor website with a different name. However, its predictions are quite different from that of Walletinvestor. For instance, this website gives price predictions for over 3,400 cryptocurrencies, and the prediction can cover as many as 5 years at once.
The website also provides price predictions for commodities, forex, and other assets, such as gold. There is the free version of the information, which anyone can access for free, and there is the premium version that you can access for a monthly token fee.
5. Digitalcoinprice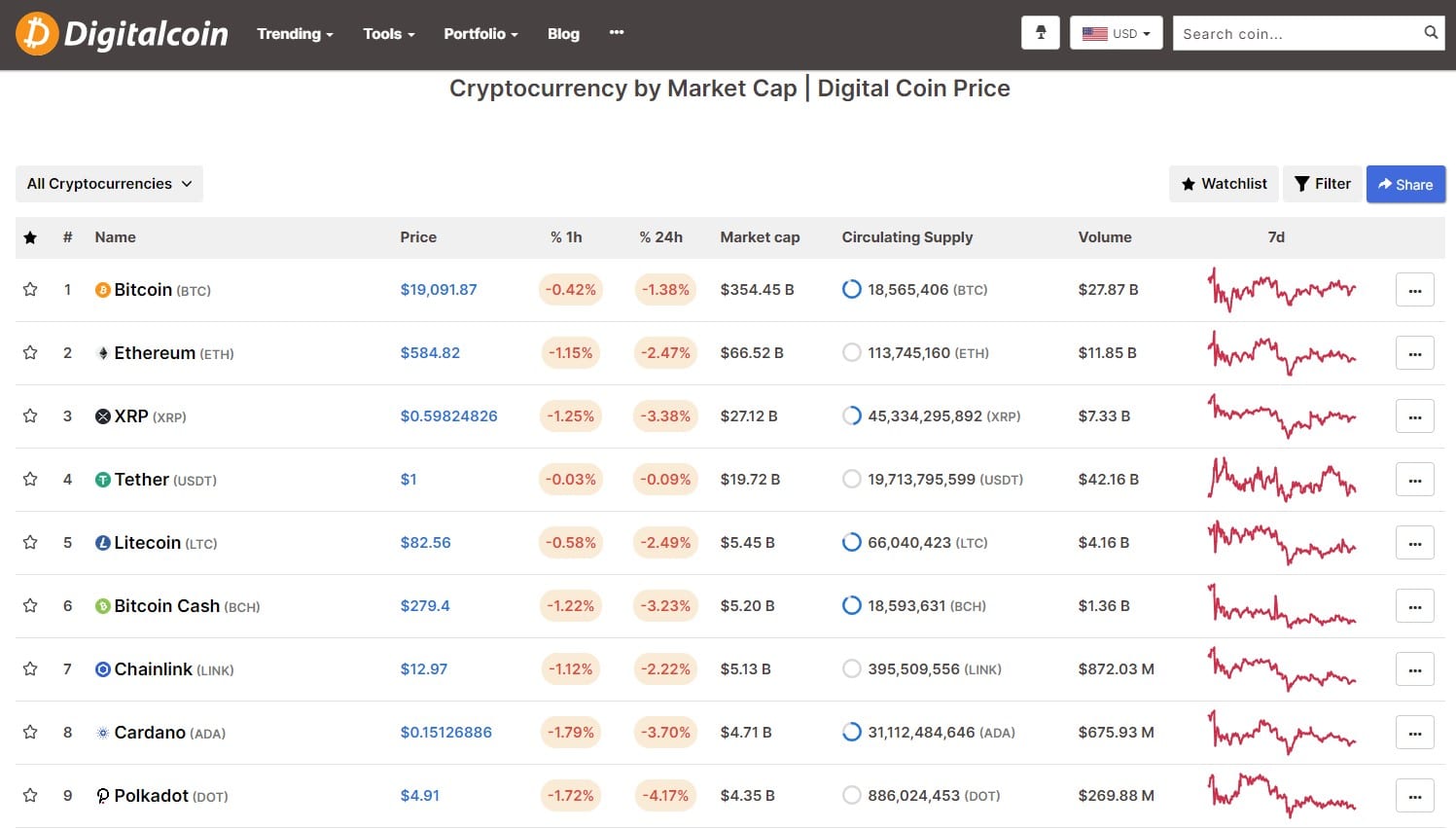 Digitalcoinprice gives price predictions for up to 7 years. This means that you can literally check the price prediction of your favorite cryptocurrency for December 2027. That is an amazing thing, and you can get it on the website all for free. This also has the cryptocurrency value converter in its "Tools" section.
Perhaps the most interesting thing about this website is that it only provides information on the prices of cryptocurrencies, unlike the others that cover other assets as well. If you are looking for information on the gainers and losers on any day, you can also visit this website to get the information you want.
6. Crypto Rating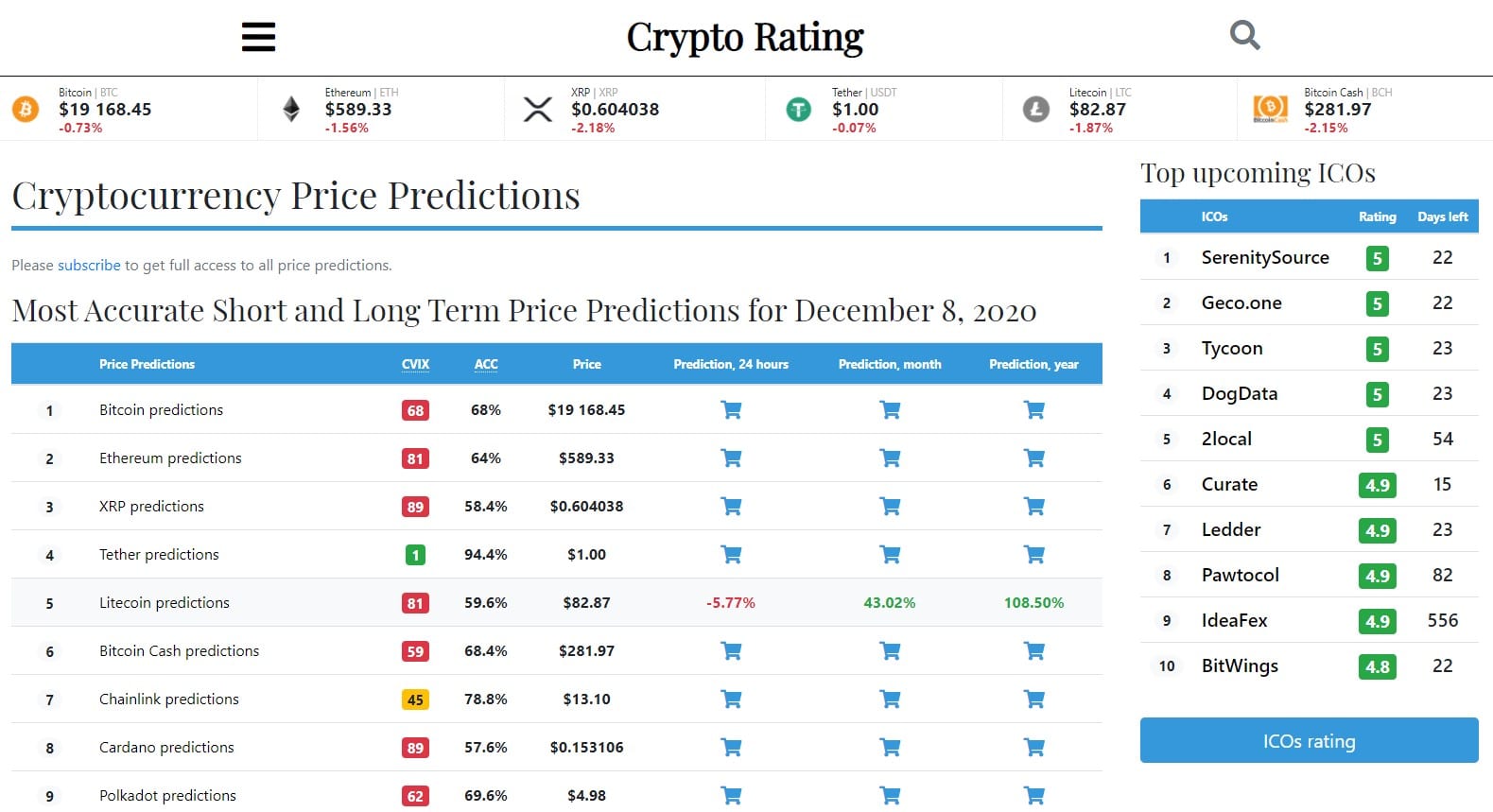 Another website that gives purely cryptocurrency price information is Crypto Rating. It provides price prediction for a long list of cryptocurrencies and offers in-depth information on how cryptocurrency price predictions are done to ensure high accuracy. Unlike other websites, you will need to sign up on the platform to view full prediction information on any cryptocurrency.
The website also gives information on every cryptocurrency, such as the year of creation, the current price, circulating supply, and more, which is similar to what Coin Market Cap does. Moreover, Crypto Rating publishes reviews on ICOs and cryptocurrency exchanges, making it an all-round crypto information platform you should follow.
7. CoinPedia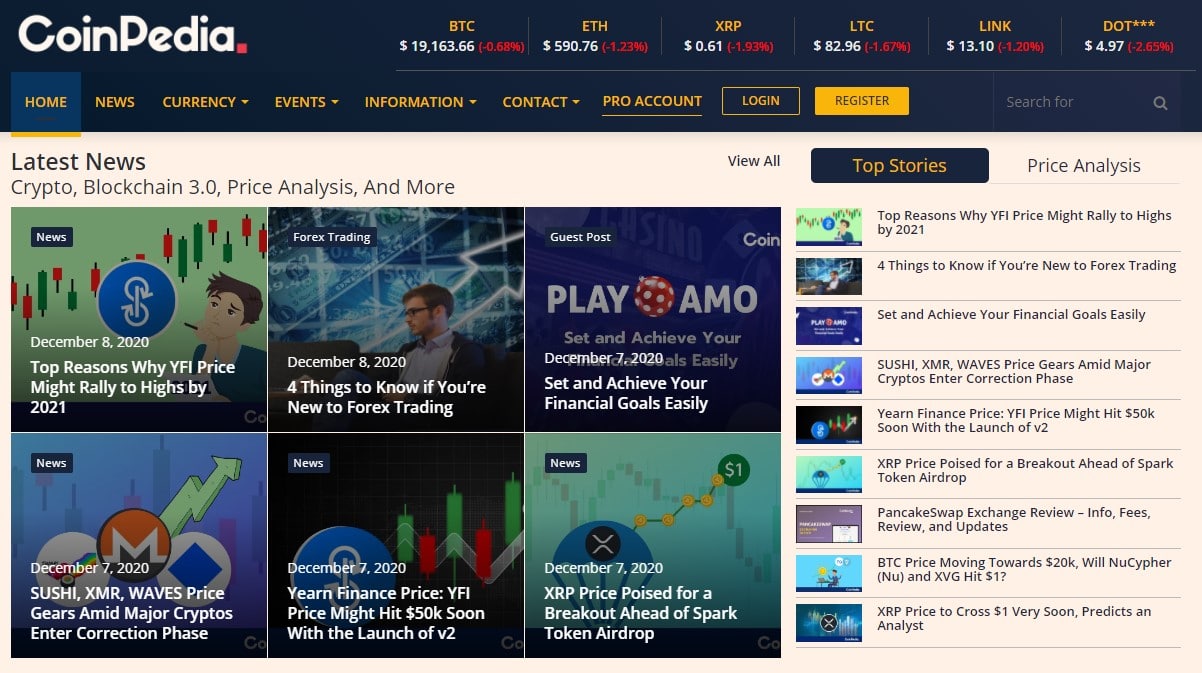 This website is slightly different from the aforementioned in that it is also a crypto news website. Of course, it provides price predictions for several cryptocurrencies well ahead of time. However, such predictions are only given for a full year rather than for every single day. CoinPedia gives a technical analysis along with the prediction, so you will see the factors upon which such predictions are based.
Get the latest cryptocurrency news and price predictions for your favorite cryptocurrencies on this website any day for free. Specifically, if you are wondering how a particular cryptocurrency will perform in 2021, feel free to check the website, as such predictions are ready for some of the assets, while others may be on the way.
8. Prime XBT
Prime XBT is a well-known crypto exchange that publishes cryptocurrency price predictions for different assets on its blog. These predictions cover several years into the future. For instance, this is a Bitcoin price forecast covering 2021 to 2025. The website doesn't just give price predictions but also offers details on each cryptocurrency with the latest news.
Prime XBT's price forecasts are based on technical analysis and not just wild guesses which cannot be substantiated. The fact that it is an exchange certainly helps to make it more reliable in this regard and thus makes it a good source for cryptocurrency predictions that you need to follow.
9. Previsioni Bitcoin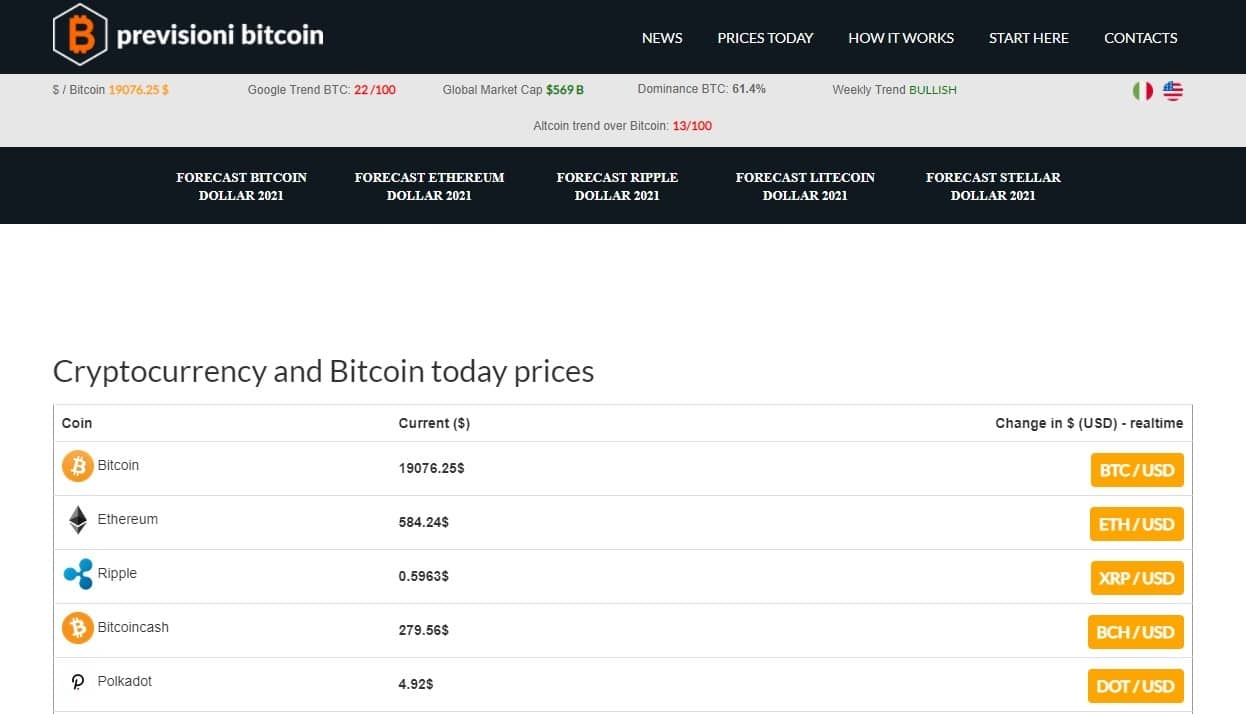 Here is another cryptocurrency price prediction website worth mentioning. Though the name sounds like it only does price prediction for Bitcoin, this is never the case. On this website, you can find price predictions for up to 3 years at a time. Apart from Bitcoin, there is a price forecast for Ethereum, XRP, Litecoin, and Stellar. The prediction is for each month of the year in consideration.
The website offers two languages, English and Italian, and you can always switch between the two as you wish.
10. Coindoo.com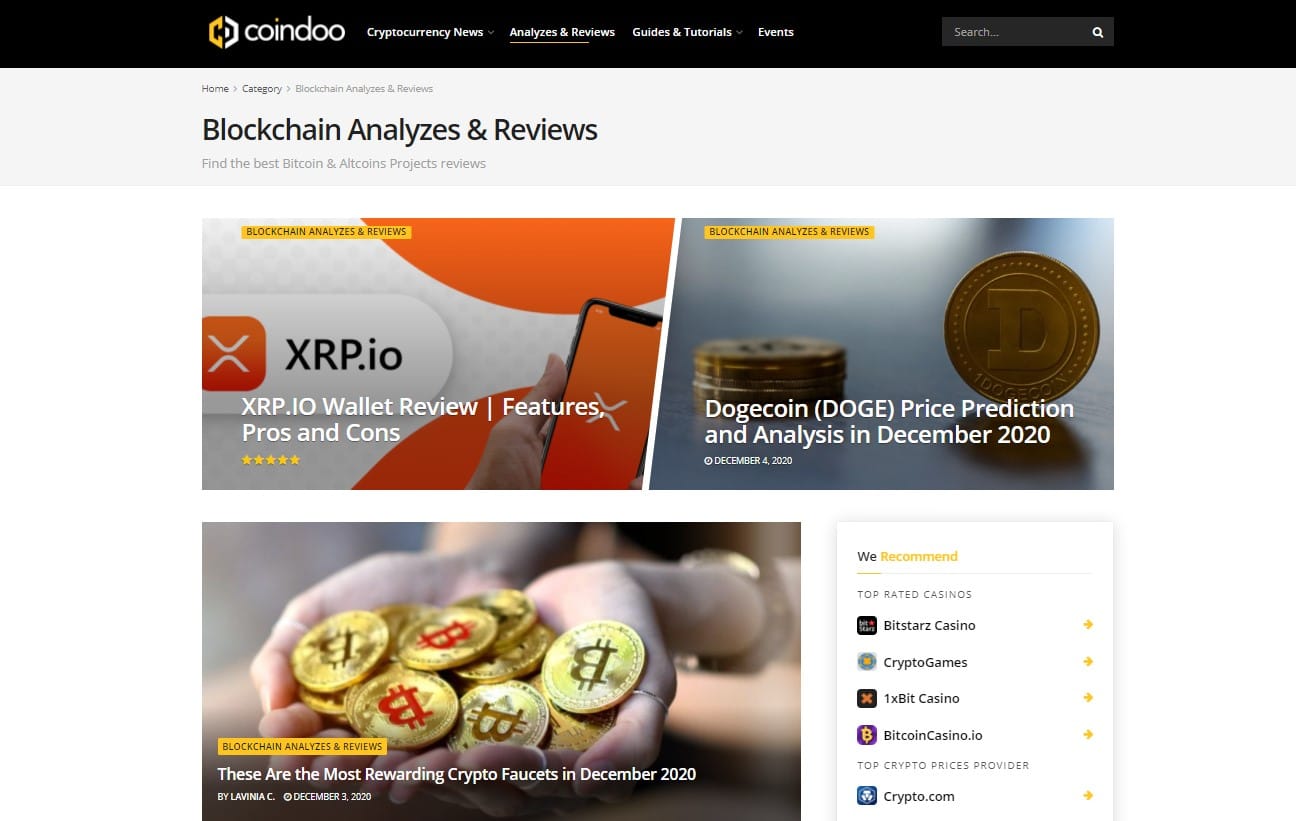 Coindoo is a one-stop website for information on cryptocurrencies. Here you can find the price prediction for different cryptocurrencies based on a detailed technical analysis, as well as the opinions of other websites. It also features the latest news in the industry, guides, reviews, and tutorials to help newcomers into the industry to start smoothly.
The prediction information on many of the above-mentioned platforms is often combined into solid predictions on this website, making it richer than any one of the above. If you are looking for one place where you can find all crypto-related information, then this is your destination.
Conclusion
All the sites mentioned above are very good sources for those who are looking for the best information on crypto price predictions. You should, however, keep in mind that this information is not necessarily financial or investment advice and is not intended to persuade you to invest in any one crypto asset. That said, we hope you find the information useful and that it will give you the clarity you are looking for.
Featured image: medium.com