A British police department sold 295 Bitcoin (BTC) confiscated from a drug trafficker after he was forced to surrender his funds stored on a hardware wallet. After sales, the police department retained 18.8% of the profit.
The main prosecuting body dealing with criminal investigations in England and Wales, the Crown Prosecution Service (CPS), made public information about the case linked to 295 BTC. The agency wrote:
"A drug dealer and money launderer who was using cryptocurrency to conceal his funds has had over £1.2 million [~US$1.6 million] worth of bitcoins seized, restrained and then converted into British pounds in the first case of its kind."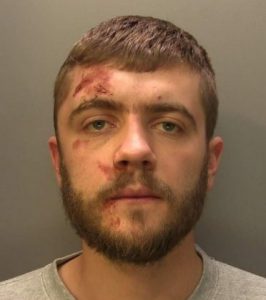 The 31-year-old Sergej Teresko was found guilty of money laundering and illegal drug sales. The Latvian man was arrested in April 2017 after the police found a "cannabis factory", several fake IDs, gold bars, as well as luxury stolen jewelry and cars in his home in Surrey, England.
The man was tried in October 2017 "to one count of being knowingly concerned in the production of a controlled drug, one count of possessing criminal property, one count of possession of articles for use in frauds and six counts possession of an identity document with improper intention," the CPS explained.
Later, the man was "convicted of money laundering and drug offenses at Kingston Crown Court where he was sentenced to nine years, three months in prison", the agency added.
"In total, Teresko was found to have made £2,058,613 [~$2,703,578] from his crimes with an available amount of £1,447,935 [~$1,901,574] to pay back. He was given three months to pay the order or would have to spend a further 10 years in prison."
Kingston Crown Court anounced on 19 July that Sergejs Teresko must surrender his £ 1,447,935 "of his ill-gotten gains, including bitcoin," as reported by Financial Times.
Sergej Teresko had a Keepkey wallet
Authorities have found a Keepkey hardware wallet at Teresko's home. Dl Rob Bryant of South East Regional Organised Crime Unit stated for Surrey Live:
"We didn't think we were going to actually find anything in these wallets. We thought we would open them and there'd be nothing there." The police could access the funds only after receiving an authorization.
Surprisingly, the police found two crypto wallets on the device. One was empty, while the second stored 295 BTC. "Surrey Police has now become the first UK force to successfully seize bitcoin, convert it into sterling and be granted permission by a court to keep the cash for government and police coffers," reported The Independent.
"Surrey Police gets to keep 18.8 percent of the proceeds"
The crypto coins were seized after the police department convinced the judge that "bitcoin was a real thing that could be seized". Surrey Police sold the 295 BTC via an authorized Bitcoin exchange, after what the money was transferred to the police's BTC own wallet and then sent to a bank account.
"Surrey Police gets to keep 18.8 percent of the proceeds of Teresko's crimes — about £273,000 — which the force can use to top up its operating budget," stated Financial Times.