USD coin was launched in 2018 as a product of Center Consortium and supported by Coinbase and Circle Internet Financial, both of which are well known in the crypto arena. The USD coin has been linked to the US dollar in the aspect ratio of 1:1 and is kept in check through periodic audits. To understand the price flow of this coin, this review takes you through the USD coin price prediction. 
In that case, it should always be noted that the USD coin price would always be valued at $1 or a price very close to the dollar. Those seeking to invest in USD coins can make purchases through Coinbase and other exchanges.
USD Coin Price Prediction | Introduction
The USD Coin is a cryptocurrency pegged against the US dollar. The USDC token first came to light in May 2018 from a P2P venture technology. This coin is an Ethereum token compatible with other ETH-based technologies and wallets. 
The USD coin has a circulating and total supply of $48,579,625,264 USDC and 48,775,147,919 USDC, respectively, and a market cap of $48.7 Billion, according to CoinStats. Its 24h volume stands at $5 Billion and a fully diluted valuation of $53.0 Billion. This USD coin price prediction looks at the price speculation of this coin throughout the year and in the coming years. 
USD Coin Price Prediction: Technical Analysis
The USD coin has been termed one of the most stable coins by investors. This is because the price difference is relatively small even though its price has fluctuated in the past year. For example, on 25 December 2021, the price of a USD coin stood at $ 0.999844. However, by the end of December of the same year, the price had hit the one-dollar mark ($1.000383).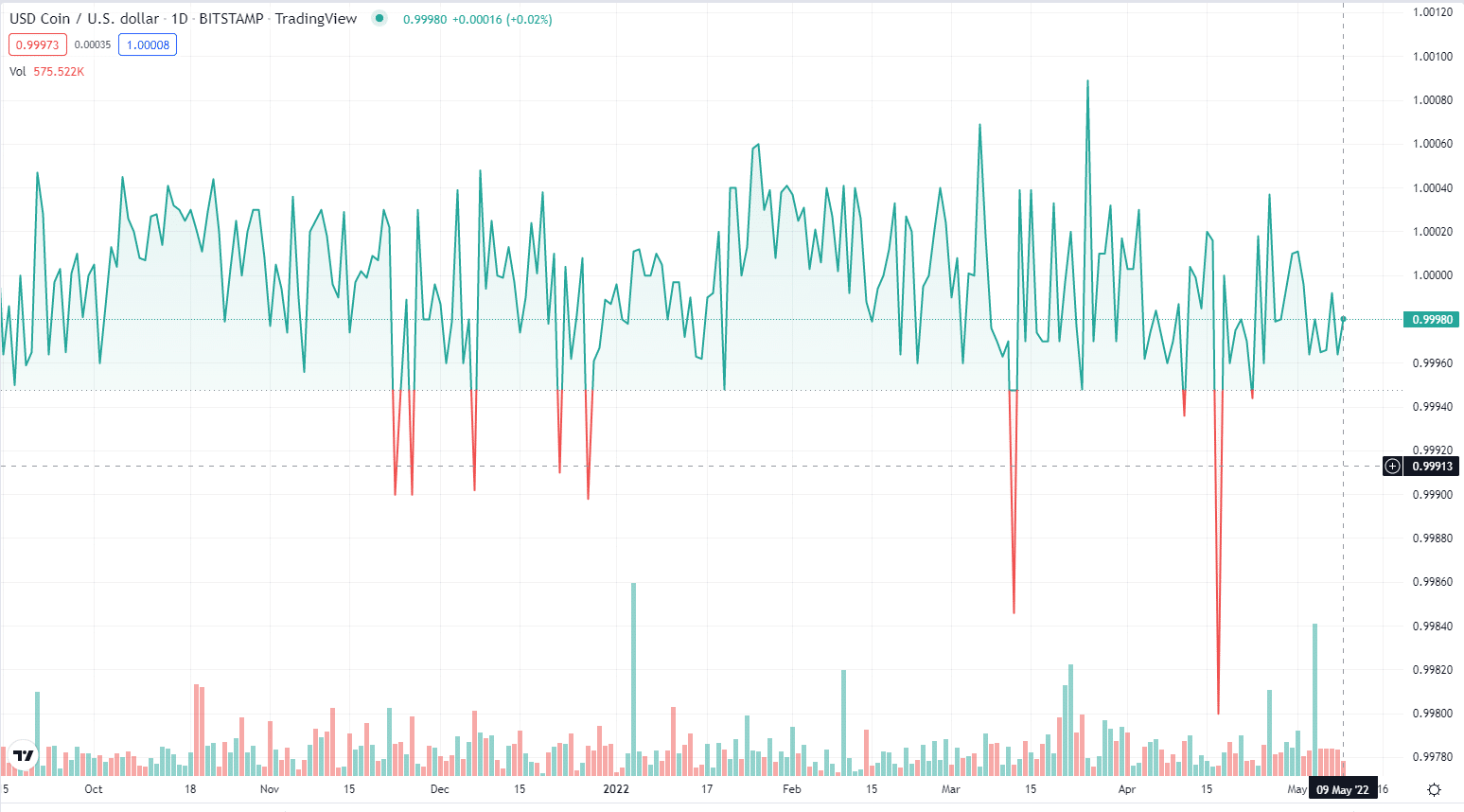 The change in price during this period was very little. These minor fluctuations in price have been experienced all through this year. The cost of the USD coin has shifted from the one-dollar mark down a few cents and vice-versa. This means that the growth of this coin is very little, and its change won't be quick enough to allow investors to engage in short-term investments. 
For the past decade, the USD coin has fluctuated with no significant change in price. The changes being seen are that of a few cents; it is expected that this trend will go on for several years in the future. For investors targeting a quick return on investment, then this is not the right place for them.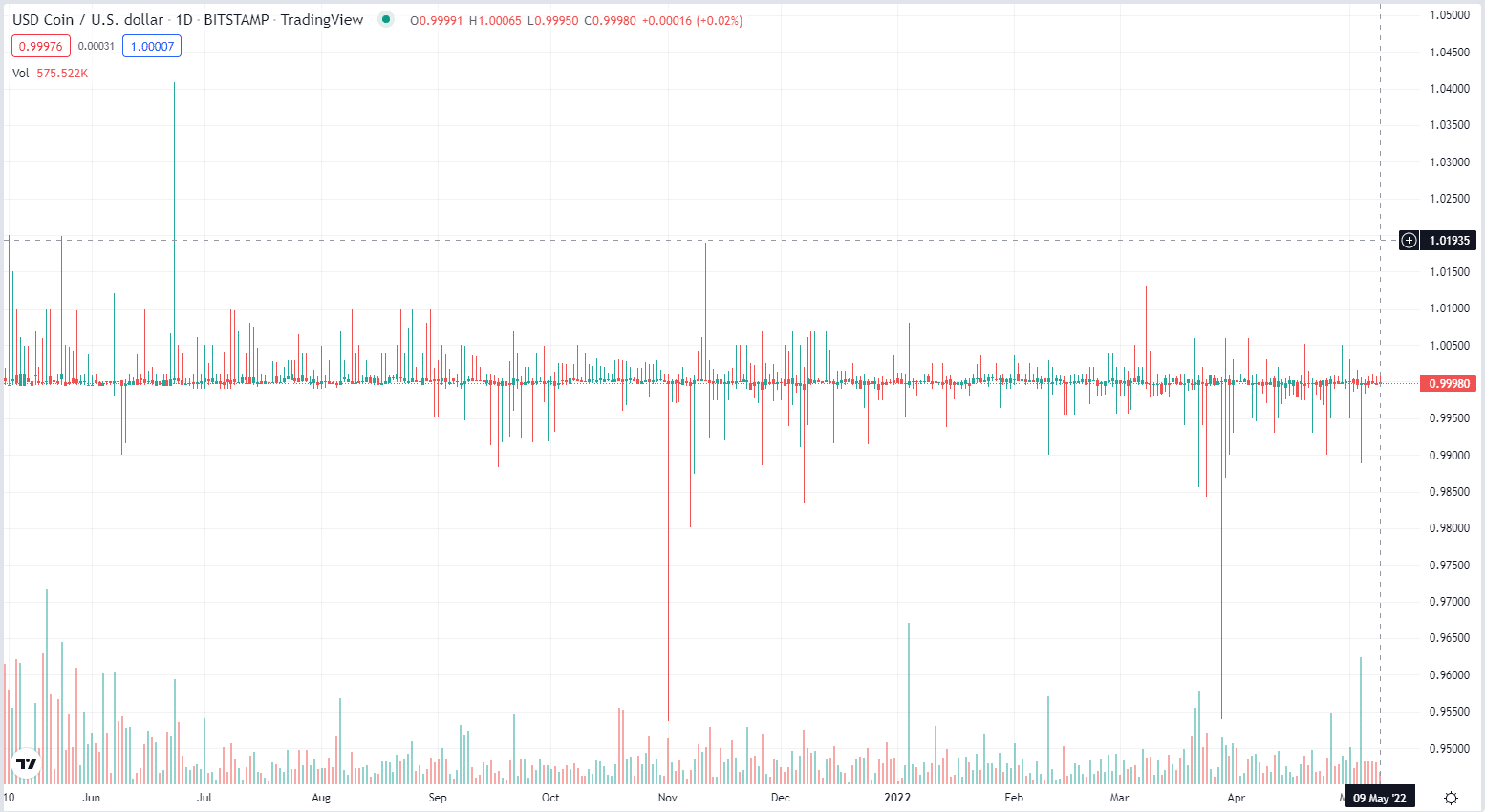 On the other hand, traditional investors looking for low-beta investments can go ahead and invest in USD coins as they are sure to receive a better return than that CDs. Moreover, the low risk presented by such low-beta investments could easily match the investors' risk portfolio to their risk appetite.
USD Coin Price Prediction: Market Opinion
Trading Beasts 
According to Trading Beasts, USD coin crypto is one of the most promising assets in the market currently. Today, the USD coin price stands at $1.00000, and it is expected that by the end of the year, the price will have an average of 1.2776729 with a minimum price of $1.0860220 and a maximum price of $1.5970912. 
| Month | Minimum Price | Maximum Price | Average Price | Change |
| --- | --- | --- | --- | --- |
| June 2022 | 1.08876 | 1.60112 | 1.28090 | 27.96 % |
| July 2022 | 1.08875 | 1.60110 | 1.28088 | 27.96 % |
| August 2022 | 1.08873 | 1.60108 | 1.28086 | 27.96 % |
| September 2022 | 1.08871 | 1.60105 | 1.28084 | 27.96 % |
| October 2022 | 1.08869 | 1.60102 | 1.28081 | 27.95 % |
| November 2022 | 1.08866 | 1.60098 | 1.28078 | 27.95 % |
| December 2022 | 1.08863 | 1.60093 | 1.28074 | 27.95 % |
In June, Trading Beasts forecasted the price of USD coin would have a maximum price of $1.5972693 and a minimum price of $1.0861431, bringing its average down to $1.2778154. Likewise, the month of July will experience a slight reduction in its average price to $1.2778059. 
For the coming year (2023), Trading Beasts has speculated that the price of USD coins will have no significant change. Instead, its decrease will be slight but steady all through the year. 
Gov.Capital
Gov.Capital's USD Coin price prediction is optimistic about this cryptocurrency. It is expected that the price of USD coin will fluctuate all through the year to December, when it will have an average price of $0.992 with the least good price of $0.8432 and the best high of $1.1408, according to Gov Capital's USD coin price prediction. 
When it comes to June and July, the price is expected to fluctuate, with an increase and decrease in price recorded throughout the months. At the end of June, Gov.Capital forecasts that the price will be at $0.993 with a high of $1.14195 and a low of $0.84405. These prices will be maintained through July too.
Crypto Predictions
On the other hand, Crypto Predictions have not attached a significant amount of potential to the USD coin. Therefore, it is anticipated that by the end of May, the price of the USD coin will have increased to $1.006, and this price will likely be maintained throughout the year with slight, non-significant changes being noted price. 
Digital Coin Price
The perception of Digital Coin Price on the price of USD coin is almost similar to other recognized sites. According to them, the price of the USD coin is a positive one in the end. By the end of June, the price of the USD coin will have increased to $1.01. Thereafter, the price will be maintained throughout the year and next year. 
According to Digital Coin price, investing in USD coins should be a long-term affair, as it has the potential but not for the short term. Therefore, its price will increase steadily and gradually through the years. Digital Coin's USD coin price prediction 2025 indicates that its price will still be at $1.01 after numerous slight fluctuations in price.
Forbes
Forbes crypto experts have pegged the USD as one of the most stable coins, and its future in the crypto market is bright. Even though they have not established a month-to-month analysis of the coin, they have managed to speculate that the coin price will be at $7.93 in a year. While this is highly unlikely based on the current speculation, it shows how the future of the USD coin is bright. 
Latest News and Happenings Concerning USD
On Tuesday this week, it was announced that $25 million USDC tokens would be used to fund the liquidity pool by partnering with Jane Street, a quantitative trading firm, and BlockTower Capital, a blockchain investment firm. The main reason why Clearpool decided to launch this permission liquidity pool is that it aims to increase the value to $50 million. It should be noted that Clearpool gives uncollateralized loans to institutions, and it has been backed by several reputable companies, including Sino Global Capital, HashKey, and others.
Related articles: Jasmy Price Prediction | RVN Price Prediction | Ecomi Price Prediction
USD Coin Price Prediction: Verdict
Going through the series of fluctuations that the USD coin has undergone throughout the year, chances are higher that its price will be maintained at nothing much of a dollar. Therefore, slight price changes are to be expected, but no significant changes will be encountered.
The stability of this cryptocurrency makes it extremely difficult for long-term investors as, ultimately, there is very little return on interest. On the other hand, short-term investors may take advantage of the slight shifts in price to gain small returns.
Overall, crypto investments are volatile whether you're looking for USDC coin price prediction 2025 or a short-term range. So invest only in what you can afford to lose, and always consult a financial expert.