Currently, Ethereum mining is still a lucrative business, as you can mine ETH using a GPU rig. To make even more profit, you can join an Ethereum mining pool to divide the workload.
Criteria for Selecting a Mining Pool
There are certain factors you should look into first before you choose any mining pool:
Fees: an Ethereum mining pool's average fee is between 1-2%, but lower fees mean more profits for you.
Reputation: reputation is important in the crypto world, as there are many mining scams that can steal the mining profits. Do your research online to see if the mining pool pays out consistently.
Hash power: the pool you are thinking of joining should have considerably more hashrate than your individual equipment in order to mine more blocks and have a consistent payout.
Server location: the servers of the pool should be closer to your physical location to have a faster hashrate.
Uptime: if servers spend more time offline, all miners in the pool will lose money and no new blocks will be found and added to the blockchain.
Minimum payout: a pool with a high payout threshold means that you will have to wait for more to gather the amount you are allowed to withdraw.
Pool size: currently there isn't a pool that holds 51% of the total hash rate of the network, but you should opt for smaller pools, so that you can deter one pool from reaching that 51% limit.
Payout system: there are various payment systems employed by Ethereum mining pools. Here are some of the most popular payment models:
PPS – Pay Per Share. Each submitted share is worth a certain amount of LTC;
SMPPS – Shared Maximum Pay Per Share. Similar to Pay Per Share, but never pays more than the pool earns;
ESMPPS – Equalized Shared Maximum Pay Per Share. Similar to SMPPS, but balances payments fairly between miners.
CPPSRB – Capped Pay Per Share with Recent Backpay – Proportional. Miners receive the reward proportionally to how much shares each of them has found;
PPLNS – Pay Per Last N Shares. Like proportional, but it is based on the last N shares, irrespective of round boundaries;
Score – Score based system: a proportional reward, but evaluated by the time of submission. This means that later shares are worth much more than earlier shares.
Now let's get to our list of Ethereum mining pools:
ETHpool
Ethpool is the first Ethreum mining pool that comes to mind when you think about a mining pool for ETH.
It is a solo mining pool. The servers are located in the US, Europe, and Asia, distributed in a global mining network that features DDOS protection.
The pool applies a unique payout scheme which is explained in more detail on their website.
ETHpool supports a variety of miner, including qtMiner, cudaminer, eth-proxy, and ethminer.
No fees are charged for uncles and transaction fees. The pool applies a mining fee of 1%, with the miner receiving a full block reward as soon as his accumulated credits are the same with the current block difficulty (+/- pool luck).
The pool also supports the mining of Ethereum Classic, Zcash, Ycash, Beam, and Ravencoin.
Ethermine
Ethermine.org has the same interface as Ethpool, but there are some differences in the payment system applied.
This pool pays out users based on the Real-time PPLNS payout scheme. It provides an accurate hashrate report that keeps the user updated. Ethermine also pays all the blocks and transaction fees.
The payouts are made instantly, so there is no waiting for weeks on end until you meet the withdrawal limit. Users are also able to set their own minimum payment threshold. The Ethermine mining fee is set to 1%, and an additional fee of 0.001 ETH is applied for withdrawals of less than 1 ETH.
Their servers are protected against DDOS attacks and are set in the US East, US West, EU (France), and Singapore.
What sets this pool apart is its full compatibility with all Ethereum miners. Ethermine also features IOS and Android apps that can be used to access your mining account and view stats and performances. You can mine ETC, ZEC, YEC, BEAM, and RVN.
Dwarfpool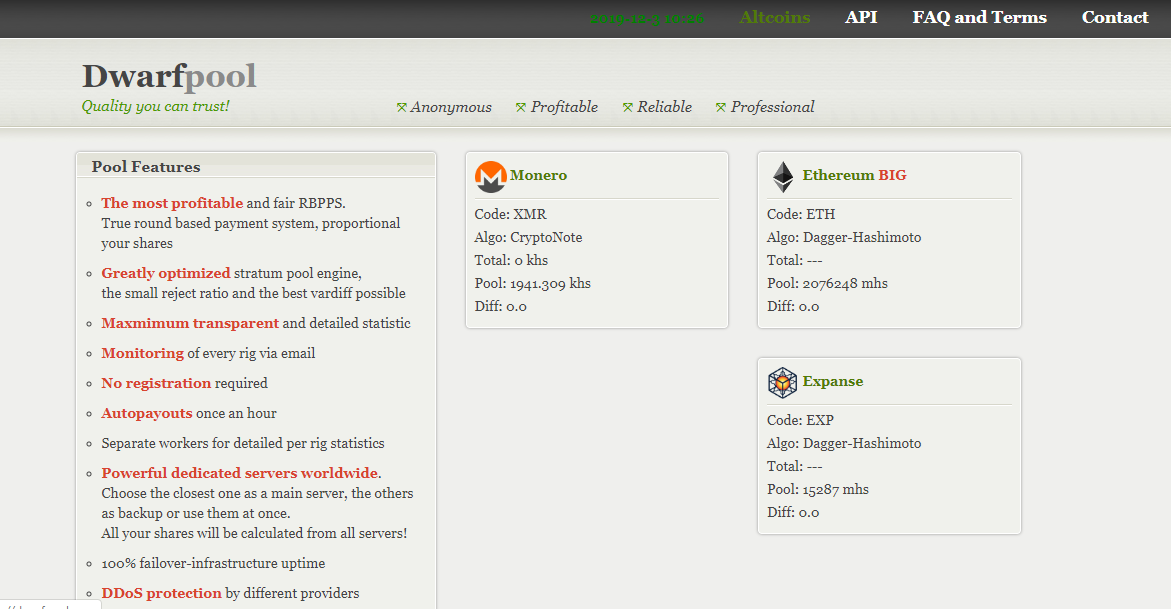 Dwarfpool is not only an Ethereum mining pool, as you can also mine Monero, Zcash, and EXPANSE.
The mining pool applies a round-based payment system for the distribution of mining rewards to its miners. The shares are calculated and then your payout is finalized. Drawfpool applies a mining fee of 1%.
This pool features a highly enhanced stratum pool engine that is open source, providing true transparency and detailed statistic for your mining account. You are not required to sign up on the website to be able to mine ETH.
It does not charge any transaction fee and there are no any hidden fees. However, there is a feature that automatizes the payout process, which deposits the profits directly into the miners' wallets every hour.
The mining pool disposes of a vast global network of serves.
Nanopool
Nanopool is a Chinese Ethereum mining pool, but it also includes mining capacity for other coins, including Siacoin, Zcash, Monero, Pascal, and many others.
The pool applies a low uncle and transaction fee, and the mining fee is estimated to be around 0.8%.
Nanopool only supports the Claymore Dualminer mining software, and you will have to set up the configurations and then execute the start.bat file on your own.
MiningPoolHub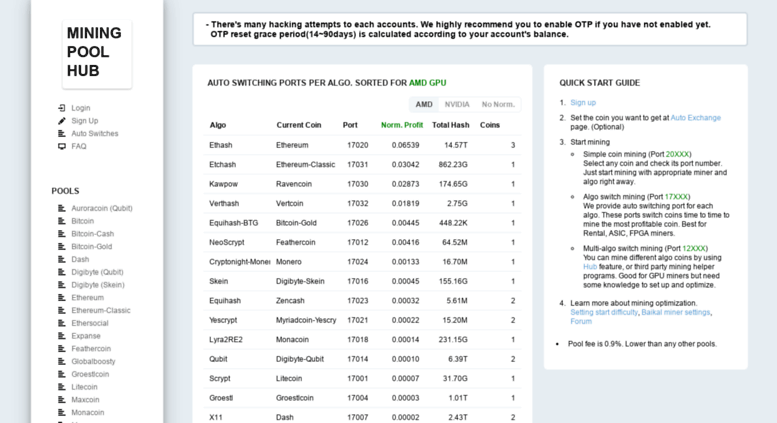 MiningPoolHub is one of the top mining pools in the world, and you are able to mine over 30 different cryptos.
The fees are calculated according to the block finding fee, transaction fee, and bonuses.
The servers of this Ethereum mining pool are located in various places in Asia, Europe, and North America, with all servers being redundant, meaning you do not have to make any backups.
The pool charges a low mining fee of 0.9%. You can also engage in merged mining, as the platform has an algorithm that allows you to mine multiple coins of the same algorithm at the same time. You can set the auto exchange feature to convert the coins that you mined for other cryptos.
The pool allows you to set an algorithm that automatically switches your mining to whichever algorithm that is the most profitable at the time.
Suprnova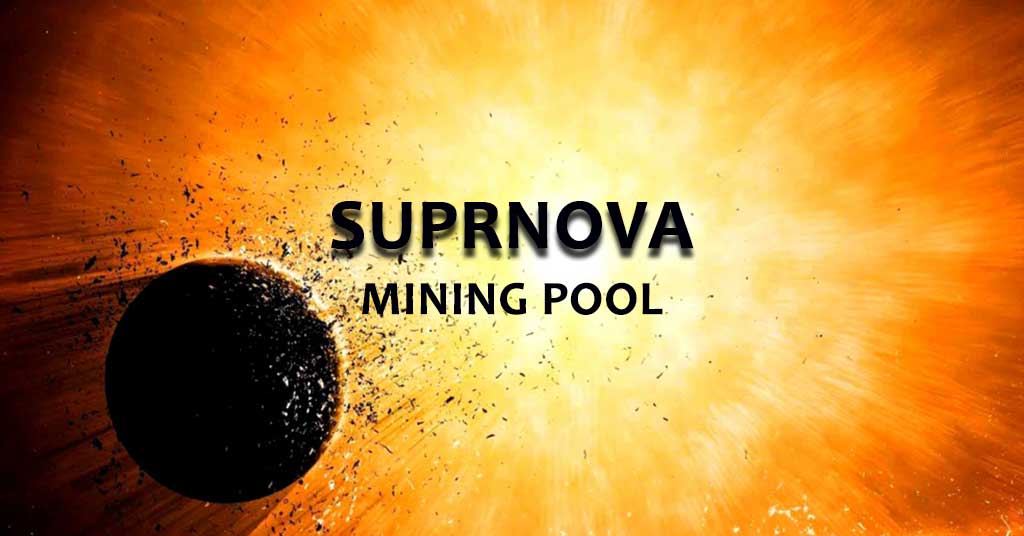 Another great Ethereum mining pool is Suprnova. The pool supports Litecoin, ZCash, Monero, and BitcoinCash mining. You will be required to register on the platform in order to be able to use its services.
The fee is set to 1%, and the minimum withdrawal limit is set to 0.01 ETH, which is very low. Payouts are automatically made.
Suprnova's Ethereum mining pool is small compared to other pools, but this is convenient for miners that are looking to keep the network decentralized.
2Miners

2Miners is one of the newer mining pools that have appeared online. It was developed from scratch, with complete transparency, as all statistics can be seen by anyone that wishes to verify the transactions. 2Miners makes use of two payout systems to distribute mining rewards to users: PPLNS and SOLO.
The pool has a "Quick start" feature that takes care of the hardware setup process and allows them to get into mining in a matter of seconds.
This Ethereum mining pool applies the standard 1% on mining rewards.
Conclusion
To answer our title's question, there is no Ethereum mining pool that is the best. With the variety of pools currently available, you have to look for the best pool that suits your mining needs.
Featured image: Coindesk