What is Ripple?

Ripple is the name for both an open-source distributed payment network and its native cryptocurrency which is used to transfer currencies. The Ripple network aims to put to rest traditional financial networks such as credit cards, PayPal and wire transfers which are costly, time-consuming and sometimes inaccessible, particularly for cross-border transactions.
Ripple History
Ripple was first launched in 2012 but the stable version was released in February 2018. Arthur Britto, David Schwartz, and Ryan Fugger are responsible for the early development stages while Chris Larsen and Jed McCaleb are the ones that co-founded the Ripple protocol.
When Ripple was first released, the concept of ICOs was essentially unheard of, so their strategy involved obtaining as many partnerships, clients, and movement of tokens as possible.
Ripple was developed to revolutionize payment systems through the use of its platform. the founders viewed the current banking system as "slow, limited in transparency and expensive" and that it couldn't be applied efficiently at a global level. Therefore, they came up with an idea to take down these barriers to entry and enable a global payment system. And this resulted in the creation of RippleNet.
So far, Ripple has been able to strike partnerships with some of the most successful investors in from the tech industry, as well as many international banking institutions, regulators, and industry leaders such as Google and MIT.
Ripple Network (RippleNet) versus Ripple Cryptocurrency (XRP)
Although both the payment network and the digital currency share the same name, they are definitely not the same thing. RippleNet is a real-time settlement system with many applications for banks, mostly for currency exchange and settlement of remittances.

The Ripple currency token or XRP is a cryptocurrency that is issued by Ripple Labs. Ripple is different from other cryptocurrencies like Ethereum or Bitcoin in the way that it can be transferred extremely fast at an extremely low cost. Another interesting fact about the Ripple currency is that it functions independently of the Ripple Network and the network doesn't need it to operate.
The XRP Currency
Ripple currency is a cryptocurrency elaborated by the company managing the Ripple Network/Protocol. There's a finite amount of XRP created, 100 billion, but the currency is not backed up by any value except its use as an intermediary currency for financial institutions to minimize transactional costs.

XRP Price Performance
Up until March 2017, XRP was essentially worthless.  Within two months, the cryptocurrency started to show some real gains and hitting its first high of $0.41 per XRP only to immediately fall 50% in the following months.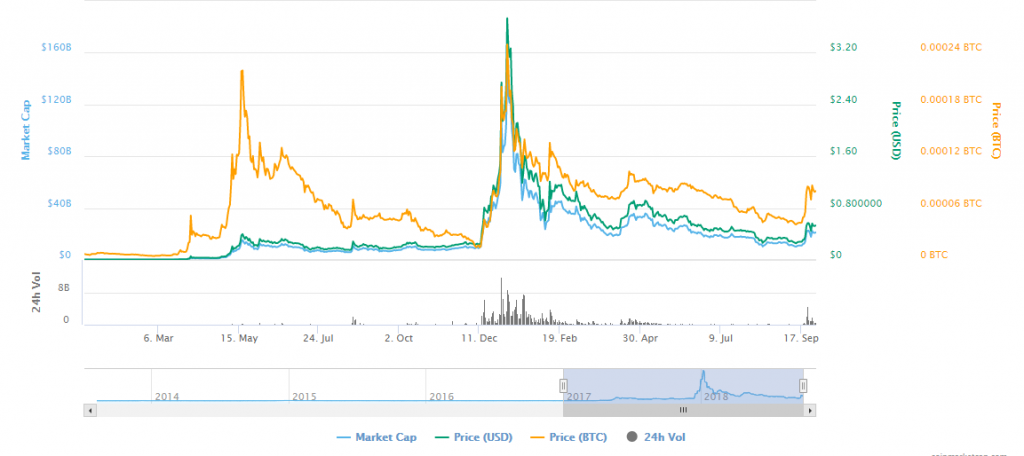 The next noteworthy climb was in December when the entire crypto market was experiencing a dizzying increase and by January 4, XRP reached a record high of $3.84. Following the market trend yet again, the corrected itself and over the past few months it didn't surpass the $1 USD mark.
On September 21st, the coin experienced a 60 percent increase, capping at $23 billion, coming very close to being the second crypto in terms of market cap.
60% of the total supply of XRP is currently under Ripple Company ownership, with 91% of that amount being stored away in escrow.
XRP is currently trading at $0.530932 USD, having a market cap of $21,168,746,783 USD. The current circulating supply is 39,870,907,279 XRP.
Where to Store Ripple
There are various wallets that are compatible with XRP, such as hardware wallet Ledger Nano S, desktop wallet Toast, and mobile wallet Abra. Keep in mind that 20 XRPs are used to book the wallet address, so for example, if you store 100 XRP in your wallet, you can only make transactions with 80 XRP. Because of this, it is recommended that you do not store your XRP in multiple wallets unless completely necessary.
How and where to Buy Ripple
Ripple can be bought just like any other altcoin. First, you have to get a cryptocurrency wallet where you can store your coins, and then you can purchase Ripple with fiat currency or Bitcoin/Ethereum from the cryptocurrency exchange or forex trading platform.
XRP is listed on 200+ exchanges, and the ones with the biggest trading volume include Binance, Upbit, Bitbank, Bitfinex, OKEx, ZB.COM, Huobi and HitBTC. XRP can be traded in altcoin pairs, the most popular being BTC, ETH, and USDT, and a few fiat currencies, with USD being the most common.
Applications of Ripple
The actual utility of XRP involves allowing any bank that has implemented the Ripple API to send any currency to another bank or financial institution without the requiring the third party. The Ripple Network is comprised of members who are linked to each other via Ripple's blockchain called xCurrent which is a system that makes gross settlements in real-time gross.

There are currently over 70 banks and remittance companies that are using Ripple Network including Standard Chartered, Axis Bank, Banco Santander, National Australia Bank, BBVA, MoneyGram and more.
The most recent addition to this list was PNC Bank, one of the largest banks in the United States in terms of assets, which generated the recent September surge.
Conclusion
The Ripple currency has come a long way since its launch and has behind it a technology that has been implemented by a large list of partners from a variety of industries.