Almost anyone who's ever heard of Bitcoin has also heard about the mining process through which Bitcoins are created. Not everyone knows that Bitcoin mining was possible by just using a simple home computer. As years went by and Bitcoin's mining difficulty increased, mining with simple computers was no longer possible. The transition was from CPU mining to GPU mining, and finally to specialized mining hardware known as ASICs.
What's the role of Bitcoin mining software?
If want to start mining Bitcoin, after you decide what type of ASICs you should buy, you will need a good wallet and, of course, Bitcoin mining software. The said equipment is just as important if you intend to become a solo miner as it connects your Bitcoin mining hardware equipment to the blockchain, as well as if you intend to join a pool, as it connects you to the said mining pool's protocols.
In short, the main job of any Bitcoin mining software is to receive the completed work from other miners on the network, as well as to deliver the Bitcoin mining equipment's work to the rest of the Bitcoin network.
Another important role of mining software is the monitoring part of process. To be more precise, a mining software analyses and thoroughly displays the input and output of your hardware miner alongside useful sets of stats such as the speed of your miner, the hashrate, the core and auxiliary temperatures, and the fan speed.
Below, we've created a list of some of the best Bitcoin mining software for Windows, macOS, and Linux:
CGMiner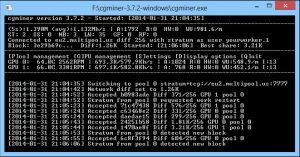 First on our list is CGMiner one of the most popular, if not the most popular, Bitcoin mining software at the moment. The earlier version of the software work for GPU mining (below 3.7.2), but it's nowadays mostly geared towards FPGAs and ASICs. It's a cross-platform software meaning it works on all major OSes (Windows, Linux, and macOS).
What's most impressive about CGMiner is the plethora of features it bundles. It works for both solo mining and pool mining, and it supports most of the Bitcoin ASIC miners currently on the market. In terms of features, the list is an extensive one offering you a lot of control over your mining equipment. You can use various proxy methods for mining and change various settings on the ASICs and FPGA machine including the fan speed. It also boasts remote interface capabilities and self-detection of new blocks.
MultiMiner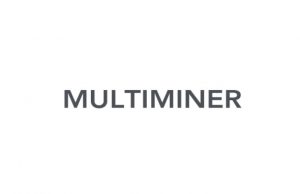 MultiMiner is a useful, cross-platform piece of software for Bitcoin mining and monitoring that can be installed on Windows, macOS, and Linux. An interesting aspect of this software is the fact that it allows you to effortlessly switch between individual mining devices such as GPUs, ASICs, and FPGAs for Bitcoin and Litecoin.
At its core, MultiMiner has the mining engine of BFGMiner. It's also a very user-friendly software (at least when compared to other stripped down mining software). It's able to detect available mining hardware and allows you to choose which type of coin you want to mine.
BFGMiner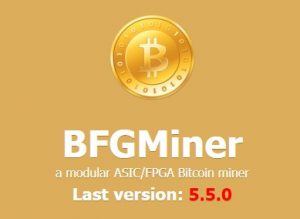 BFGMiner is a fork of the popular CGMiner with the only major difference being that it's a lot more geared towards ASICs equipment. To be more precise, the BFGMiner uses a new getblocktemplate, as opposed to CGMiner that uses the older getwork template. Some of the most noteworthy features include: integrated overclocking, fan control, ADL device reordering by PCI bus ID, and free mesa/LLVM OpenCL mining.
EasyMiner
Regardless of its name, EasyMiner is not an actual, standalone mining software. In fact, EasyMiner is an open source GUI for CGMiner, miners, or cudaminer. It's designed to make the mining process with the aforementioned miners a lot easier by adding a touch of user convenience. As it supports both the getwork and stratum mining protocols, it can be used for both solo and pooled mining.
In terms of features, the GUI brings a lot of configuration options for your mining hardware and provides performance graphs for easy visualization of your mining activity.
BitMinter
If you're looking for a truly cross-platform Bitcoin mining software, then you should definitely check out BitMinter. It's one of the few mining software that comes with "its own mining pool." In order to run it on Windows, Linux, and macOS, you first need to make sure that Java is installed on the said machines. The GUI is as simple as they get and to get started, you simply have to sign up to the mining pool on the BitMinter website. The next step involves you having to configure your ASIC hardware. It works with all products from Butterfly Labs except Monarch, from Block Erupter USB, Chili, Red/Blue Fury, and Antminer U1/U2.
Choose well!