The era of mining using your CPU is past us, as they tend to have a lower ROI, and their mining rate is super slow. Miners are now investing in getting the best mining motherboard that is super-fast and is projected to have a high return on investments within a short amount of time. 
Some of the key factors you need to have in mind before purchasing one are what type of processor socket, the motherboard support, the number of GPUs it can handle at ago, especially if you are planning to mine crypto in large quantities, and finally, its price and availability in the market.
Best Mining Motherboard – Introduction
When it comes to the best mining motherboard for cryptocurrency, a miner has to look into specific features before settling on one. From the number of GPUs it can support to the type of slots it provides to the cooling system set on the motherboard and how many different types of coins it can support when it comes to mining.
Its setup is all that matters to get the best and most performance of a mining motherboard, especially if you will be running it all around the clock. Choosing the best quality motherboard is the first step, as it must constantly handle a heavy workload. The price and availability also play a major role when looking into getting a mining motherboard.
Some of the best mining motherboards so far include:
MSI Z170A Gaming Pro Carbon
Biostar TB250-BTC Pro with 12 GPU slots
ASUS Prime Z390-P LGA1151 with 6 GPU slots
CREAMIC BTC-37 with 8 GPU slots
ZOTAC B150 Mining ATX Motherboard with 8 GPU slots.
The list also includes the ASRock H110 Pro BTC + and Asus B250 Mining Expert, which boast 13 and 19 GPU slots, respectively.
MSI Z170A Gaming Pro Carbon
The MSI Z170A Gaming Pro Carbon is a fancy and colorful motherboard packed with several extra features that could be important for mining. This motherboard has been designed with a gothic theme that allows the owner to match it with literally every other hardware that they have. Its PCI-E slots are chrome plated, and it has a black PCB with carbon fiber detailing as well as black heat sinks. 
These are the first things a buyer will notice once they have purchased the MSI Z170A Gaming Pro Carbon. This motherboard also has extra solder points to prevent the slots from disengaging from the board during the movement of the PC, even though that is a rare situation. Several other highlights to this board include the Audio boost logo that hides the ALC1151 codec protected with high-quality capacitors.
There are several reasons why the MSI Z170A Gaming Pro Carbon can be termed as one of the best mining motherboards. The CPU max support is i7 processors, has dual memory channel architecture, maximum memory is 64 gigabits, and 4 DIMM slots. It also supports the Intel extreme memory profile and the ECC un-buffered memory.
The USB of MSB Z170A has a super speed of 10Gbps and is located at the back panel, and is a 2* USB 3.1 Gen2. Some of the input-output connectors include the 1 x TBT connector, 1 x TPM module connector, 6 x SATA 6Gbs connectors, and 2 x Front panel connectors. It has nine mounting holes and a dimension of 12 in. x 9.6 in., and an ATX Form factor.
Biostar TB250-BTC Pro
Biostar TB250-BTC Pro is one of the best mining motherboards that provide more advanced mining features and is excellent. The motherboard can support up to 12 GPUs at ago at and is fairly sold at a competitive price. It also boasts of having 12 PCI slots for the graphic cards, which is great if you plan to expand the mining operation in the future.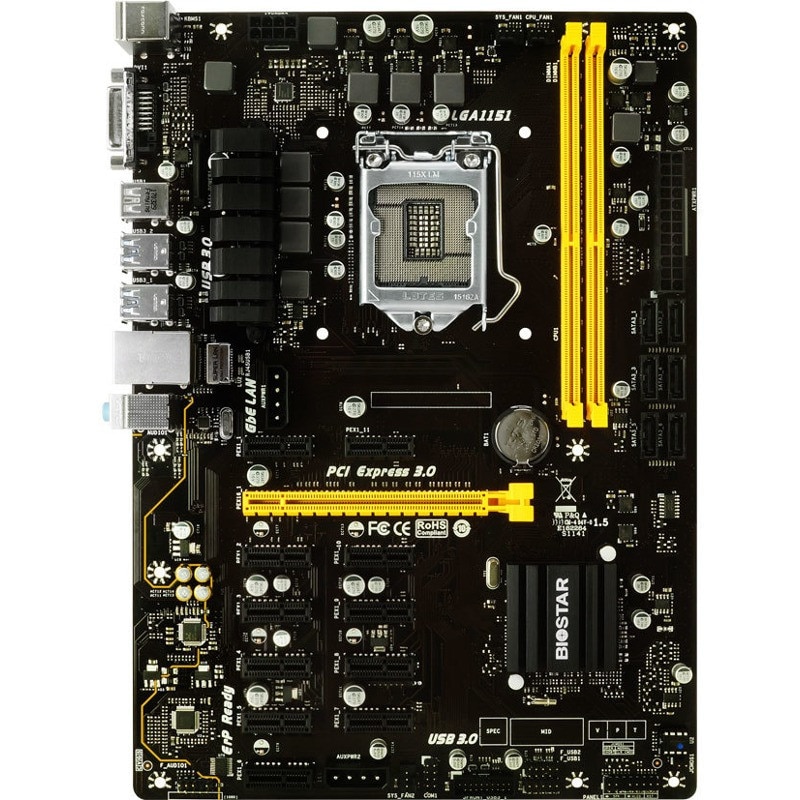 The Biostar TB250-BTC Pro also enables the mining of different coins. It has an ATX form factor, and the processors supported are the 7th and 6th generations from Core i3 up to Core i7.
The slots available on the motherboard are 1 x PCI Express 3.0 x16 and 2 x DDR4 DIMM. TB250-BTC Pro also boasts of helping miners save their money as they can build a crypto mining system with the 12 GPUs, which makes them get more profits. It also has a return on investments of only seventy-nine days, and the hash rate is at 246.6MH/S.
However, this may change depending on the change in the crypto exchange rates and the difficulty of the hash. The neat slot layout for the PCI-e helps to prevent short circuits during the mining process. This motherboard also provides the native PCI-E, which is important when it comes to GPU mining, as they provide high compatibility, speed bandwidth, and stability.
ASUS Prime Z390-P LGA1151
Is this the best mining motherboard? This budget mining motherboard can only support up to 6 GPUs at once. The processors supported here are the 8th or 9th generation Intel from core i3 to core i7, the Intel Pentium, and the Intel Celeron. 2 x PCI Express 3.0 x16, 2 x DDR4 DIMM, and 4 x PCI Express 3.0 x1 are the available slots.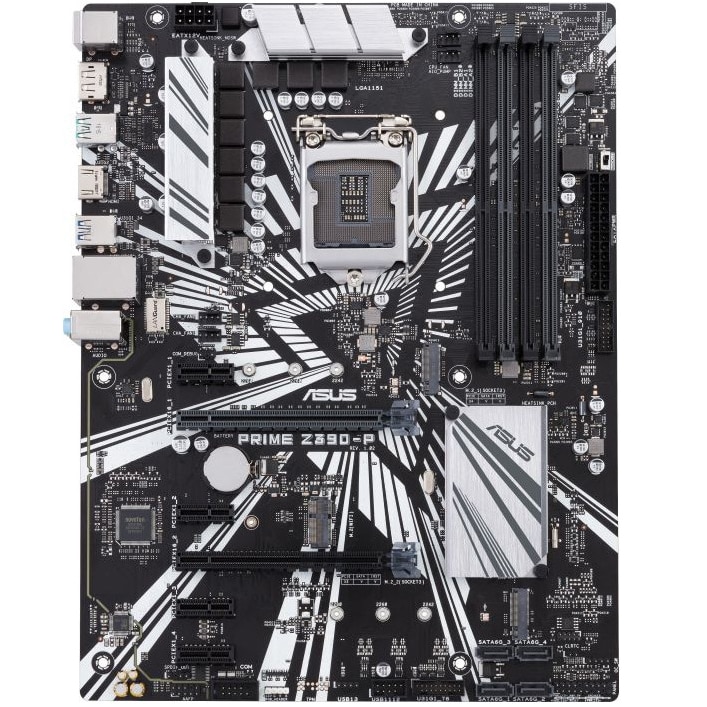 The ASUS Prime Z390-P LGA1151 motherboard has been designed to be able to resist any intensive conditions possible the mining of cryptocurrency can come up with. Moreover, for cooling purposes, when mining, it has the FanXpert 4 with an AIO Pump Header, which supplies advanced fan control for the dynamic system cooling.
The motherboard that runs 24/7 has overvoltage protections that help promote longevity for the mining components. In addition, the ASUS motherboard has flexibility features where it can be used for non-mining applications. The motherboard provides a miner with Media-acclaimed UEFI BIOS and ultra-fast connectivity, whereas the M.2 supports up to 32 Gbps data transfer speed.
It is the best choice if you are looking to have fast access to data. In addition, the ESD guard in ASUS helps to prevent damage from the electrostatic discharge, which helps the life components last longer as the air discharge is up to a +/- 10kV and the contact discharge is up to +/- 6kV.
Best Motherboard for Mining Ethereum
Let's see which is the best mining motherboard for ETH. ASUS B250 Mining Expert is an ATX motherboard, which is cost-effective as the price tag is set at $150. It is built to support several mining rigs, which are foreseen to work in unison. Having up to 19 PCI slots means it can support up to 19 GPUs simultaneously. 
It supports having multiple graphic cards and supports the 7th generation processor units and the DDR4 RAM. One of the strongest selling points for mining is the ability of this motherboard to have multiple GPUs but it having the ASUS mega-hash technology takes the lead as it helps maximize the hash rates.
ASRock H110 Pro BTC + is another good mining motherboard for ethereum as it has the ATX form factor and can support up to 13 GPUs at ago. This motherboard is multifaceted and can support both the DDR4 and DDR3 RAM technology. It supports the 7th and 6th generations with processors from core i3 to core i7.
The conversion hash rate it can achieve from the 13 GPUs is quite impressive. The ASRock H110 Pro BTC provides at least two layers of copper. This comes in handy, as it helps regulate the temperatures, thus being able to have efficient and stable mining.
Related articles: How to Mine ETN | How to Mine Litecoin
Final Words
Crypto miners looking for the best mining motherboard today can find this review useful. Whether you're a BTC miner or you're targeting other cryptocurrencies, here's the best place to get started.