Staying up to date with the latest happenings, events, opinions, and price movements from the cryptosphere can be a somewhat difficult and hectic task. Regardless of you being a crypto enthusiast or a crypto trader with an eye for profitable opportunities, a platform aggregator is probably the most precious tools you can have in your arsenal.
Even though there are many reliable crypto news aggregators out there, if you're aiming to be the best in your trade, you definitely require one such platform that can keep up to all your demands and requirements.
CryptoPanic is one the most popular crypto news aggregators which collate information and news from all the legit crypto news sites and sources such as forums and popular subreddits and shares with users positive or negative signals based on that information.

What makes CryptoPanic special?
Even though at first sight, nothing really stands out from most other crypto news aggregators, CryptoPanic has a set of defining features that make it a top-tier platform of this type.
For starters, CryptoPanic boasts a very compelling user interface. Even though it's somewhat basic, its black and white accents and other splashes of color are neatly used in order to highlight the most relevant information possible (positive and negative news, sharp rises are recorded in green lettering, sharp drops are recorded in red).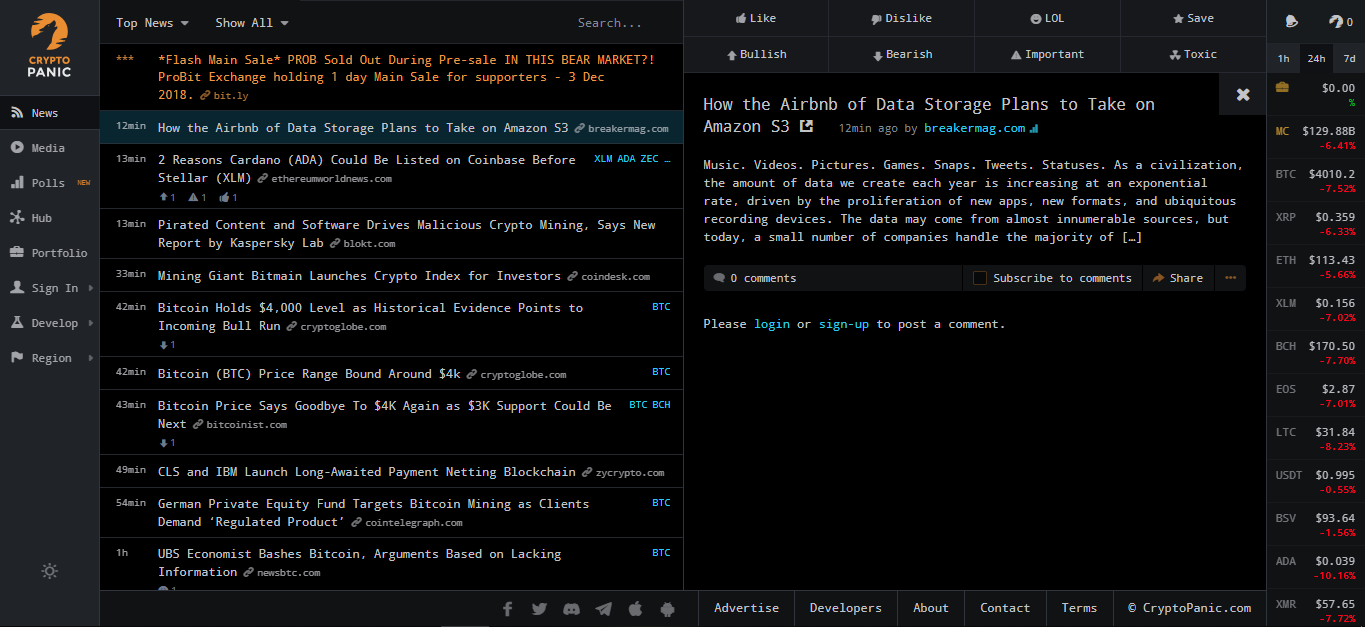 The interface is divided into two parts: a feed of news from different sources on the left side, and details about any selected news on the right. From the upper part of the interface, users can search for specific subjects and news, or access sections such as Top News, All News, Media, Blog, News Sites, Following, and even organize the news based on four categories: price analysis, regulation, ICO news, and events.
On the left toolbar, users can access the platform's main sections, namely News, Media, Hub, Portfolio, Develop (access the APIs, bots, and widgets), as well as change the language. The Media section displays crypto videos, news, and analysis form relevant YouTube channels.
The CryptoPanic Hub is a particularly interesting section as it allows you to share, discover and discuss crypto-related issues. You can post useful content, discuss, ask questions, showcase projects, see job offers, etc.
The Portfolio is yet another very useful tool that the platform provides you with. It allows you to track your crypto portfolio's performance supporting more than ten exchanges such as Binance, Bitfinex, Bitstamp, Bittrex, Coinbase, Coinbase Pro (former GDAX), and others. In this section, one can integrate his or her exchange and manually enter crypto picks.
Another "cool" aspect of CryptoPanic is that it provides its users with mobile apps for two of the most popular platforms, Android and iOS.
CryptoPanic Pro
The free version of CryptoPanic is so good that it will most definitely cater to most traders or crypto fans' needs. However, those that want a bit more can opt for the platforms PRO version. For just $9 a month (or $99 a year), PRO members are provided with more customizable access to the platform's feeds, Twitter handles, YouTube channels, Reddit threads, and other sources. Not only this, but you configure instant alerts (via email or SMS for cryptocurrencies of your high interest. The PRO version allows you to add custom RSS/Atom feeds, as well as any Reddit and Twitter source.
Conclusion
CryptoPanic has a set of unique features that should make it a very good option for any serious crypto trader or crypto aficionado. Even though it's one of the oldest crypto news aggregators in the industry, it has never stopped evolving. What's most impressive is the fact that the platform doesn't limit any basic features. Hence, it doesn't force users to get the PRO version.