About Binance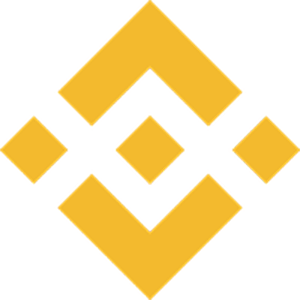 Binance is a popular cryptocurrency exchange which was launched in 2017 in China which offer crypto-to-crypto trading services. Due to China's stringent regulations concerning cryptos, the company recently relocated their headquarters to the crypto-friendly Island of Malta.
How the Exchange Works
The platform features two options for digital currency trading: basic and advanced.
The advanced version features a more technical detailed analysis of digital currency value over time. The dashboard for the basic version displays several graphs and charts for trading pairs, as well as order books, and trade history.
The Basic view features a nice and comprehensive design, with prices on the left, graphs in the middle, and the buy and sell boxes and the trade history displayed on the right.
The Advanced view features a dark theme and enlarges the trading charts and the latest trade prices are on the right with the buy-sell boxes beneath them.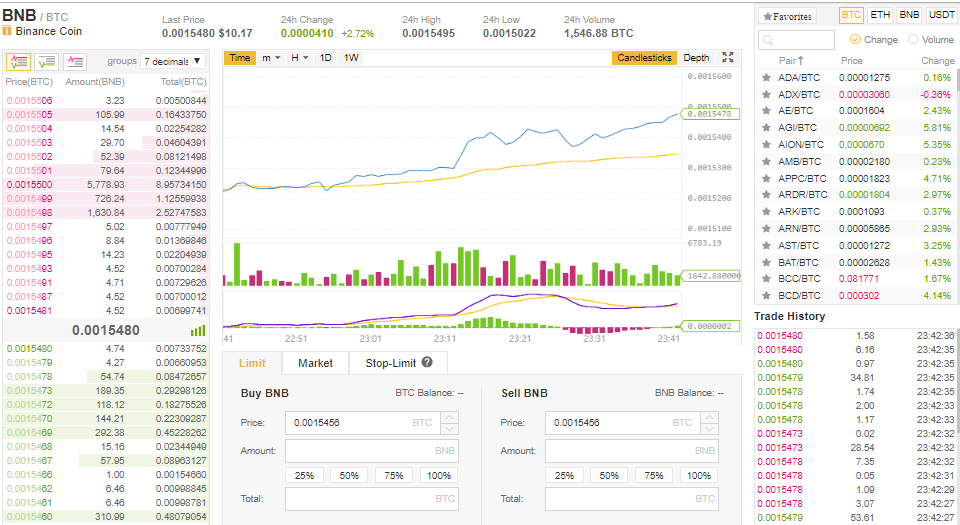 Available Cryptocurrencies
Binance has a long list of coins on its platform, with pairings to Bitcoin, BNB, Ethereum, and Tether. The exchange supports: Ark, Bitcoin, Bitcoin Cash, Bitcoin Gold, Dash, EOS, Ethereum, Ethereum Classic, IOTA, Litecoin, Monero, Neo, OmiseGo and another 100+ coins.
Many traders like Binance because it offers cryptos that can't be found on other exchanges, such as Bitcoin Gold, IOTA, and Walton Coin.
Binance Fees & Limits
Currently, Binance charges an average fee of 0.1% for each transaction made by the user. Those that opt to make payments by using the Binance token can get their trading fee reduced by 50%, making them some of the lowest fees available at this time.
Withdrawal fees are different for each coin. Regarding transfer limits, there is no limit on the number of coins that can be deposited. However, unverified users have withdrawal limits. If you are verified as a level two user, you will no longer have these limits. For this, you have to send Binance your full name, country, gender, a photo of passport/government-issued ID, and a selfie with the passport.
Binance Security


The Binance platform features an architecture which employs ISO/ICO_27001:2013 and CCSS security protocols. The accounts are secured with SMS 2-factor authentication and Google Authenticator to verify withdrawals and security changes. For an account to be verified, users have to activate one of these features.
According to Binance's privacy policy, the exchange saves user information, such as IP addresses, and keeps the data on its servers. Users concerned that are more privacy-focused should go over the details of the Binance privacy policy in detail by clicking the "Privacy" tab on the main Binance webpage.
In March 2018, Binance was targeted by hackers who tried to steal user funds, but its automated systems stopped the attempt. During the course of a few months, the hackers had been collecting people's logins by using a phishing website and secretly installing API access on the infected accounts. Then they converted all the altcoins found in the victims' accounts to BTC and purchased Viacoin, generating a price increase in the coin and then proceeding to sell their own supply of Viacoin at its highest, before attempting to withdraw the BTC to their own wallets.
But fortunately, no funds were lost as the hack was caught in time, with the hackers' funds being donated to charity.
As this hack carried out by people that entered their site logins and 2FA information into a fake website, you should always verify if you have accessed the correct Binance URL before logging in.
They have also offered a $250,000 bounty to anyone that can help catch the hackers. However, the exchange does not provide users with information about fund security on its website or any other forum.
Binance Customer Support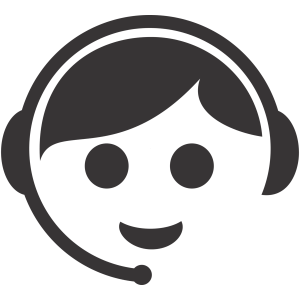 Binance's support team has been reported to be responsive and professional, offering their help for traders in need. Support tickets are sent via an online form which can be found on the website, and responses are given via email. Live chat support and a phone number are currently unavailable.
Verdict
Binance is one of the industry's leading cryptocurrency exchanges, having an unmatched selection of coins with the lowest trading fees on the market. The only matter that could pose an issue here would be that it has not disclosed any of its security implementations, but considering how it handled the hack, they have proven that are efficient and act swiftly when there are security problems involved.