It's safe to say that the current cryptosphere does not suffer from a lack of interesting crypto projects. There's a project out there for everybody, but, what's most interesting, that there's also a project that has exceeded all expectations (including those of its creators) because it was created more or less as a joke.
Those that have been passionate about cryptos will definitely know at what project we're hinting at, the famous Dogecoin. Created in December 2013 by Bily Markus and Jackson Palmer, Dogecoin is a coin named after the famous Shiba-Inu dog "Doge" meme that was quite popular at the time.
What is Dogecoin?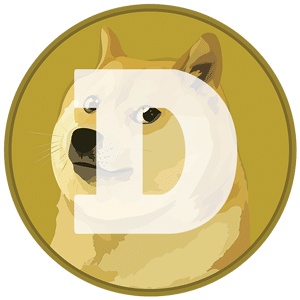 Despite its humble beginnings, Dogecoin is without a doubt a very serious platform with a lot of high-tech beneath it. In fact, Dogecoin is a fork of Lyckycoin, which itself was a fork of Litecoin which, in turn, is a fork of Bitcoin.
The project had two main goals. The first was to have a satirical poke at Bitcoin and how the cryptosphere was evolving at the time (with tons of ridiculous emerging tokens and projects which would promise the world, before quickly blowing away in the wind).
The second aim was a bit more serious, as the two envisioned a digital currency that was more accessible, usable, and user-friendly than Bitcoin. It was also designed as being the type of digital currency that could be used by content creators on platforms such as Reddit and YouTube.
The technology behind Dogecoin
Despite its Litecoin roots, the projects are very much different. In fact, the technology behind Dogecoin is what defines it as one of the top cryptocurrencies.
For starters, Dogecoin uses something called Scrypt algorithm, a very revolutionary algorithm at the time it was used since it's developed to inhibit ASIC-based mining. Scrypt also helps to produce faster speeds and is generally a lot more accessible to beginner miners. What's more, Dogecoin also has a shorter block time than Litecoin.
To be more precise, blocks on the Dogecoin blockchain are closed every minute. This means that it's capable of closing more than nine times the amount of blocks Bitcoin can per minute. This makes Dogecoin very secure to a phenomenon called "double spending."
Dogecoin has also been designed to be accessible and has a seemingly infinite token supply. This purposeful decision was made to ensure that the currency will never be inhibited by its tokens massively rising in price.
Uses and applications
Ever since it was launched, Dogecoin has made a name for itself as a very stable coin and since then it has been used as a tipping currency. Dogecoin has attracted a lot of users through its low transactions fees.
The crypto coin is also used as a way of getting around expensive fees charged by crypto exchanges. For example, if someone wants to withdraw money from a crypto exchange, it will most definitely be a very expensive venture if that someone picks Bitcoin. Thus, traders may choose to first trade their Bitcoins for Dogecoin, and then withdraw their currency as Dogecoin.
What's most impressive is the fact that Dogecoin is also a favorite of the crypto exchanges, with numerous listings on some of the world's best services of this type.
Should you invest in Dogecoin?
In order to attempt to answer this question, it's important to take into considerations various aspects such as what gives it value, what are its notable partnerships, and its pros and cons.
As mentioned before, some of the main advantages of Dogecoin are its lower transactions fees and speed. It has a high trading volume since it's one of the most popular cryptos out there. It's usually one of the best choices for newcomers to crypto, mainly thanks to its user-friendliness. Since it has an infinite supply, prices are kept well in check ensuring that there won't be any volatile spikes that could potentially make the coin less attractive for new users. It's value also comes from the fact that it's used on some of the most popular Internet platforms, YouTube and Reddit.
Throughout its lifetime, Dogecoin has proved to be one of the best coins in the market and one that's usually associated with non-profit organizations and charity fundraising. The digital currency has probably the most devoted and responsible community. Dogecoin is all about goodwill and promoting charity.
The only real downside of Dogecoin is the fact that its supply is infinite. One of its greatest advantages is also a weakness, as Dogecoin is not seen as very profitable by both miners and investors when compared to other cryptos.
Dogecoin Review: Verdict
To conclude, investing in Dogecoin is not something associated with future profit. Instead, what Dogecoin has become over the years is a crypto project that suffers way less from the things affecting most other crypto platforms. More importantly, it has become a pillar of hope for the crypto community's involvement in making the world a better place.
Its rich charitable history is probably the most important thing about Dogecoin, something that outshines even the amazing technological underpinnings of the digital currency.