It was reported by Whale Alert, that many large USDT transfers were made from the Tether Treasury towards Bitfinex and other unknown wallets.
A major USDT transaction from an unknown wallet to Bitfinex was made on May 27 at 09:38:01 UTC. The sender's wallet address was 568cc6eca34d56f5695b16ff0250dfa77f247c47, with the receiver address being 0d535e90342fc54928a25ca9ed0f8da73704ba43.
The transaction had the following hashrate:  af85788a3729c578526768b8f694336f159e32cc3a3118b752a0a88c8be80690.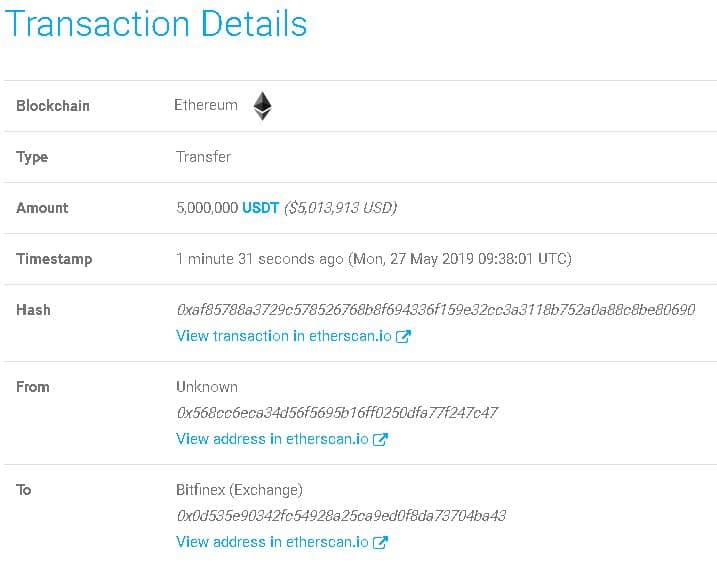 The wallet that sent the USDT to Bitfinex was found out to be the same wallet address to which the Tether Treasury sent the 9,990,000 USDT on May 27 at 06:24:35 UTC.
The unknown sender address initially had a balance of 6,490,000 USDT. It then went on to execute 4 subsequent transactions, reaching a balance of 1,490,000 USDT. But the Bitfinex wallet in which the 5,000,000 USDT were deposited swiftly relocated the funds to an address called Bitfinex 4, thus depleting its balance to 0 USDT.
The same movement of funds was noticed between the Tether Treasury and this unknown wallet, the address sending the crypto to Bitfinex, which was once again relocated to the Bitfinex 4 address. The Bitfinex 4 wallet currently has a balance of 14644959.596982 USDT.
Another suspicious transfer occurred on May 24th, when Bitfinex sent 15,000,000 USDT (estimated at $10,037,112 USD) to Tether Treasury, while Tether sent 20,000,000 USDT to a wallet of the exchange.
There are still many wallet addresses which are unknown and receive massive amounts of cryptocurrencies.  As the prices of most cryptocurrencies saw a sudden increase on May 26, many skeptics have attributed this trend to some of the major transactions going down between the two companies.
The Bitfinex exchange and Tether company have been accused multiple times of manipulating the prices through volume trading for their own benefit, so it is no surprise that many traders believe something is up.
Featured Image: NullTX