According to a Twitter post made on Monday, Yahoo Japan's cryptocurrency exchange Taotao will be released on May the 30th.
The media corporation Yahoo! Japan owns the Taotao exchange in proportion of 40% through its subsidiary Z Corporation, with CMD Lab Inc. owing the rest of the 60 percent. The exchange will first support the trading of bitcoin (BTC) and ether (ETH), and margin trading will be included in Litecoin (LTC), XRP, Bitcoin Cash (BCH) as well as BTC and ETH.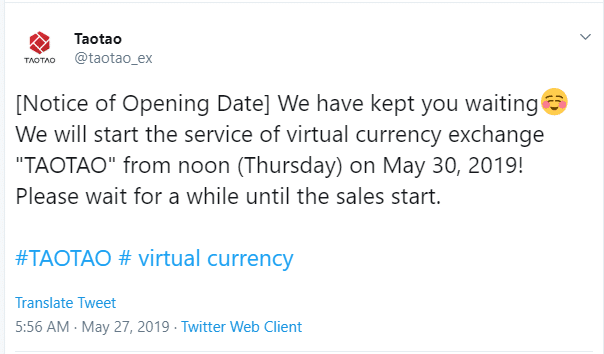 Taotao will be launched almost after a year since Yahoo! Japan acquired 40% percent of the trading platform's equities. The exchange was initially named BitARG and it was sold to Yahoo back in April 2018.
"The purchase of BitARG shares will be made through Tokyo's YJFX, a wholly owned Yahoo subsidiary that operates foreign exchange transaction services," was reported at the time.
In the deal, the company was said to have paid 2 billion yen for its share, during a time when Japanese exchanges have garnered the interest of many investors.
Taotao was originally scheduled to enter the market in mid-May, but the date was delayed without any disclosure from the company.
As the market is still riding its bull run which started in April, many new Japanese traders have shown interest in cryptocurrencies. Reports from last week show that Japanese exchanges have had three times more new users signing up.
The financial regulators of Japan have implemented stringent legislative measures due to a series of major hacks that occurred last year.
Taotao is licensed to operate as a crypto exchange business by the Financial Services Agency, its official website featuring its FSA registration number which is 00001.
It has been reported that Japan's Financial Services Agency will be reviewing the Anti-Money Laundering (AML) measures of exchanges before the Financial Action Task Force starts their own international inspection.
Featured Image: Nikkei Asian Review