In today's Trust wallet review, we will be looking into the features, security, advantages, and disadvantages offered by the popular crypto wallet, Trust Wallet.
Trust Wallet Review |
Trust Wallet is a multi-crypto wallet created for mobile use, from which you can send, receive, and store various coins and Ethereum-based tokens.
The wallet was launched in 2017 by a company called Six Days LLC., by Viktor Radchenko, who wanted a wallet that would be compatible with all ERC20 tokens.
The Trust Wallet is light and fast, as it was written in Java for Android and Swift for iOS. At the time of its launch, it was regarded as a one-of-a-kind wallet.
The wallet later integrated DApps to enable user interaction with tokens, launching another native solution to facilitate wallet-dapp connectivity.
Through its partnership with the Kyber Network, the wallet integrated a decentralized exchange and a Web3 browser. Android users can directly purchase coins from their wallets through Coinbase, Shapeshift, or Changelly.
In July 2018, Trust Wallet was acquired by Binance, becoming the official wallet of the exchange. It received native support for Binance DEX and Binance Chain in Q1 2019, as well as ETC/POA DApps support.
They later integrated a DApp Browser, which uses the Web3 browser. The DApp Browser is an open-source repository where dapps can be listed by developers. Users of the wallet are also able to perform instant trades on the Binance, as you can see in this Trust Wallet review.
Supported Currencies and Available Countries
The wallet supports a lot of blockchains and assets. Trust wallet initially supported only Ethereum ERC20 and ERC223 tokens, but now it has expanded its list to include Bitcoin, XRP, Monero, Binance Coin, Stellar Lumens, Zcash, Dogecoin, Bitcoin Cash, Dash, Litecoin, and others.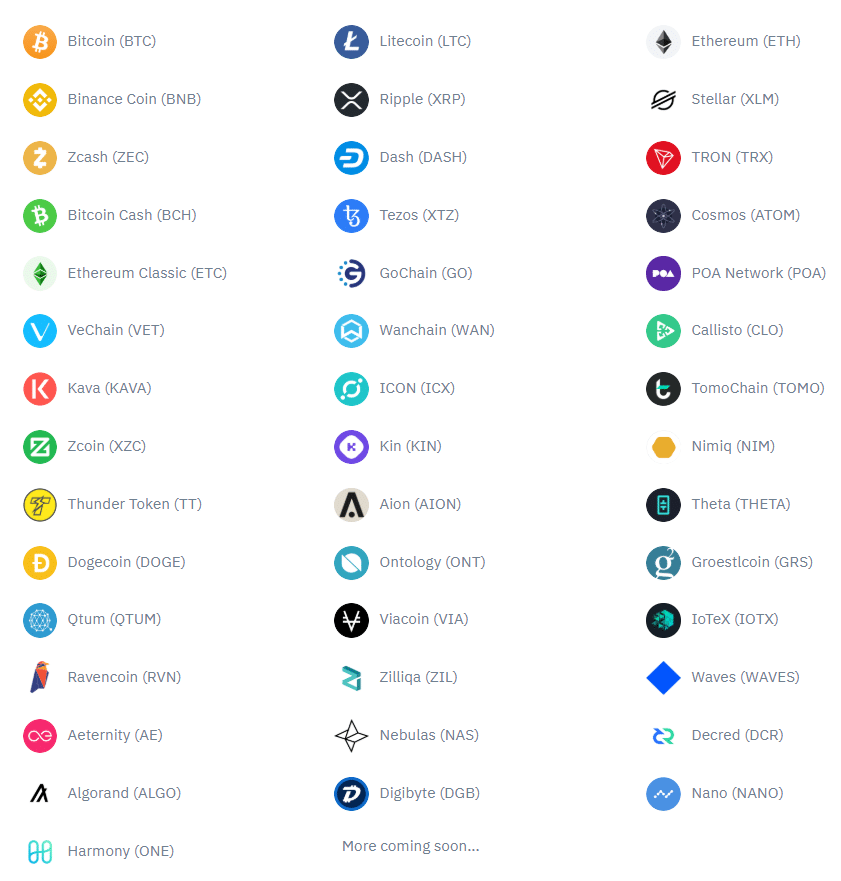 Here are a few other altcoins that can be used with the wallet:
Tezos (XTZ)
Cosmos (ATOM)
VeChain (VET)
Wanchain (WAN)
ICON (ICX)
TomoChain (TOMO)
Zcoin (XZC)
Aion (AION)
Ontology (ONT)
Groestlcoin (GRS)
Qtum (QTUM)
Ravencoin (RVN)
Zilliqa (ZIL)
Waves (WAVES)
Aeternity (AE)
Decred (DCR)
Algorand (ALGO)
Digibyte (DGB)
Nano (NANO)
There are no restrictions based on geographical location unless it is illegal to hold crypto in your country's jurisdiction. There is also a staking feature enabled in the wallet for the following coins: VeChain, Tron, Callisto, TomoChain, Tezos, Cosmos, IoTeX, Algorand, and Digibyte.
Trust Wallet Compatibilities
We can say in this Trust wallet review, that it can be installed on mobile devices that have Android 6.0 and higher, or iOS 13.0 and up.
User Interface and Experience
The wallet has a clean and simple interface. The color scheme of the layout is pleasant to the eye, and the features are all comprehensible, as everything is explained in simple terms without getting too technical.
You can easily navigate to and from the homepage and the other features of the app. It has also integrated live prices onto the homepage, which shows the current prices of the crypto market.
How to Get Trust Wallet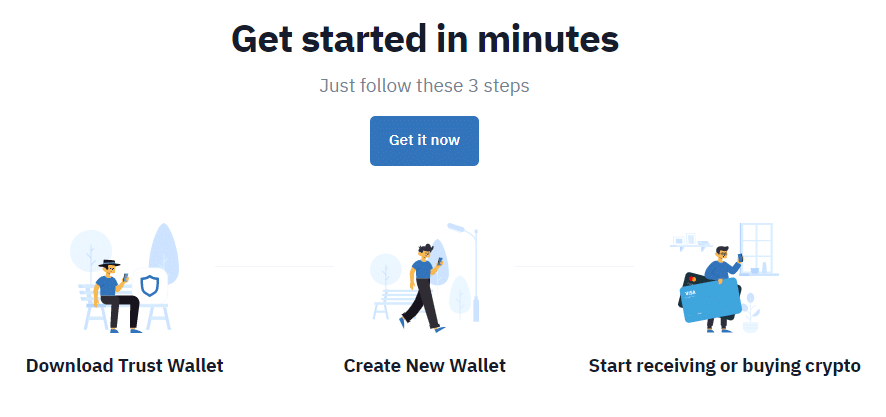 Access your respective app's store and download the Trust Wallet app for your Android or iOS version.
Run the app after downloading is complete.
After installation, you will have to either create or import a wallet.
If you create a new wallet, you will have to select 12 words as your seed phrase.
Write down the phrase and store the paper safely.
Click on the checkbox that reads, "I understand that if I lose my recovery words, I will not be able to access my wallet."
How to Use Trust Wallet
Depositing crypto to your wallet
Log into your wallet;
Tap on "Receive;"
Scan the QR code or copy your wallet address;
Paste this address into your external wallet in the section which requires a receiver address;
Go to the "Transactions" tab to view if your transactions have been completed.
Sending crypto
Open your wallet;
Tap the "Send" button;
Copy and paste the recipient's wallet address in the blank field or scan the QR code;
Type in how much you want to send and tap "Next;"
Check the transaction details;
Tap "Send."
Trust Wallet Fees
Trust Wallet is free for download on both Google Play and Apple's App Store, and the wallet does not charge any fees for its services.
You will have to pay the network fees when transferring crypto to other wallets or exchange accounts. The fee can be adjusted according to three categories Cheap, Regular, & Fast. Keep in mind that these fees are variable and charged by the blockchain, not Trust Wallet.
Payment Methods
The in-built exchange of the wallet allows you to use your credit card to buy crypto from Coinbase.
Security Features
Trust wallet is a non-custodial wallet, which means that none of the users' keys can be accessed by anyone other than the owner. The keys never leave the users' devices.
In order to recover your funds in case something happens to your wallet, the wallet provides a backup feature.
You do not have to offer any personal details when you download and create a new Trust Wallet account, and the team behind the app claims none of your personal data is recorded. The code is also open-source, meaning it can be reviewed by any developer, and it can be subjected to audits by security experts.
There is also the option to enhance account security by enabling various biometric marker systems for authentication, such as fingerprint scanning or PIN.
Customer Support
Trust Wallet's customer support can be reached by sending a ticket. Users can contact the support staff about any issues or questions related to wallet functionalities, promotions, app issues, and other matters. The support response has been rated to be rather slow in the past, but there have been some improvements lately.
Trust Wallet Reputation
The app was rated 4,5 stars out of five on Play Google from 52,836 votes, and 4,8 stars on Apple Store from 9,132 votes. The app is rated positively, with the Trust team responding to all critiques in both comment post sections of Google Play and Apple Store.
Trust Wallet Review: Verdict
Trust Wallet is a simple and secure multi-crypto wallet that incorporates a variety of features, such as Dap interactions, Web3 browser, Dapp Browser, and in-built exchange. Binance, the top exchange in the crypto world, has deemed it to be the most secure crypto wallet in the industry and made it its native wallet.
Featured image: Coin Rivet
The Review
Trust Wallet Review
Trust wallet is a non-custodial wallet that has a clean and simple interface. It supports a wide array of coins and plenty of features. The wallet doesn't require 2-factor authentication.
PROS
Safe and secure
User friendly
Supports a wide array of coins
Supports plenty of features: Dapps, Web3 browser, in-built exchange
Non-custodial
Binance native wallet
CONS
No 2-factor authentication
Review Breakdown
Supported Currencies

Rates and Fees

Security

Transaction Speed

Ease of Use

Customer Support