Bitcoin is the dominant cryptocurrency and continues to gain traction. And in order to store bitcoins, you need a wallet. In this article, we will look at how to create a cold bitcoin wallet at bitcoin-wallet.org!
Website Design and Functionality
The appearance of the service is as simple as possible, the functionality is limited by the properties necessary for the wallet. The main page provides functions for creating a new bitcoin wallet and authorization. The benefits and features of the service are described below.
The main plus is the absence of distracting ads. Simple design without
unnecessary pictures, calm colors, it is pleasant to work with the wallet.
How to Create a Cold Bitcoin Wallet?
To create a cold (offline) bitcoin wallet on the website, you need to perform just a few steps:
Go to the wallet website – https://bitcoin-wallet.org.
Wait until the site is fully loaded and disconnect the Internet connection.
On the home page, you will see a mnemonic (seed) phrase. Copy it and save. You can also create a new one if this phrase does not suit you.
Click on the "Create wallet" button. Done, your cold bitcoin wallet has been successfully created!
Logins, passwords, and other data are not required, which is quite convenient and saves time for registration. There is no need to invent unique data, the service will do everything for you.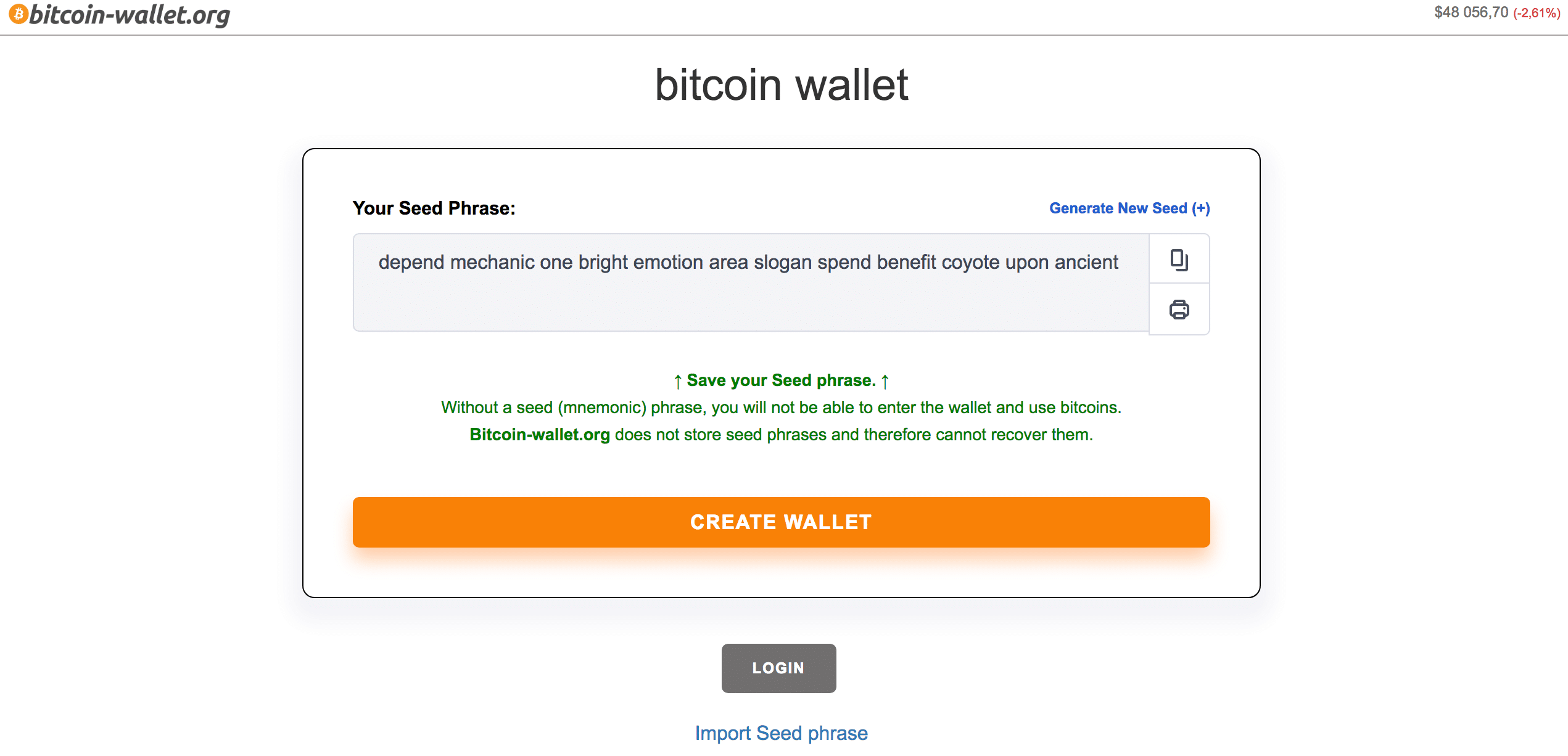 Bitcoin Wallet Benefits and Reviews!
Bitcoin-wallet.org differs from classic services for working with cryptocurrency. Due to the peculiarities of its functionality, it has a number of advantages.
Reliability and Safety
The wallet works exclusively in your browser and does not require constant access to the Internet. In fact, it looks like this:
Go to the site bitcoin-wallet.org
Disable network access.
Save the mnemonic phrase offered by the service.
Create a wallet.
Authorization using an existing seed phrase also works. An internet connection is only required for checking the account and conducting transactions. The bitcoinwallet.org service is ideal as a cold bitcoin wallet.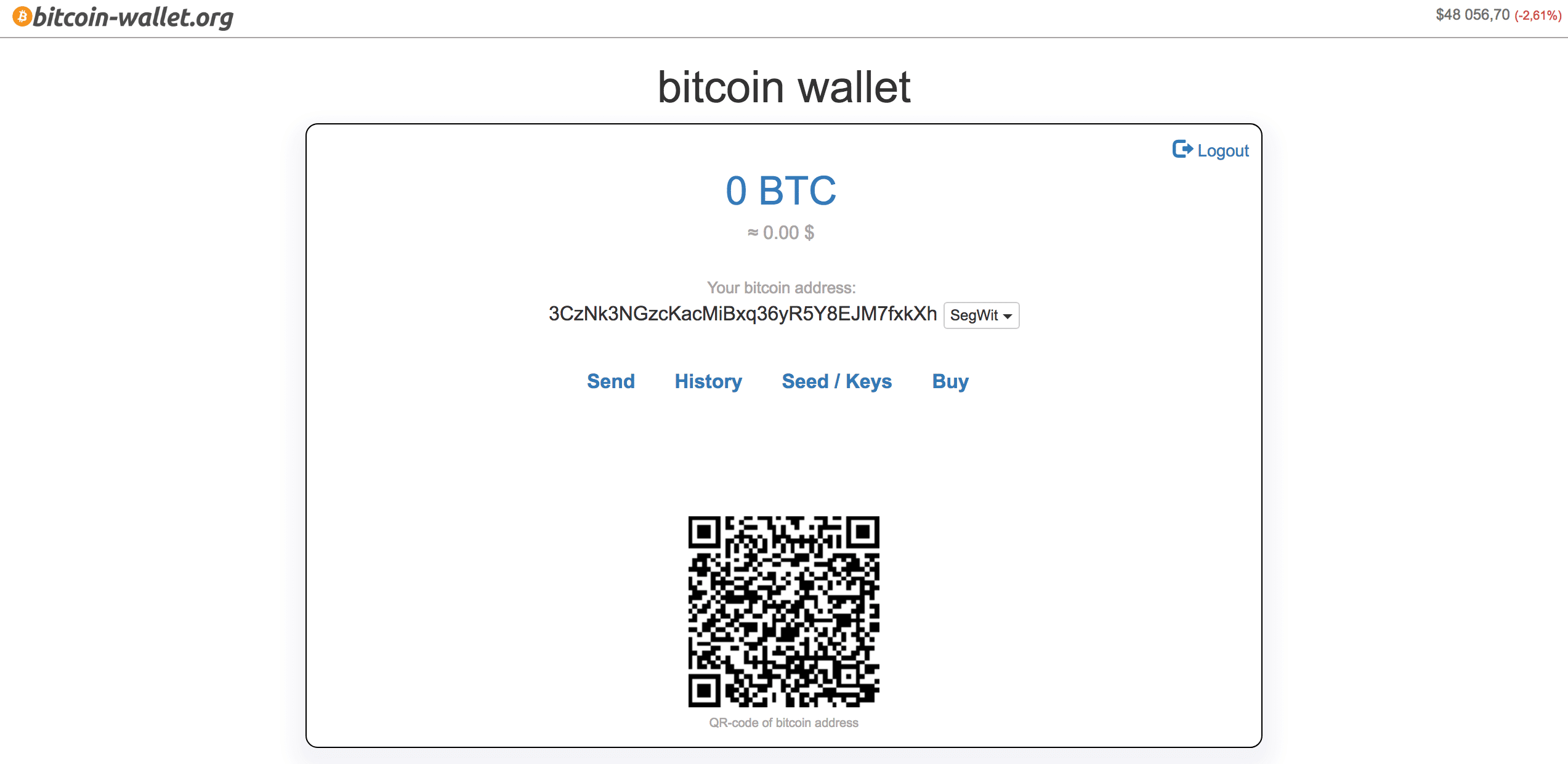 Control Limited to One User
Only you will have access to your wallet, as well as to all key phrases. Moreover,beach key is assigned to the address used and is also stored only with you. Thus, you can always control your balance and transactions without fear of hacking or theft. The main thing is not to share your data.
Free to Use
Using bitcoin-wallet.org is absolutely free for all users. There is no need to spend extra money on using the service and storing data, the developers provide access to everyone. Moreover, the site does not charge additional transaction fees. During the operation, only the standard commission of the Bitcoin network itself may be charged. This amount is not fixed, you can adjust it yourself.
Guaranteed Anonymity
The service does not store your keys and mnemonic phrases for entering the wallet. This allows you to completely maintain anonymity, which is very important in the modern world in the cryptocurrency market. Also, your personal data, email, any passwords and phone numbers are not requested for later access.
As a bonus for those who are afraid of maintaining anonymity – the service does not store cookies, does not remember the IP addresses from which you log in. To completely hide all your data, you can use a browser or application/extension with a built-in VPN or dynamic IP address.
Simple Interface
The site is as easy to use as possible, as are the capabilities of the bitcoin wallet itself. It is enough to be a confident user of a computer and the Internet. Deep technical skills are not required, everything is intuitive.
If you have any difficulties or questions that you cannot solve on your own, please contact the support service, where they will be happy to advise and help you.
To create a bitcoin wallet offline – go to https://bitcoin-wallet.org!
Featured image: Cryptopotato