What is BSC? Binance is currently one of the mainstream cryptocurrency exchanges globally, offering both investors and borrowers different services. Investors have the option to make investments using either fiat money or cryptocurrencies. Recently, Binance has introduced a new product to its users known as the Binance Smart Chain (BSC).
Those new to the crypto network may wonder what Binance Smart Chain is and how does it work? This review aims to help you understand what BSC is and its contributions to the crypto universe.
What Is BSC?
Binance Smart Chain is a blockchain protocol that came into existence in 2020 to give crypto enthusiasts a platform for decentralized finance. The Binance Smart Chain ensures that its users enjoy speedy transactions by expanding the features and capabilities existing in the DeFi market. The DeFi market is very different from the traditional blockchain as it works together with the existing blockchain network to develop different decentralized applications.
As a product of Binance, the Binance Smart Chain runs together with the Binance Chain, but several characteristics differentiate it from the Binance Chain. Currently, BSC is considered one of the most significant blockchain protocols that have contributed to DApp development and several other DeFi projects. In addition, it has shown its users that it holds the capacity to handle a significant amount of trading volumes within a short period.
There are currently over 60 decentralized applications that offer users decentralized finance solutions, providing usability and flexibility. Even though Binance Smart Chain operates through the Binance Native line, it is still an independent and autonomous protocol. In that sense, BSC runs both business and technical functions. The Binance Smart Chain is an example of a protocol that runs its operations on a proof-of-stake model.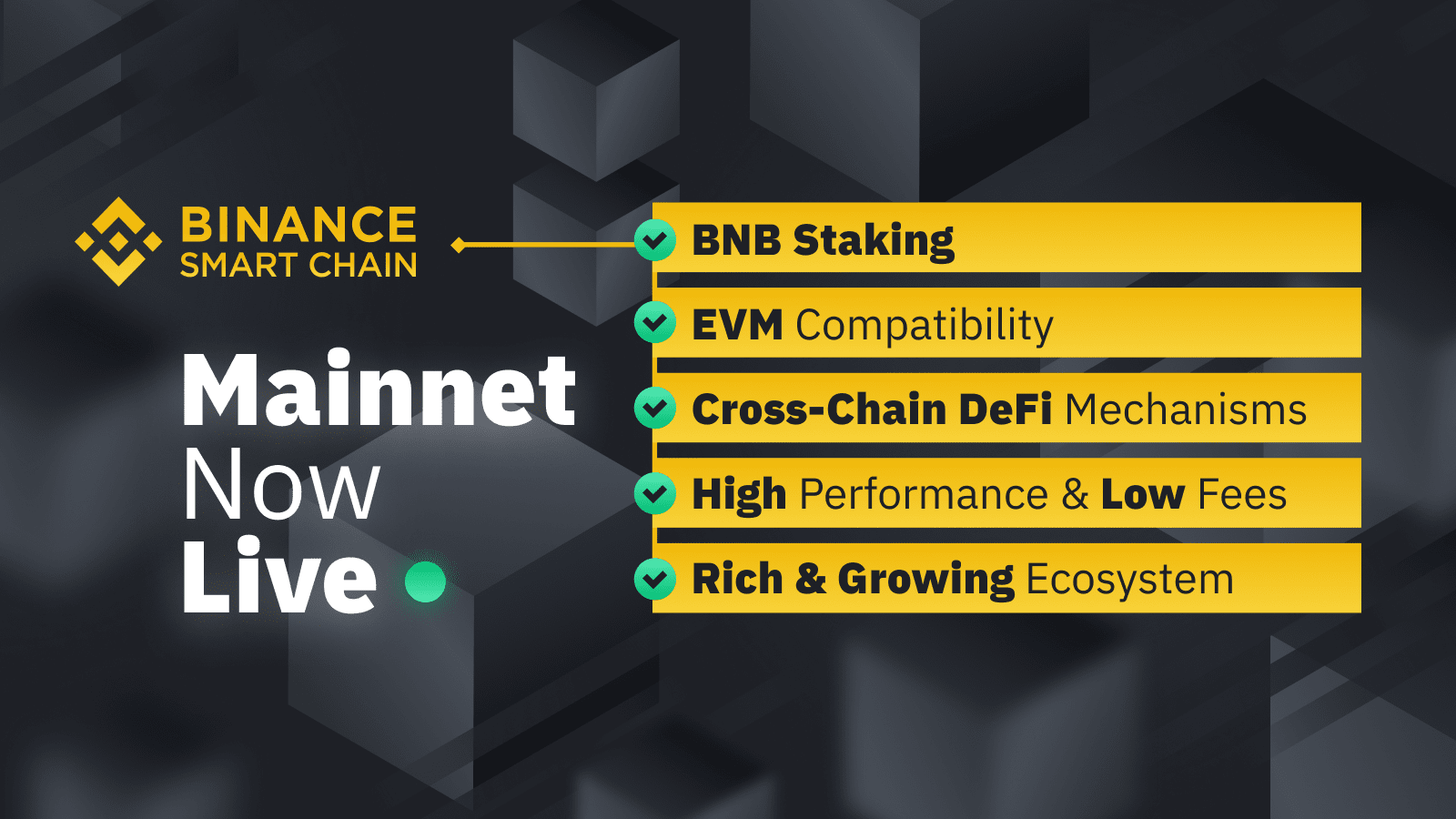 How Binance Smart Chain Works
The Binance Smart Chain works through a consensus algorithm and cross-chain compatibility. First, the BSC achieves a 3-second block time using the proof of status algorithm. Then, using the Proof of Stake Authority (PoSA), participants can stake BNBs to become validators. Once they have a valid block proposed, they will go ahead to receive from all the transactions that will go on in that block.
It is important to note that Binance Smart Chain is different from other existing protocols as there currently are not any freshly minted BNBs since they are not inflationary. Furthermore, it is also evident that the BNB supply decreases over time since coin burns are conducted.
What Is BSC? Cross Chain Compatibility
The BSC uses the dual-chain architecture, allowing users to transfer their assets between different blockchains for cross-chain compatibility. With this compatibility in place, users can seamlessly enjoy rapid and effective trading on the Binance chain, while decentralized applications can be built on BSC.
To get started with Binance Smart Chain, you will first have to ensure that you have a crypto wallet to interact with BSC applications. After that, you will then be expected to move funds into the chain. Currently, the BSC only supports the standard BEP-20 token, while the Binance Chain supports the BEP-2 token standard. Therefore, you will need the BEP-20 tokens if you wish to use dApps on BSC.
What Is the Difference Between BSC and BNB?
Binance Chain, which uses the Binance coin (BNB), is a blockchain that aims to provide a marketplace for cryptocurrencies and other crypto-based assets. Binance Smart Chain, on the other hand, is an individual blockchain, but it does not aim to replace the Binance Chain. Instead, BSC is designed to work alongside the original Binance chain.
Many people are asking, 'what is BSC crypto?' The BSC came into existence due to some programming limitations that the Binance chain had, and currently, the BSC is equipped with EVM (Ethereum Virtual Machine) compatibility. EVM compatibility means that Ethereum-based applications will perfectly run on the blockchain, and currently, there are hundreds of applications that have been hosted on the blockchain.
Overall, there is very little difference existing between the BSC and BNB. Therefore, it can be said that the Binance Smart Chain operates alongside the Binance Chain by offering its users a fast, secure and convenient way of transacting. Perhaps you are still asking what Binance Smart Chain is. Here is more you need to know.
What Is BSC? Other Things You Need to Know
Now that you have an idea of what BSC is, please discover some of the decentralized applications that are being hosted on the platform:
Pancake Swap
This dApp is considered the leading automated market maker (AMM) hosted on the Binance Smart Chain. Pancake Swap allows users to perform token swaps for BEP-20 and earn a decent income by providing liquidity pools. However, before you make any deposits, you should be aware of the possibility of impermanent loss. There is still so much to do on the Pancake Swap. For instance, you can participate in the lottery and token sales and win NFTs.
Venus
Another decentralized application is Venus, which is a borrowing-lender protocol. This money market allows users to lend and borrow BEP-20 tokens and gain profits through the auto-set interest rates. So those who have some money lying around can make a decent income by lending their money to Venus.
Venus also has its decentralized coin, VAI, backed up by several crypto assets. These are just two of the many dApps that exist on BSC, including Autofarm (a yield aggregator), Burgerswap (an automated money maker), and Spartan protocol (synthetic asset protocol) among others.
Related articles: Binance VS Wazirx | How to Sell Digital Art | How to Mine ETN
Conclusion
There has been some significant development in the Binance Smart Chain, and its success is very much likely to soar shortly. Therefore, if you have serial interests in the DeFi world, it will be better to look closely at Binance Chain. You can follow its social media platforms to share interests with the general community.
The BSC significantly expands the functionalities of the original chain with its cutting-edge protocol that combines different blockchain technologies. With these details, you can quickly answer the questions about what is BSC? For example, what is Binance Smart Chain or BSC crypto? Also, find more answers in our articles, for example: how long does Binance verification take?