Dogecoin is a cryptocurrency created with fun in mind, according to its creators Billy Markus and Jackson Palmer. The cryptocurrency was forked from Litecoin in 2013 and has had its own fair share of popularity, particularly when Tesla's Elon Musk tweeted about it severally, even becoming the CEO for a few hours.
It has not performed exceptionally well over the years. The Dogecoin price has mostly been in consolidation with a very slight upward move over time. This is the pattern in 2020, but what does 2021 hold for the cryptocurrency? In this article, you will find out the predictions from experts concerning DOGE performance in 2021.
Dogecoin Price Prediction for 2021
Dogecoin has not made spectacular progress in price in 2020, except for a few spikes that were not sustained. The question is, what will happen to Dogecoin price in the coming new year 2021? For those who want to buy Dogecoin or invest in the cryptocurrency in the coming year, there are different opinions about what the future holds for Dogecoin in 2021.
Dogecoin Could Surge in 2021 With Other Cryptocurrencies
As earlier mentioned, Dogecoin was created in 2013 as a fork from Litecoin. However, like most cryptocurrencies, it did not experience any serious price surge until the 2017 bull market driven by Bitcoin. Since then, the direction of the cryptocurrency market has been determined by Bitcoin, although there are several times when Bitcoin went higher while altcoins were trampled.
Following the 2017 bull market, Dogecoin price hit its all-time high of $0.015 on 8 January 2018. This is the time when other altcoins, such as XRP, which also have not been doing very well, hit their all-time high price, which they have not been able to even get close to again, just like Dogecoin. Seeing that Dogecoin moves with the tide, analysts believe the price could experience some great moves in 2021 if the rest of the market experiences a bull run.
For instance, trading platform – Prime XBT states in its DOGE price prediction for 2021 that the cryptocurrency is expected to recover from the downward trend in which it was and to experience price gains to the same extent as the downtrend. In fact, DOGE is expected to jump up to $0.41.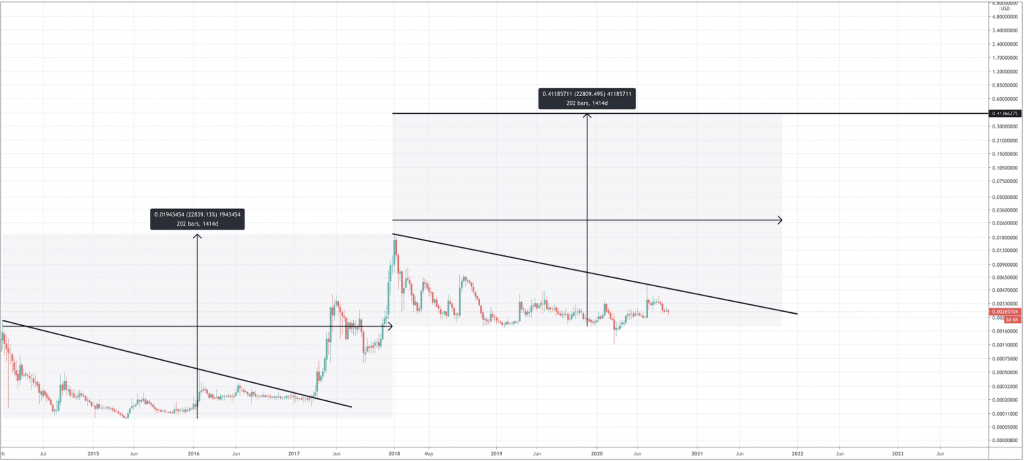 Other websites and predictors share this opinion about Dogecoin going up in 2021. Digitalcoinprice.com, for instance, forecasts a price of $0.007 for the token in January 2021 and to reach the $0.0081 mark by the end of the year. Another well-known website – Tradingbeasts places the average price of Dogecoin at $0.0043 in January 2021, although this is not expected to change much for the rest of the year.
Even if these are only suggestions of price movement in the future, mostly based on the past behavior of the token, it could be pointing to a potential upward movement for Dogecoin in 2021.
A Look at DOGE Price Prediction: Technical Analysis
Technical analysis gives us a better idea of what is going on, and it is an important tool used by analysts, so let's see what this is telling us about Dogecoin price. One key indicator of present and future price performance is the Moving Average (MA). This is the average price (p) of a cryptocurrency for a number of days (X). Assuming X=10, the MA will be p1 + p2…+p10 ÷ X.
Generally, a higher MA for a shorter time frame is better than a higher MA for a longer time frame. This means that a 20 MA should be higher than the 50 MA, which should also be higher than the 100 MA for us to be convinced that the cryptocurrency is on the right path for a bullish move. Thankfully, this is the scenario at play with DOGE.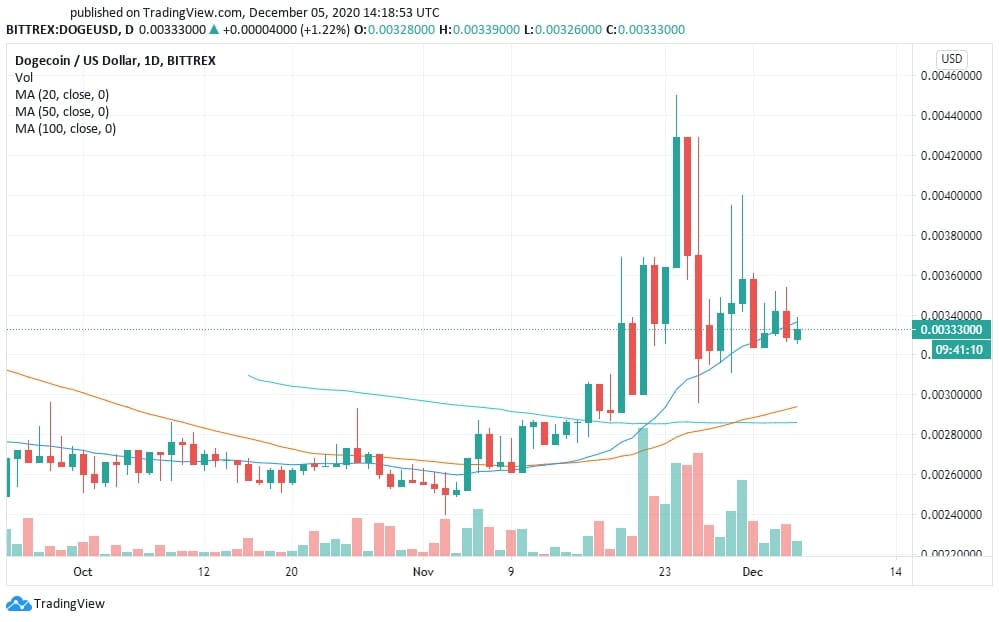 In the above chart, you can see that the 20 MA is well on top of both the 50 MA and 100 MA. This happened quite recently as a matter of fact. The 20 MA had a cross above the 100 MA (Golden Cross) on 21 of November, while the 50 MA crossed above more recently on 29 November. The 100 MA was higher prior to these times, which was a bearish sign.
With the current pattern, it is safe to say that DOGE is on a path to recovery, and a bullish move could be on the way, which supports the positions of the websites listed above. Another important index known as the Relative Strength Index (RSI) also shows that there is a lot of room for price growth. With an RSI of 53, DOGE is not yet oversold, but neither is it overbought, and buyers could mount more pressure and move the price upward in the medium and long term.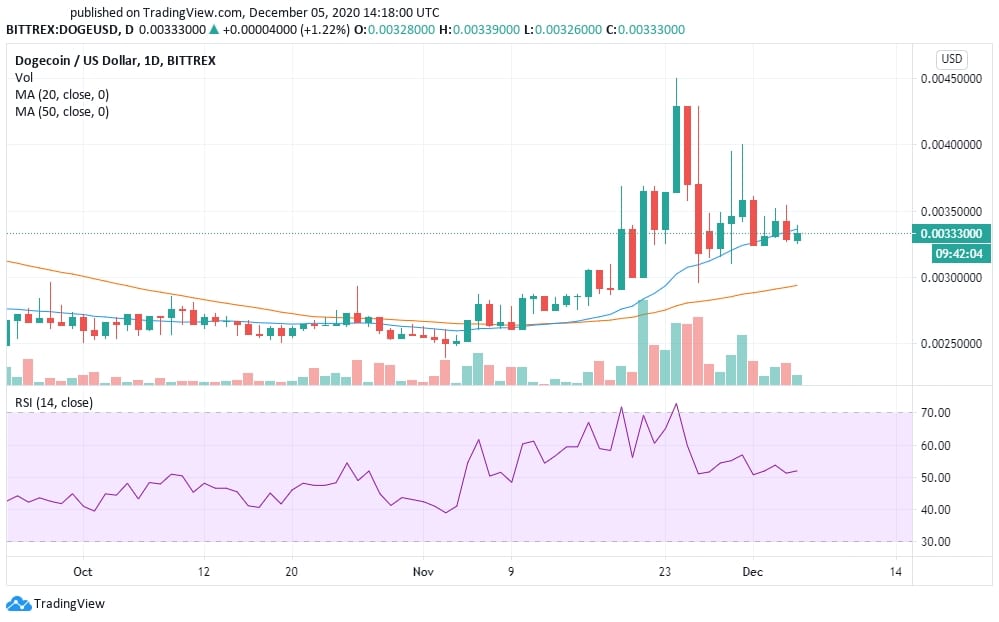 Latest Updates: StealthEX Bot Lists Dogecoin
Dogecoin recently got listed on StealthEx Bot. StealthEX is a cryptocurrency exchange that allows instant exchange of cryptos without registration of any kind and with no limits to transaction amounts. It is also distinct because it does not take custody of users' funds at all and takes privacy very seriously. Without any form of registration, transactions are done completely anonymously.
With the listing of Dogecoin on the platform, users can exchange DOGE with any supported cryptocurrency "as easy as 1-2-3," and with the bot, transactions can be fully managed on Telegram. This makes it much easier to trade DOGE and could potentially boost its adoption in the future, thus helping to push the price up as well.
Conclusion
If you were booking for information on the Dogecoin value for 2021, these are the perceptions of analysts and what the chart says. However, you should note that these are based on the current facts and past performance of the coin.
It is also not to be taken as financial or investment advice, as the cryptocurrency market can turn around rather swiftly. You should, therefore, invest in what you are comfortable with, and going for the long run may prove to be better than expecting returns in the short term. That being said, good luck with your investment decisions, and we hope this information helps.
Featured image: coinhub.news