What Is Coincheck?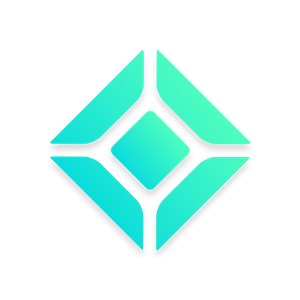 The Coincheck is a Japanese-based peer-to-peer trading exchange and bitcoin wallet, which was established in 2014. Coincheck Inc. was bought by Japanese giant Monex in April, 2018.
The platform received certification from Japan's Financial Services Agency, as the country's law requires this license for a trading platform to operate.
The company's founders are Yusuke Otsuka and Koichiro Wada. Its services are limited to the user's geographical location, with Japan residents being able to exchange Ethereum, Bitcoin, and fiat currencies, and international users are able to perform Bitcoin transactions and to use their wallet service.
The exchange also holds JBA (Japan Blockchain Association) membership, and together with the Japanese Government, all three entities are trying to help promote and develop the Japanese Bitcoin community.
Trading Platform
The spot trading interface's design is simple, making it easy to comprehend by users of all levels of experience. It features an order book and a chat window. The English language is supported on both platforms.
The platform also features the necessary tools for any trading activities.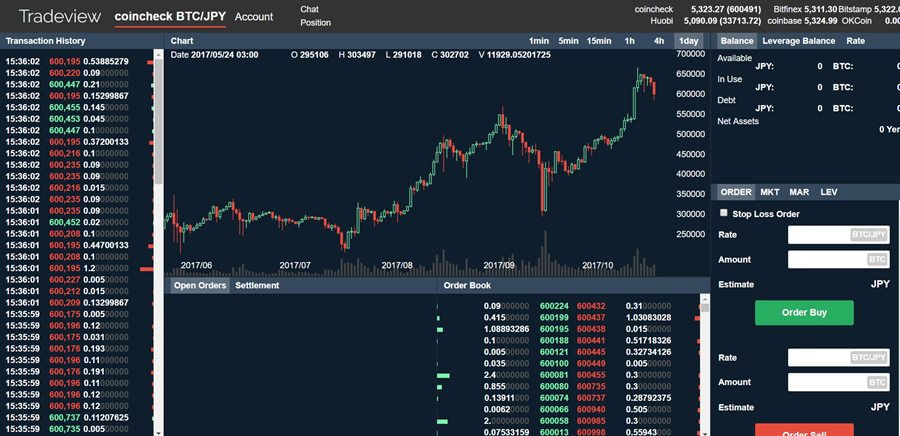 Supported Currencies
The platform supports the following currencies and cryptocurrencies: JPY, Bitcoin, Ethereum Classic, Bitcoin, Zcash, Augur, Ethereum, Ripple Coin, Factom, Monero, and Lisk.
Coincheck Features
The Coincheck platform offers the following features:
Leveraged trading: By using the TradeView platform, Coincheck provides leverage trading, getting its feeds from top cryptocurrency exchanges, which include: Poloniex, Bitfinex, Bitstamp, OKCoin, Coinbase, and Huobi.
Multiple applications: One of Coincheck's major selling points is its diverse number of applications which can be used by both advanced investors and novice traders alike. In addition to this, various solutions/services are also available for traders and businesses which are just starting out in the crypto sector.
Co-branded debit card: Coincheck users also have the advantage of receiving a co-branded debit card to its clients. This debit card is financially backed by Visa, and users can make Bitcoin deposits through the use of their smartphone app, through which they can also send funds to merchants that accept Visa.
Mobile apps: The platform has developed apps for IOS and Android users. These mobile applications enable users to manage their crypto assets held in the e-wallet and to perform transactions via the use of the spot trading interface. Other simple functions such as price checking, charts, and deposit options are included.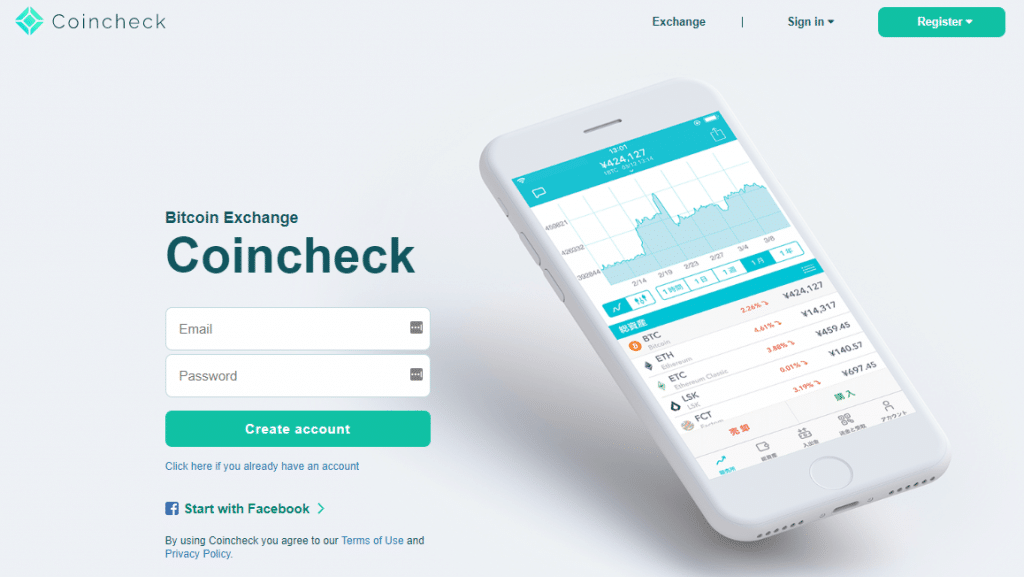 Payment Methods
The payment options available at Coincheck allow users to make deposits in both cryptocurrencies and fiat currencies. They can fund their accounts through bank transfers, credit and debit cards, and through several retailers located in Japan.
The PayEasy platform can also be used as a payment method. USD deposits are also accepted at an international level.
Is Coincheck Safe?
Coincheck exchange claims it keeps user funds in separate accounts and its wallets are also encrypted in cold storage in order to prevent them from being exposed to outside threats.
The platform also implements a 2-factor authentication system which requires verification via a phone number upon login, therefore increasing account security. In addition to this, they also employ complex encryption of their data, secure servers, and their records are regularly backed up on a regular basis.
There have been several negative reports regarding the exchange's customer service goes. The users claimed they have experienced rather slow and sometimes unresponsive customer support.
In spite of its security measures, the Coincheck exchange was a victim of a major hack on 26th January 2018, being one of the biggest crypto incidents of this nature. The attackers hacked into the exchange's hot wallet and made off with $530 million in XEM coins.
After the hack took place, all trading operations were temporarily halted. The exchange, however, made promises to refund the losses of their affected users.
Final Words
Coincheck is an easy to use and stable platform for crypto trading and, although it has many useful tools and applications, there are some restrictions for its leveraged trading feature and its fiat trading options.
Featured image: financemagnates.com
The Review
Coincheck Exchange Review
The Coincheck is a peer-to-peer trading exchange and bitcoin wallet, that is supported by Japan's government and licensed by the JBA. Users have a lot of benefits such as an E-wallet feature and deposits through credit and debit cards. However, users must take into account that the only fiat currency they can trade against is the Japanese yen.
PROS
It is supported by Japan's government
Licensed by the JBA
Accepts deposits in fiat currencies and cryptocurrencies
Features spot trading
Features leveraged trading
Includes an E-wallet feature
Accepts deposits through credit and debit cards
Offers co-branded debit cards to its users
CONS
The only fiat currency you can trade against is the Japanese yen
Customer service has been reported to be slow or irresponsive
Suffered a major hack
Review Breakdown
Supported Currencies

Rates and Fees

Security

Transaction Speed

Ease of Use

Customer Support