Bitcoin is the most popular cryptocurrency on the market, and more and more people are looking into owning the coin. But the potential value of this crypto has not only drawn the attention of investors. While no one is completely safe from every threat, you take some additional measures to increase your Bitcoin security.
Hackers have attempted numerous times to exploit vulnerabilities to get to bitcoin funds.
Below are a few tips that you can implement to secure your BTC:
1. Avoid using Web Wallets
A web wallet is a type of wallet which is hosted by a service on a web platform. Even though they are
easy to access and convenient for quick trading, most of them lack sturdy security measures.
There have been many hacks that targeted web wallets and used their vulnerabilities to get to the
user's funds.
Should you necessarily need one because you need to trade quickly, choose a trusted exchange or
wallet that has a good reputation, and only store your crypto in small amounts to limit your losses.
2. Keep your BTC in a Cold Wallet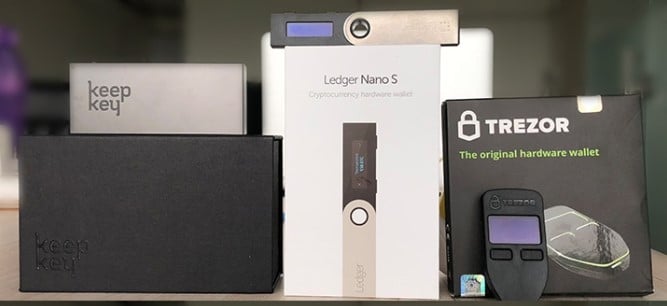 Storing your bitcoin in a cold wallet is widely regarded as the most secure method of storing cryptos.
A cold wallet is a piece of hardware which comes with an in-built computer which operates using its own special operating system. These devices cannot be subjected to hacks because it is not connected to the internet.
By plugging in a hardware wallet to an online device, the signing of Bitcoin transactions is done by using private keys which are stored in the cold wallet. Even if your personal computer is infected with a malware or virus, you can still use the wallet to perform transactions safely without attackers gaining access to the important private keys.
3. Do not keep your bitcoins all in one place
A good practice would be to keep your savings in separate wallets, to not lose all your funds in a
hacking incident.
For spending or transactions, keep your coins in one wallet, and the bulk of your Bitcoin funds should
be locked away in your offline wallet.
There is no limit to how many wallets addresses a person can own, meaning that you can store your
coins in more than one place. Therefore, you can have an address which is specifically for spending or
using bitcoin online, and another for keeping them stored safely.
If a larger amount of Bitcoins is transferred to your online wallet, make sure to relocate them as fast
as you can to a cold wallet before.
4. Store Private Keys Offline
The most important advice given to all wallet owners is to always keep their private keys offline and
never share under any circumstance. To improve the security of your Bitcoin wallet, relocate your
private keys to a separate device which is not connected to the Internet. By implementing this
measure, one can reduce the chances of having their funds stolen as a result of malware attacks.
5. Use a Type 2 Deterministic Wallet
A Type 2 Deterministic Wallet uses a seed to deterministically create all of the future private keys for
any of the Bitcoins that will be transferred to your wallet. This implies that you will have to create just
one backup server as the backup has incorporated in it the seed.
Should you lose, damage or have your wallet stolen, you will have the possibility of creating a new
wallet through the use of that same seed and your lost wallet will promptly be restored with all of
the private keys and the Bitcoins that were in the wallet.
6. Use Fragmented Backups
Even though you already have one backup seed, it is recommended that more copies of such backup
should be made and then be kept in different secret locations. Through the creation of a fragmented
backup, the seed will be divided into six fragments and the only way of recreating this seed is by
having four of these fragments.
This will put an extra layer of security for your wallet as an attacker would first have to search in
different locations for the fragments and find at least four of them.
7. Installing Linux on Online and Offline Computers
Although safe, cold wallets still need to be connected at some point even for a short time to the
internet during transactions.
The most secure way of transferring data from online to offline environments is through the use of a
USB drive. Linux is the operating system which has fared well against any USB- based attacks, making
it a good choice for transferring Bitcoin from online to offline devices.
Conclusion
These are just a few tips which you can implement to increase your Bitcoin security.
Feature image: Sovereign Man