Most people associate blockchain and Bitcoin with anonymity and imagine that they can perform transactions online without being detected.
But this couldn't be farther from the truth, as aside from a few altcoins that have privacy features, Bitcoin and most cryptos aren't actually anonymous.
How Cryptos Can Be Traced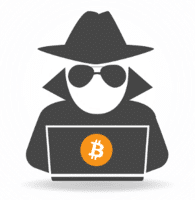 Every crypto transaction has inputs and outputs that are addresses from which the crypto is sent and received, respectively. These addresses are encrypted through a private key, and cryptos such as Bitcoin or Ethereum can only be moved from their wallet using the private key from the address.
The outputs are the addresses that receive the crypto, and it is referred to as the public address, which consists of a long string of numbers and letters that do not have any identifiable information to connect you to your address or its associated wallet. The public address acts as your pseudonym on the blockchain and allows other addresses to interact with you.
As these addresses do not give away any personal information, most people believe that they cannot be identified on the blockchain. Even if there is no real name attached to bitcoin transactions, they are pseudo-anonymous at best, as there are many ways of identifying the owner.
In some sense, it is true that bitcoin is more anonymous compared to other payment methods that are run by centralized third-parties, as your bitcoin funds and transactions have no connection to your real name, your email, or your physical address, just random numbers and characters.
But actual cash transactions are more anonymous than crypto because all of your transactions are visible to the entire blockchain network.
Most blockchains are public ledgers, which means that anyone can look into your transaction history with a certain crypto, and also know how much you hold in your wallet. You would have to create a new wallet after each transaction to keep your anonymity. But, no such measure would be enough to deter someone from finding out your identity.
All Your Activity Is Publicly Available
After you make a transaction with someone, they will have your public address and, using it, they can search your past trading activity, as well as trace all your future transactions. Most cryptocurrencies have publicly-available transactions, and those with the advanced software and necessary tech skills would be able to trace the transactions back to the original source.
The availability of blockchain analysis software that is sophisticated enough to track wallets and trace transactions have made it easier for law enforcement agencies to find criminals and drug lords who thought that using Bitcoin's public ledger would keep their activity anonymous.
Node Connections
Other ways of identification involve finding out your IP address. This can be done by connecting multiple nodes and tracking the source of a transaction.
Attackers can intercept your transaction by connecting to all the nodes on the blockchain network. Then, they wait to see which node is the first to transmit a transaction that will be identified as the source of the transaction.
Thankfully, there are some methods that you can use to keep your activity private when using cryptos online, such as using mixers. Mixing services jumble up crypto addresses together and send them out randomly, so that no one can link the private and public addresses.
Today, you have a lot of options, as you can choose Bitcoin Mixer to be sure that, when you make a transaction, you can stay calm because no one is spying on you. Also, if you are looking to increase your privacy when using ETH, you can opt for Ethereum Mixer, as it works automatically and without any human assistance.
Featured image: inspiredelearning.com