Since its launch in July 2015, Ethereum has seen a massive evolution and development. So much so, that it is now the second most valuable cryptocurrency in the world, with Bitcoin still being king in the market cap department.
When it comes to storing ETH, it's safe to say that there's no shortage of very good options out there. Be that as it may, one can argue that no other option out there better than MEW, short for MyEtherWallet.
What is MyEtherWallet?
The most common definition for MyEtherWallet is that it's an online wallet that allows anyone to manage, store, receive and transfer the tokens above. That is not completely true since MyEtherWallet is, in fact, free, open source software (tool) for creating wallets fully compatible with the Ethereum platform.

The main reason why MyEtherWallet is not a typical online wallet is due to the fact that you can create a wallet through the web, but all the information, private keys (and, hence, the access to your funds) are stored on your computer, and not online on MEW's servers.
In short, it's a client-side interface/web app that allows you to interact with the Ethereum blockchain, and use your computer's web browser to create wallets.
Supported tokens and platforms
MyEtherWallet comes with support for all Ether tokens, ERC-20 tokens, and Ethereum Classic tokens. Since MyEtherWallet can be regarded as a sort of self-hosted web wallet, it can be accessed with the help of any modern web browser, from all operating systems.
You can either access it directly at MyEtherWallet.com or download it in the form of a Google Chrome extension directly from the Chrome Web Store.
Compatibility
Compatibility is definitely one of MyEtherWallet's strong points. Besides being very accessible via any modern web browser, MyEtherWallet is also compatible with Geth, Mist, MetaMask, Jaxx Wallet, and two of the most popular hardware wallets currently on the market, Ledger Nano S and Trezor.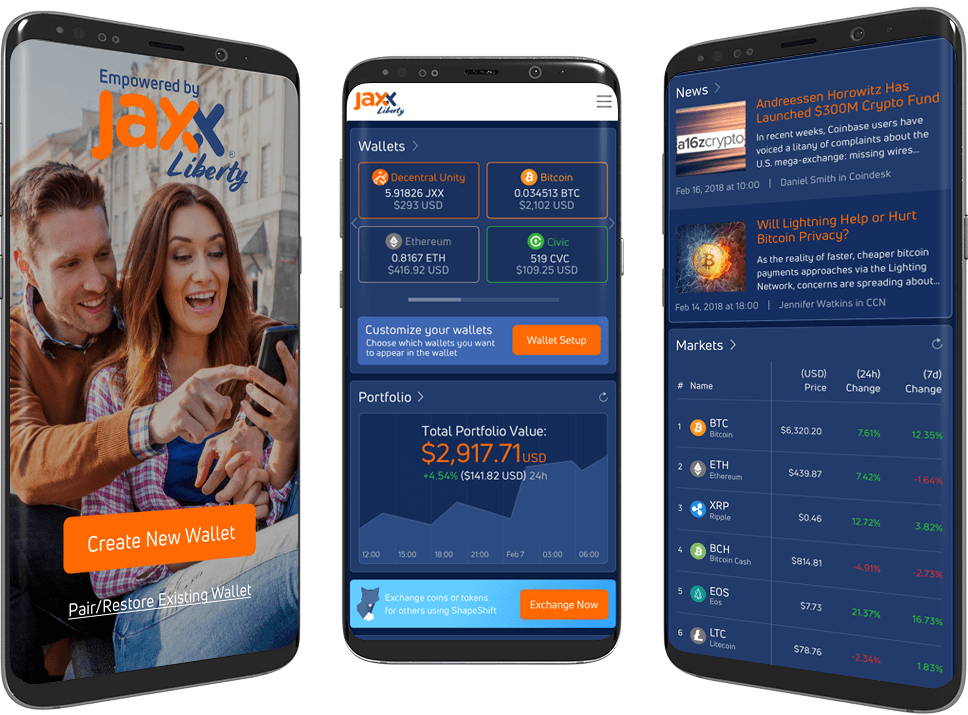 Built-in Exchange
This is probably the most surprising feature of MEW. On the service's web interface, you will see a "Swap" button on the top toolbar. This feature is powered by KyberNetwork & Bity, and it allows you to exchange ETH and other types of coins and tokens conveniently.

Getting to grips with MEW's functionality
MyEtherWallet is renowned for being a very straightforward service, with a modern-looking and user-friendly interface which should make even the most novice of users feel right at home.
Creating a new wallet
To get started with MyEtherWallet, create a wallet by selecting the "New Wallet" option from the left side of the top toolbar. Enter a password of your choice into the designated fields. This password will be used by MEW to generate a unique keystore file for your wallet which will have to be downloaded as stored securely. Once this is completed, you'll be provided with your private keys. It goes without saying that it is of the utmost importance to keep these keys safe.
Next, you will have to choose how to access your account. If you don't have a wallet interface (mentioned in the compatibility section above). After the information has been added, you can sign in, and access your account address, your balance, and the unique QR code. It's worth noting that your public key is actually your account address. From this point onwards, you can either transfer existing Ether or, if don't have any, fund your account.
Making payments
Once the funds have been added, you can start making payments. Click the "Send Ether & Tokens" from the top menu, and select your preferred method of accessing your wallet, enter the required information and unlock your account. Enter the wallet address of the payee into the "To" field, and the amount of Ether you want to send. You can adjust the "gas limit" based on your priorities (a higher fee will result in a faster transaction). It's worth reminding you to pay extra attention in order to enter the correct information as the transaction cannot be reversed.
Conclusion
Considering everything that's been said, it really looks like MyEtherWallet has a lot of things going for it. It's easy to use, free, open source, widely accessible, does not store your private keys and passwords on its servers, it's compatible with many popular wallets, and supports offline transactions.
The only possible drawback is the fact that certain users have been targeted by phishing attacks and hackers. Of course, as a tool that allows you to interact with the Ethereum ecosystem, the wallet will most likely evolve side by side with the said network. This includes possible security improvements, and support for new tokens as they are being issued.