OKEx is the precursor of OKCoin which ceased futures trading operations on May 30, 2017, and it's currently ranked second on CoinMarketCap according to 24-hour traded volume, making it one of the most important cryptocurrency exchanges to date.
The exchange offers fiat-to-crypto and crypto-to-crypto trading on more than 100 digital currencies and, just as impressive, with coverage in more than 100 countries. Besides the trading volume, OKEx is also one of the most important digital asset trading platforms due to the fact that it's designed to suit both beginner and more experienced traders.
Diverse trading catalog
As mentioned before, you can buy and sell more than 100 coins and tokens on OKEx, including Bitcoin, Bitcoin Cash, Ethereum, Ethereum Classic, Tether, Litecoin, EOS, Qtum, NEO, Monero, Stellar, Dash, Ontology, Nano, and Zilliqa, to name the most popular. For the full list of supported coins, you can either check out the Exchange's CoinMarketCap Active Market section or the official website.
Worldwide availability
In the early days, OKEx was mostly focused on the Asian market, but due to the increasing popularity of cryptocurrencies in 2017, the exchange saw an incredible rise in trading volumes and has since expanded its business to over 100 countries worldwide.
Supported payment methods
On OKEx, you can deposit funds on a trading account either via cryptocurrency transfer, bank transfer, AliPay, as well as WeChat Pay.
Trading fees and withdrawal restrictions
OKEx is regarded as one of the exchanges with low trading fees. A full list of trading fees is available on the platform's dedicated section, but it's safe to say that OKEx's fee system is designed to encourage even day-to-day traders to use the service. For those who don't trade more than 100 Bitcoin worth of volume in a months time, the marker fee is 0.10%, and the taker is of 0.15% respectively.

Support for margin trading
Margin trading is considered a highly advanced trading technique that might result in outstanding winnings but, conversely, it could just as easily mean the opposite. In theory, with margin trading, you could maximize your profits with a 10x or 20x leverage. The interest rates for this trading type differ from crypto to crypto, but users can check exactly by how much on a page within the OKEx's FAQ section.
Security
To start trading on OKEx, you are required to sign up for an account by providing a valid email address and a password. Once your account has been confirmed, you can immediately start trading crypto-to-crypto, but for fiat deposits or withdrawals from your account, you'll be required to enter additional details and baking information.
Regarding complete security features, OKEx boasts 2-factor authentication, mobile verification codes for withdrawal operations, changing passwords and other security settings, as well as anti-phishing codes for every email from the exchange.
Platform support
A big part of the reason why OKEx is so accessible and so versatile is thanks to its bespoke applications for both Windows and macOS, as well as for the two most popular mobile platforms, Android and iOS.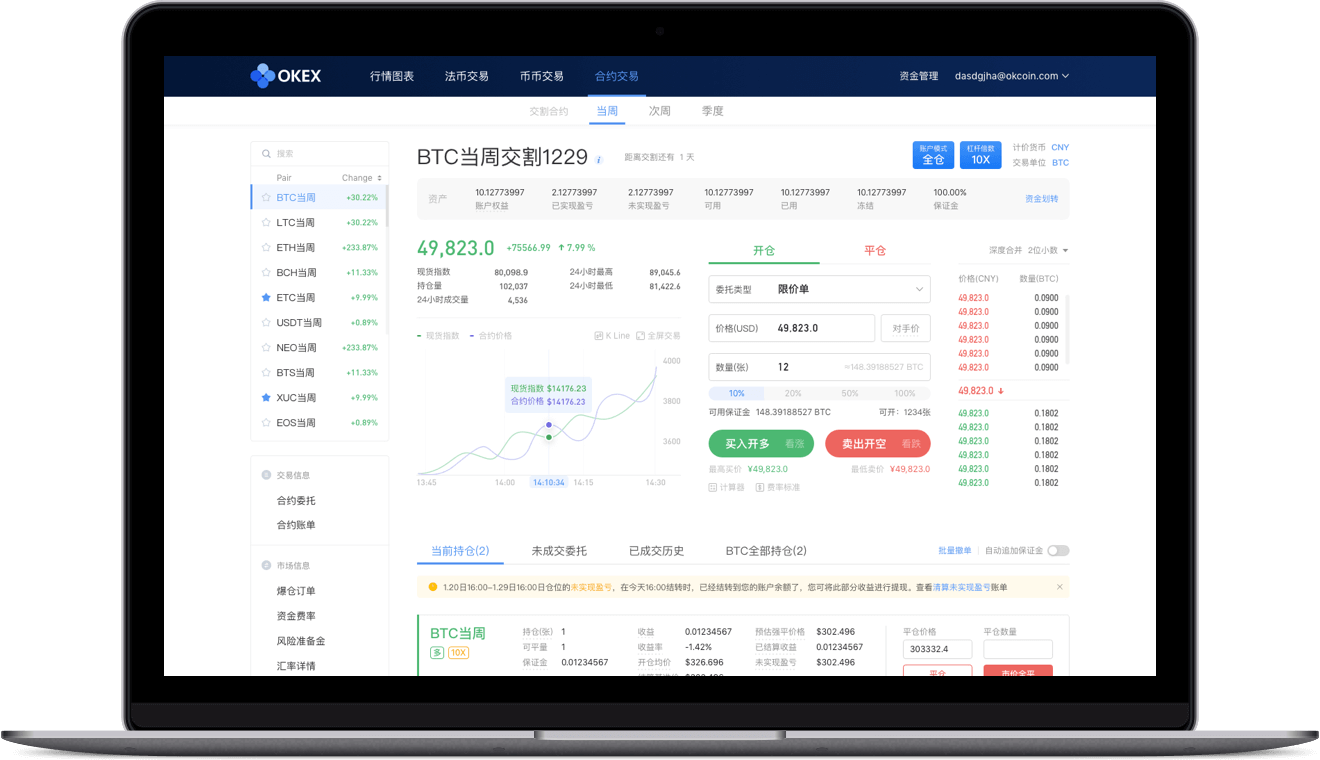 High liquidity
Considering its high crypto exchange volumes, OKEx boasts some of the biggest crypto exchange volumes in the world for various coins such as Bitcoin, Ethereum, and EOS, for instance. The platform is also renowned for its high liquidity levels, a big advantage for traders interested in buying large amounts of cryptocurrencies.
Conclusion
OKEx earns its spot among the greats of the industry with praiseworthy trading volumes, support for a lot of cryptocurrencies, and its worldwide accessibility. On top of that, the exchange boasts good platform support, various useful security features, and one of the cleanest records of all exchanges, without involvement in hacks, frauds, or similar attacks.