What is CoolWallet S?

CoolWallet S is a hardware wallet developed for cryptocurrency storage. But it is not your typical hardware wallet; it uses Bluetooth or near field communication (NFC) which enables it to connect to Android or iOS smartphones.
The wallet aims to provide both portability and convenience in a slim and sleek design. The device has integrated a secure element (SE) chip which stores the user's private keys, and there's also a built-in display that lets them view transaction details.
This wireless cold wallet was developed by Taiwanese fintech company CoolBitX, which is specialized in crypto hardware and smart contract platforms development. The original CoolWallet model was launched in 2016, while the S was made available for purchase in 2018.
How much does it cost?
According to the manufacturer's website and Amazon, CoolWallet S can be purchased for $99 USD.
Which currencies can I store?
The CoolWallet S currently supports Bitcoin (BTC), Ethereum (ETH), Litecoin (LTC), Ripple (XRP), Bitcoin Cash (BCH), and any ERC-20 tokens.
Is CoolWallet S Secure?
The CoolWallet S has implemented a number of security measures to help ensure the crypto funds of its users:
Secure Element: The wallet has an in-built eAL5+ certified SE microchip which handles the storage of your crypto private keys.
Encrypted Bluetooth: Wireless syncing is enabled through encrypted Bluetooth technology, which allows the funds to be transferred quickly and securely.
Multiple confirmations. Before confirming a send transaction, you will be required to review transaction details on both the app and your CoolWallet S screen after which you can press the "Send" button on your device.
Set your security level. Upon creating a new wallet, CoolWallet S generates a new seed set. You are able to choose which seed set number you want, according to your desired security level: either with 12, 18 or 24 number sets.
Hierarchical Deterministic (HD). As CoolWallet S is an HD wallet which has a simple backup process that lets you recover your wallet if anything bad should happen.
Disadvantages
– The number of supported cryptocurrencies is rather limited when compared to other wallets.
– As the wallet costs almost $100 USD, this places the device on the pricier side. There are also more affordable hardware wallets available.
– When compared to other wallet providers, the company that developed the device isn't as well established.
What Makes It a Cool Wallet?
One of the first things that you will notice about the wallet will be its appearance which is radically different from your regular USB hardware device.
It comes packaged in a black and gold box that looks very luxurious — featuring a personal message from CEO Michael Ou written in gold lettering on the inside cover — which gives of a premium vibe the moment you unpack it.
The wallet is also accompanied by a charging dock and USB connector, a user manual, a recovery card for writing down your unique seed phrase, and a black-on-transparent logo sticker.
The CoolWallet S's exterior looks like a credit card and is covered in a black and gold design which gives it a classy and business-like vibe.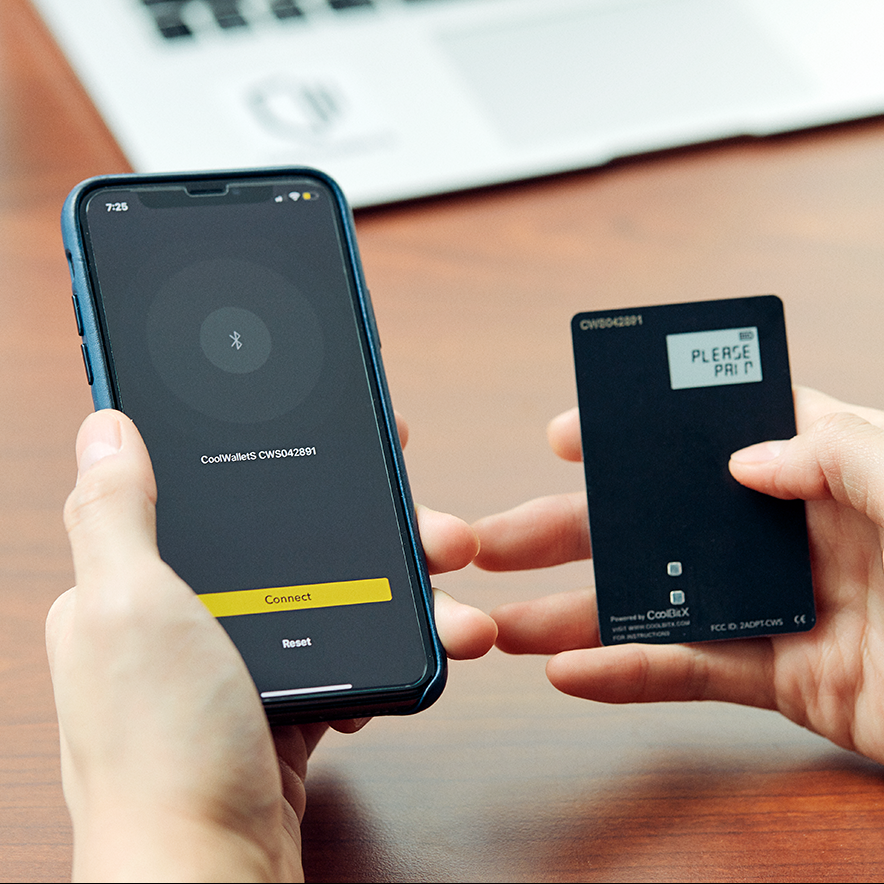 The back of the card features a discrete serial number printed on the top, just above an E-Paper display. Halfway down the right side of the card is a single button which is used to power up the device, change the displayed cryptocurrency, and confirm commands. The bottom of the device is where you will find two charging pins under which there is another discrete text.
The card itself is made out of a durable, waterproof, tamper-proof, impact resistant, and temperature resistant material— but I don't think anyone will be testing these claims (and it is not recommendable). The card is acceptably flexible, though I would not recommend trying to see how far it can fold. Still, it can easily fit into a regular pocket wallet or purse with your other IDs and credit cards.
Overall, CoolWallet S' professional appearance and sleek design are what make it "cooler" compared to the other hardware wallet available on the market.
Verdict
There many hardware wallets from which you can choose, but the CoolWallet S is different from its competitors as it has an appealing design, robust security features, and convenient smartphone integration. The only downside would be its not so budget-friendly price.
Image Source: CoolWallet S